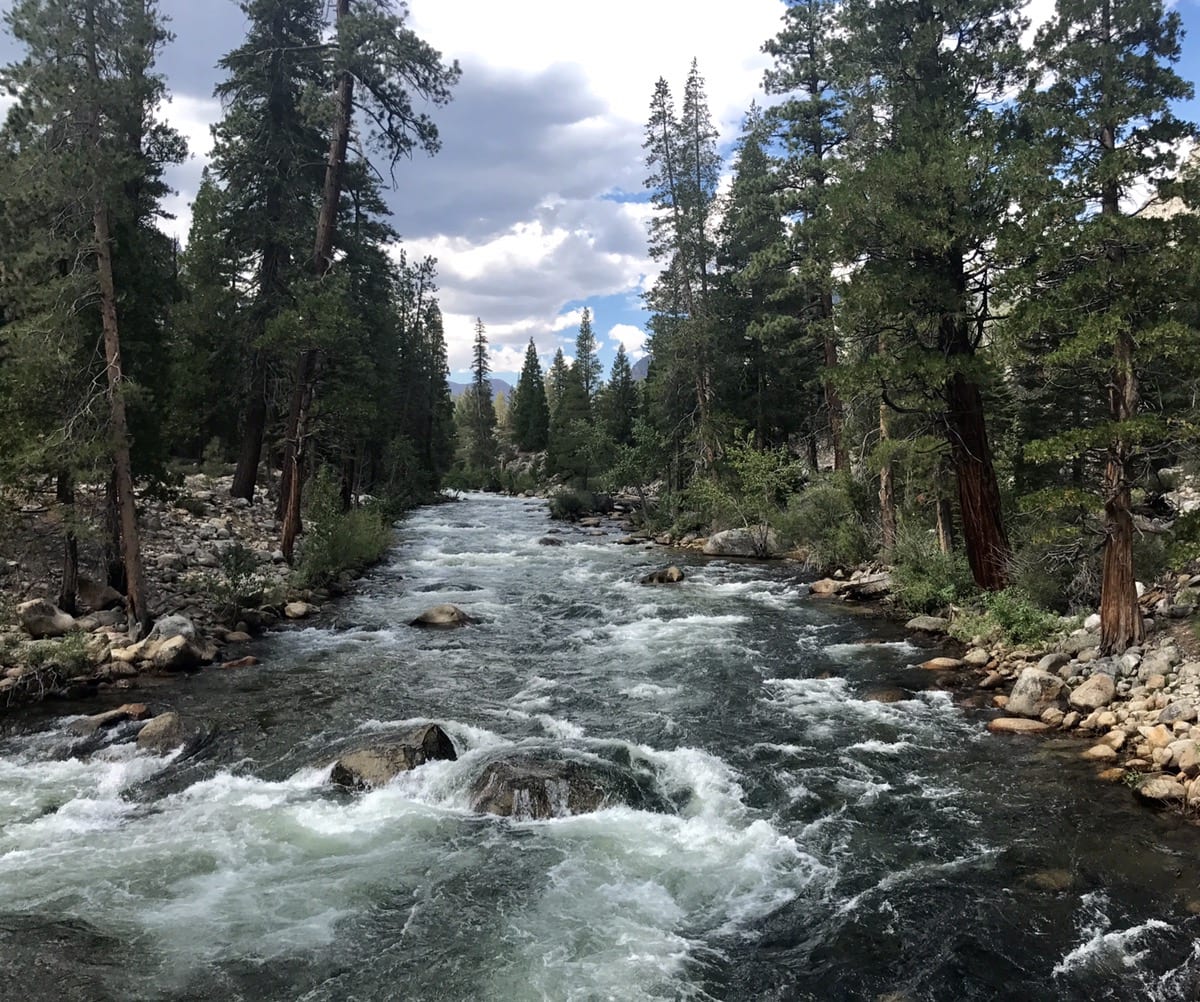 Day 2 – Blame It on the Gnats
August 1
Strawberry Meadows to Grasshopper Flat along the Kern River – 28.7 miles
It was a great day until the last couple of hours. Relentless gnats hovered over my eyes, so I just kept hiking. I had intended on camping at Little Kern Lake, but between the gnats, biting flies, and mosquitos, I just kept going.
My route left Strawberry Meadow and meandered through huge Templeton and Ramshaw Meadows. I checked out the big lava area around Little Whitney Meadow then headed down, down to the Kern River. It was a huge drop in elevation and most likely I should have stayed on a route that stayed high, but I wanted to see the Kern River and the trail that goes south along the west bank. It was a brutal downhill. I am glad I did it, but would not do it again.
The Kern River trail is pulverized by horses and pack animals. To a hiker, that means dust and deep sand to walk through. Not the most pleasant. Kern Lake and Little Kern Lake are stunning and I saw my first humans fishing along the Kern. It was a scene from a movie.
AND I am now camped right beside the roaring Kern River. I just couldn't get enough water yelling at me this summer, so here I am.
I had a lot of time to think today on this solitary walk, mostly about the age thing. I needed a pep talk. Suck it up. Get on with it. Quit complaining, whining, and be thankful. Ten years from now, my future self would say, what were you thinking, you idiot!?!?! Enjoy. Breath. Take it all in. There is so much glory and beauty to be had.
So… that is what I am attempting to do. Age has just taken me by complete and utter surprise.
Download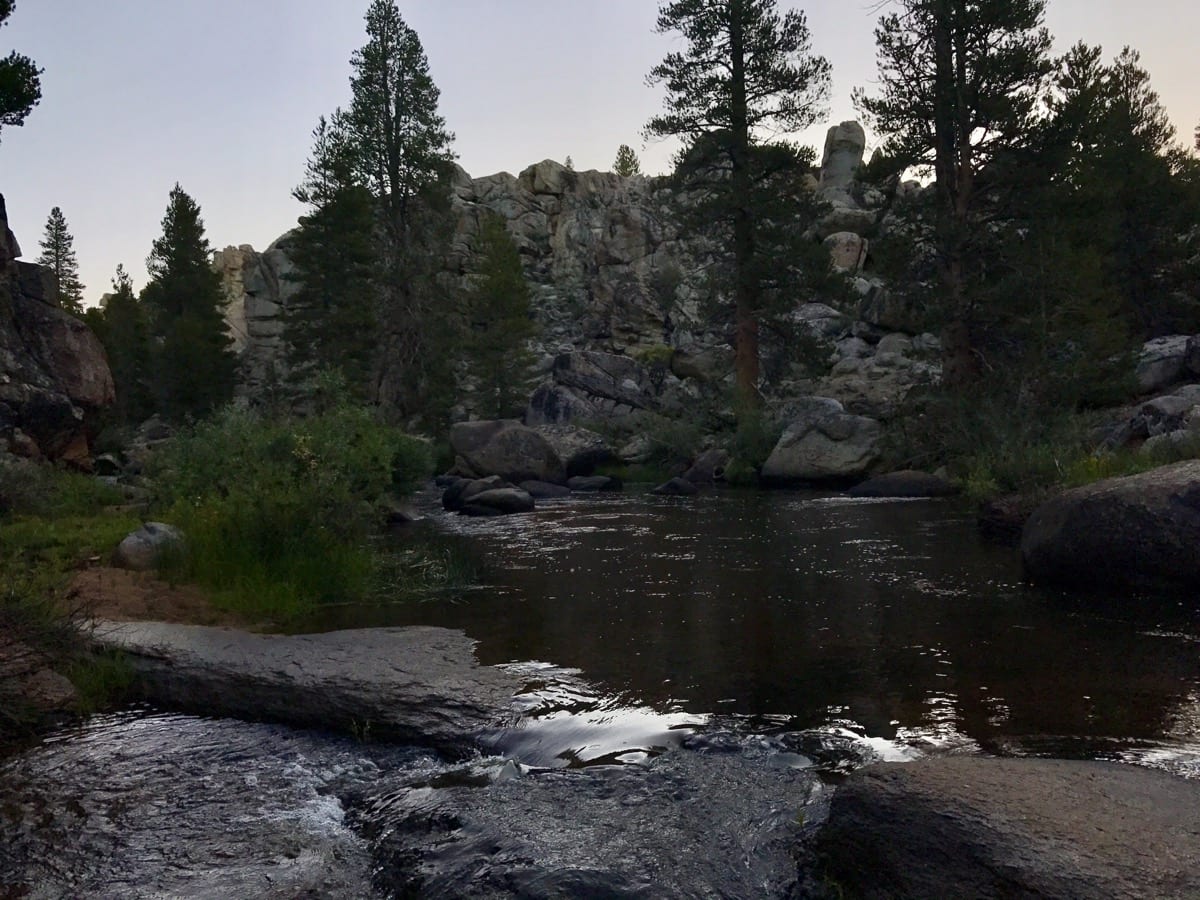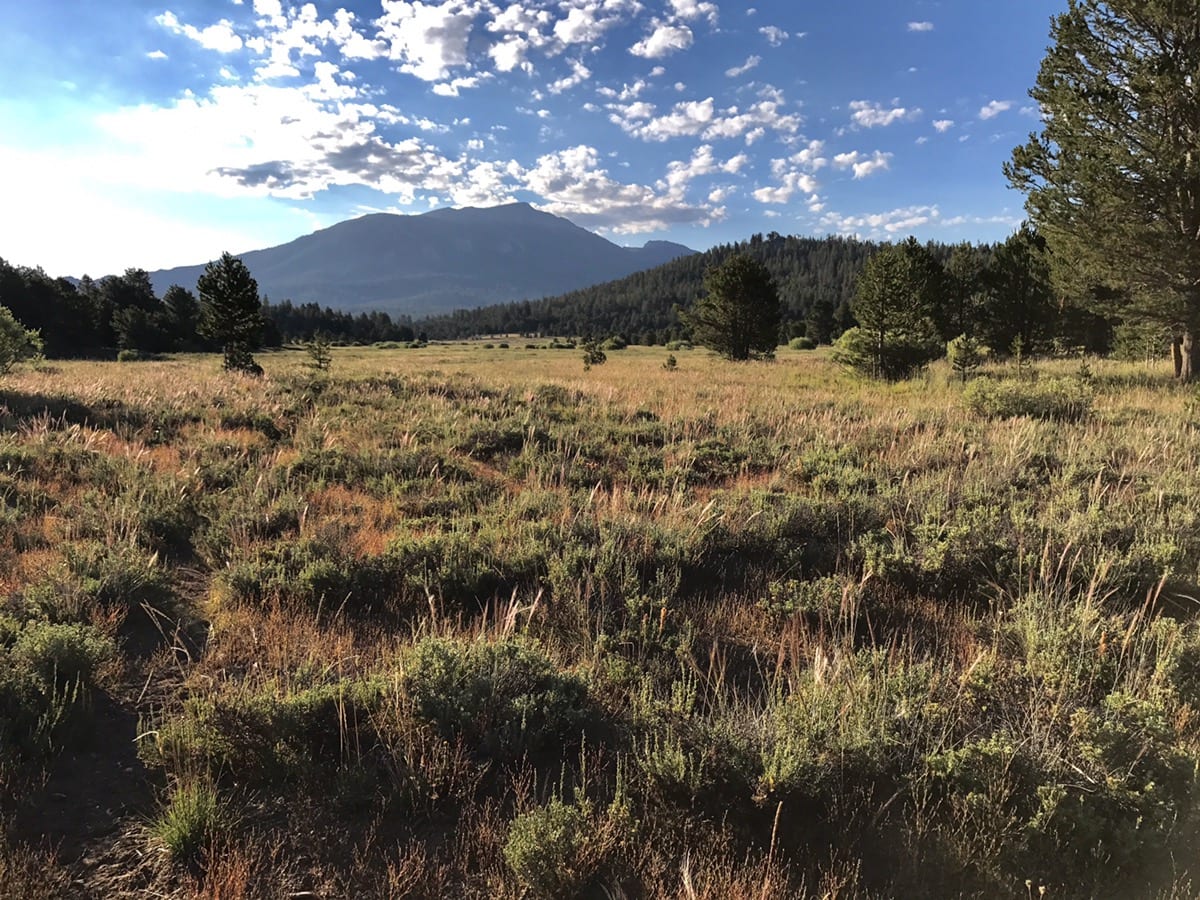 Day 3 – Cubs, Rattlesnakes, Hot Springs, Thunderstorm
August 2
Grasshopper Flat to Jordon Hot Springs – 23.3 miles
It was a diverse and unnerving day.
I am currently sitting in a natural hot spring at 3:30 in the afternoon. It is heavenly and the perfect temperature with no creepy, naked men to be cautious of, just 2 men and their boys starting on a long father and son backpack trip. Now that is pretty great.
After a great night's sleep, I got on the trail at 5:30 am, hoping to beat the gnats. Plus, the day's route included 3,000 feet down and 3,000 up. Big day. Didn't beat the gnats, but did hike 12 miles by 10:00.
The route lead away and up from the Kern River west where I encountered my first bear cub of the day. I heard him scamper up a tree. I didn't see mama and couldn't figure out if she was behind or in front. I didn't gamble. I promptly got off trail headed down canyon cross-country. That gave the cubs and mama a wide berth. In the next canyon almost the exact scenario AGAIN. Well, that freaked me out.
After making to Kern Flat down back at the Kern River, I promptly sat in the first pool of safe water, cooled off, drank a liter of water, and regrouped.
To complete my loop, the trail climbed up, up in the old 2002 McNally fire area to Jordon Hot Springs. The trail is in bad shape with downed trees and overgrown underbrush. Dan and I did a short backpack here in 2000 before the fire. Quite a loss. Along the 4 miles uphill, I encountered five different rattlesnakes that gave me their warning while I walked through deep grass. It is amazing how fast one can move and jump to the side when needed. I am so done with the scary part of this day.
I just heard thunder and it is starting to rain. Time to pack up and set up camp.
Download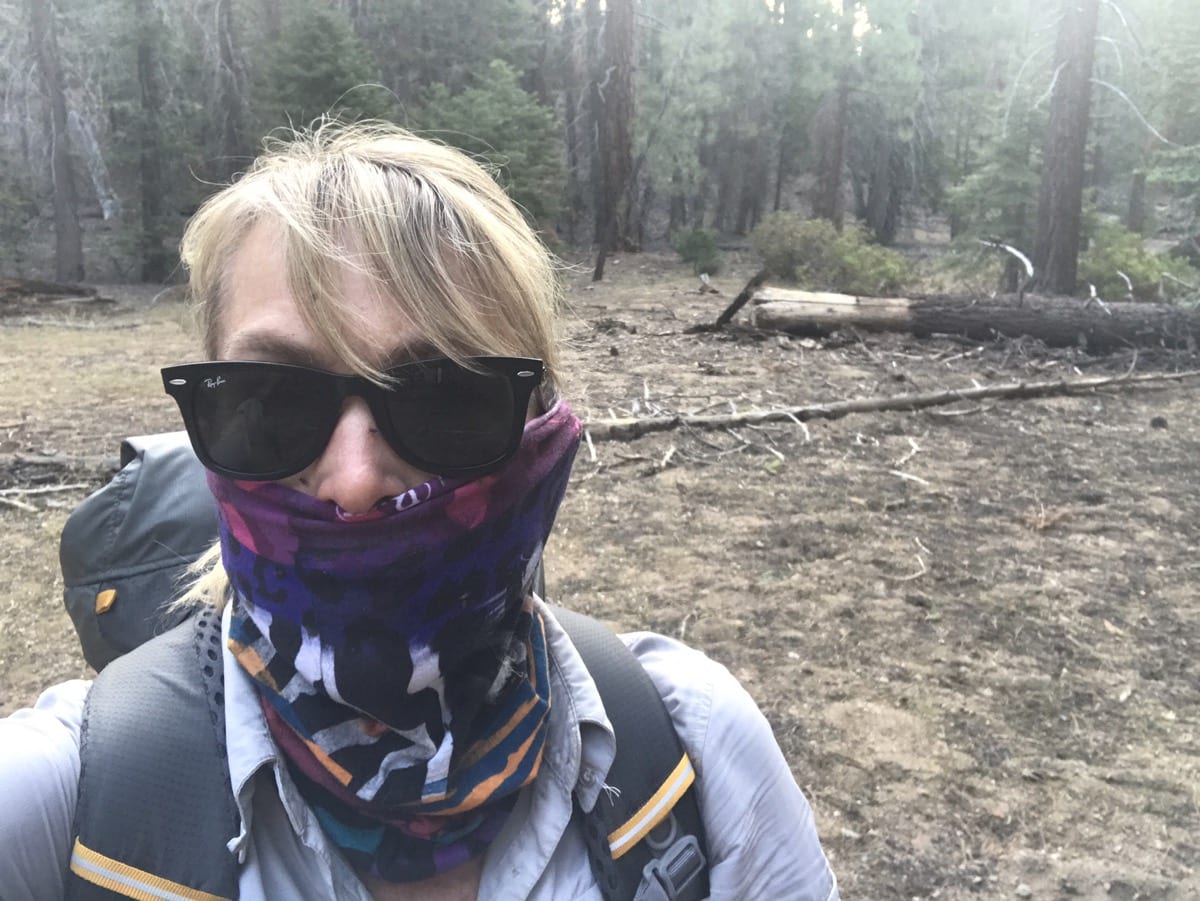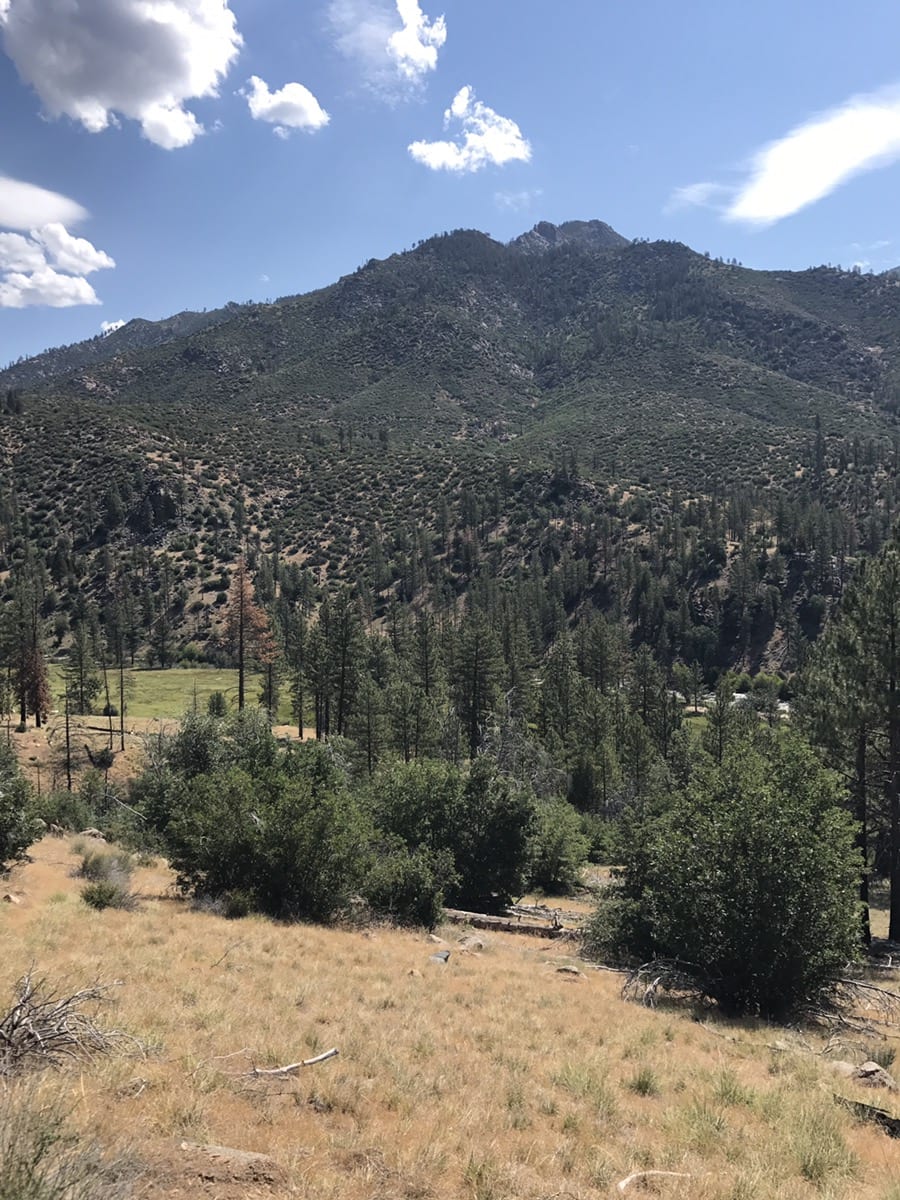 Day 4 -Life is Really Good
August 3
Jordon Hot Springs to Blackrock Trailhead – 8 miles
Thankfully I found a great camp site protected by trees. It rained most of the night with thunder and lightning. I slept well.
The 8 miles back to the car is a butt kicker uphill. The first 2 miles are through burn along Nine Mile Creek, then back into the lush gorgeous forest.
If I were to do this trip again, I would stay high and not drop to the Kern. This is the proposed route –  Blackrock Trailhead, Casa Vieja Meadows, Long Canyon to Strawberry, then back through Templeton and Ramshaw, then head south along Volcano Meadow and left Stringer Trail (very unmaintained) to Redrock Meadow (climb Indianhead), head south to Jordon Hot Springs then out to Blackrock Trailhead.
Sounds like I have just planned a new trip. Someone needs to do that. Oh, I definitely would take my camera. I missed it. iPhone was just okay.
Summer is at an end for me and it is time to head back to work. I am thankful for the opportunity to appreciate the small joys, to simplify life, drink deeply from high mountain springs, pee and poop behind trees, feel the security of a closed tent, dip my feet into snow melt streams, know that all I need is on my back, be completely physically tired at the end of a day, taste food like I have never eaten before, bath in cold water streams, feel the warmth of my down bag, and breathe in and just be.
I am ready.
Download