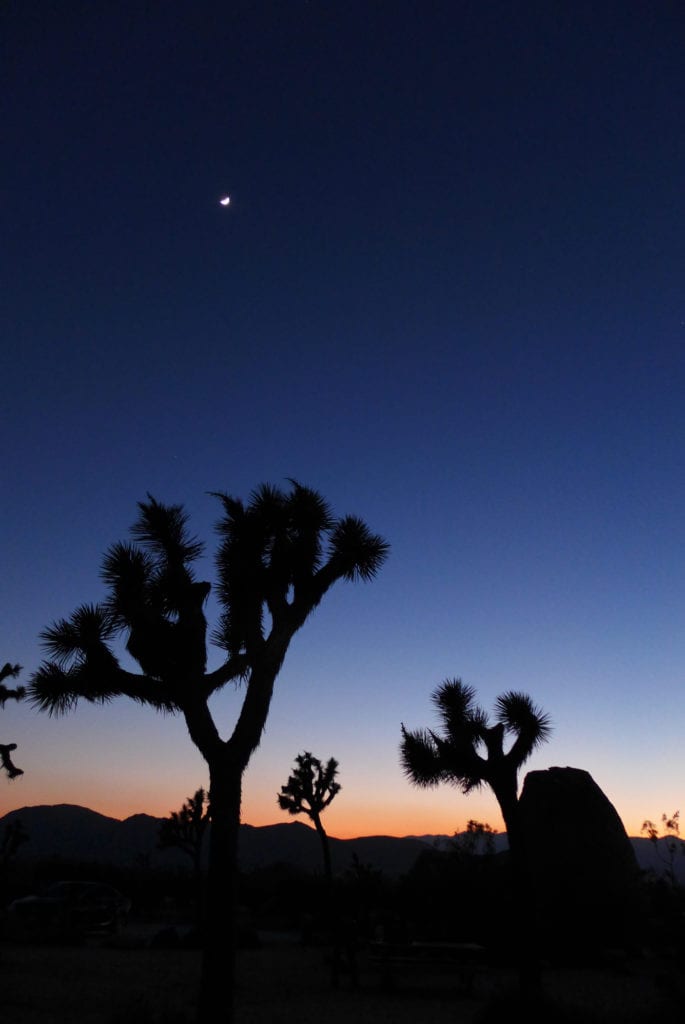 You are my crazy spaghetti like, "nobody's business".
~Rockin'
Joshua Tree is located in the Mojave and Colorado Deserts of Southern California and is a perfect destination in the fall, winter, or spring. It is a climber's playground with diverse formations and vegetation. Step a bit off the main highways and remote desert wilderness is yours. However, it is primarily waterless. For the backpacker, this means hauling extra water which is very heavy or caching water along the way. Luckily, placing a water cache is
legal
in Joshua Tree.
I wanted to create a somewhat remote overnight backpack loop in the park with varied terrain, some climbing, and opportunities to cache water. I used the program caltopo.com to map it out. The route we ended up hiking I recommend and was very diverse, interesting, scenic, challenging, and fun. I did not GPS our route. The route mapped out below is a close estimate of the trip.
Trip Details
TRIP DATE April 29-30, 2017
LENGTH About 32 miles, loop
ELEVATION LOSS AND GAIN 5144′ loss, 5141′ gain
TRAILHEAD Beginning and ending at Indian Cove Trail Head
DIFFICULTY Moderate to difficult on maintained trail and off-trail bouldering in canyons with some class 2 and 3 climbing in both Smith and Rattlesnake Canyons.
BEST TIME TO HIKE Winter, Spring, and Fall
WATER No healthy natural source,  2 water caches where the route crosses Park Blvd.
PERMITS Sign-in at trailhead at Backcountry Board
RESOURCES Joshua Tree National Park (National Geographic Trails Illustrated Map)
Download
Day 1: Indian Cove (Boy Scout Trail) Trailhead to Johnny Lang Canyon
The Indian Cove trailhead is located on the main road heading to the popular Indian Cove Campground. The route follows Boy Scout Trail to Big Pine Trail to North View Trail, water cache at Park Blvd., then cross-country to Smith Canyon, Smith Canyon to California Riding and Hiking Trail, cross-country up to Quail Mountain and down to Johnny Lang Canyon. We had originally planned to camp on the summit of Quail Mountain (tallest peak in the park), but after encountering high winds at the top, we decided to go to lower ground.
This day was filled with beautiful and rare blooms, due to the abundance of California rain this winter and lovely temperatures.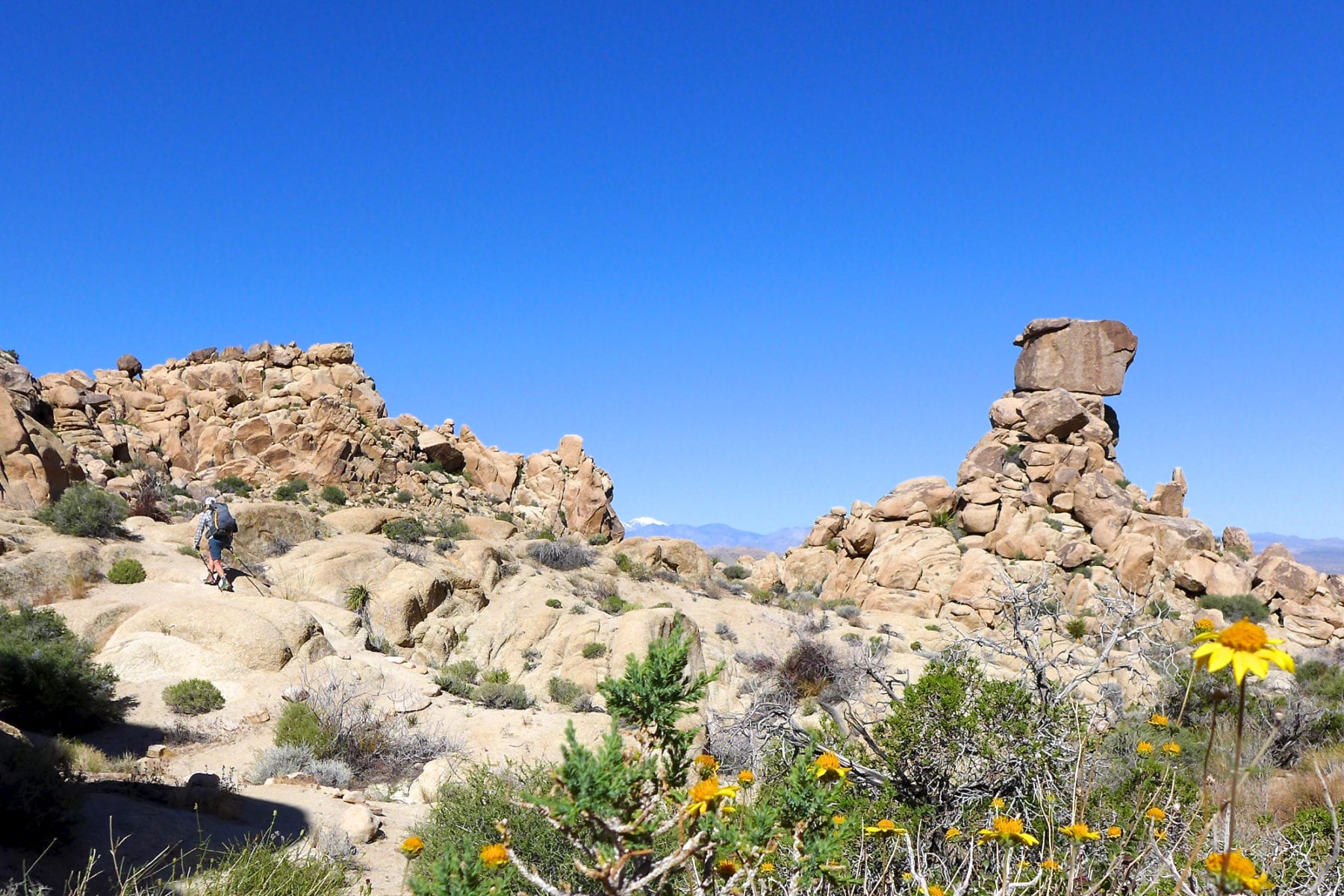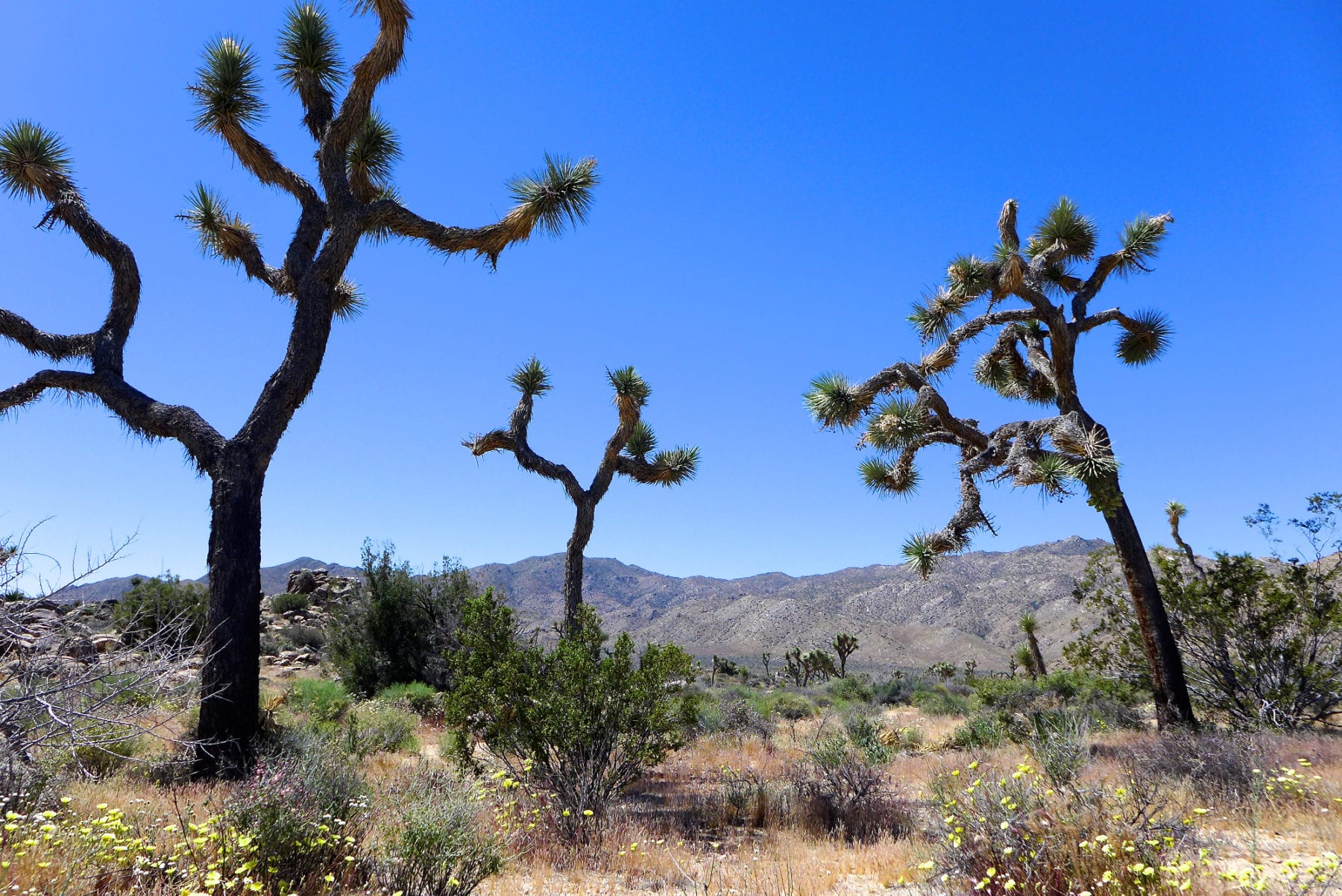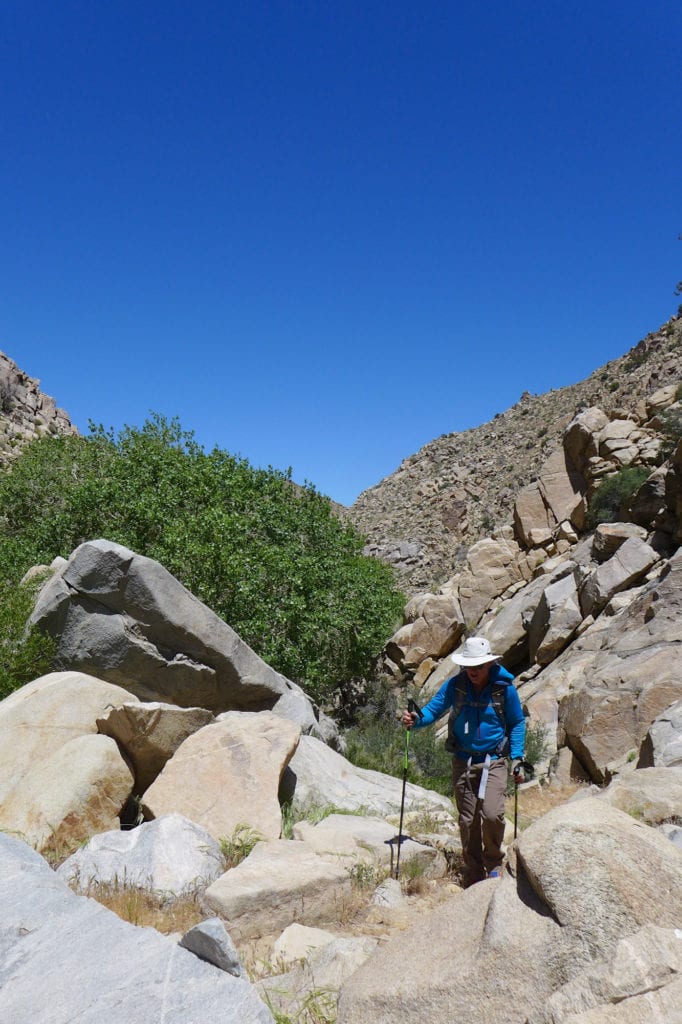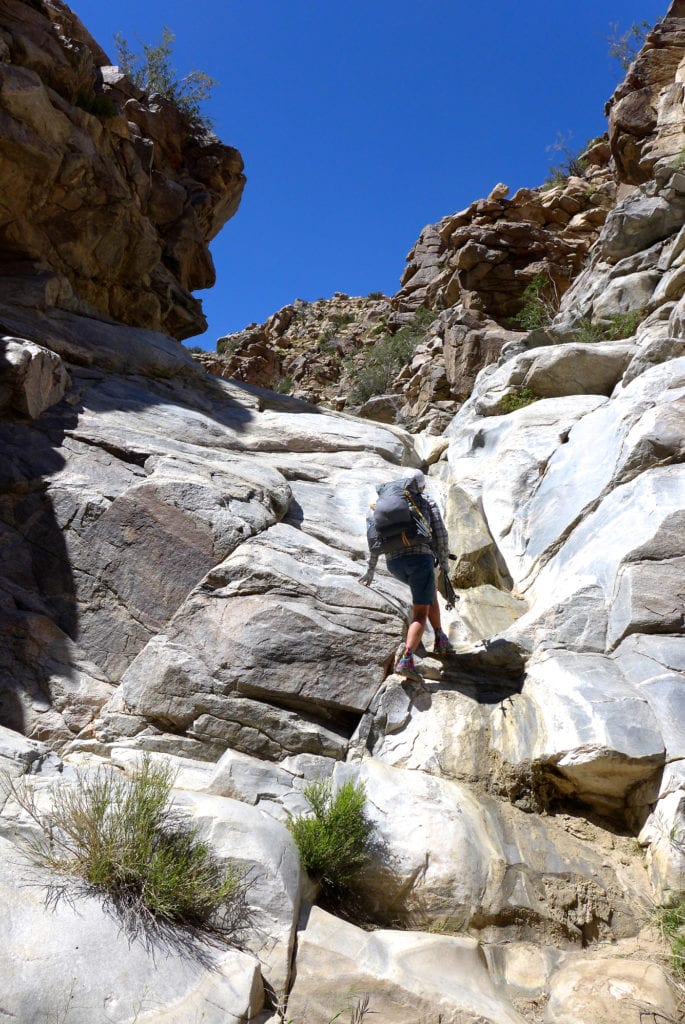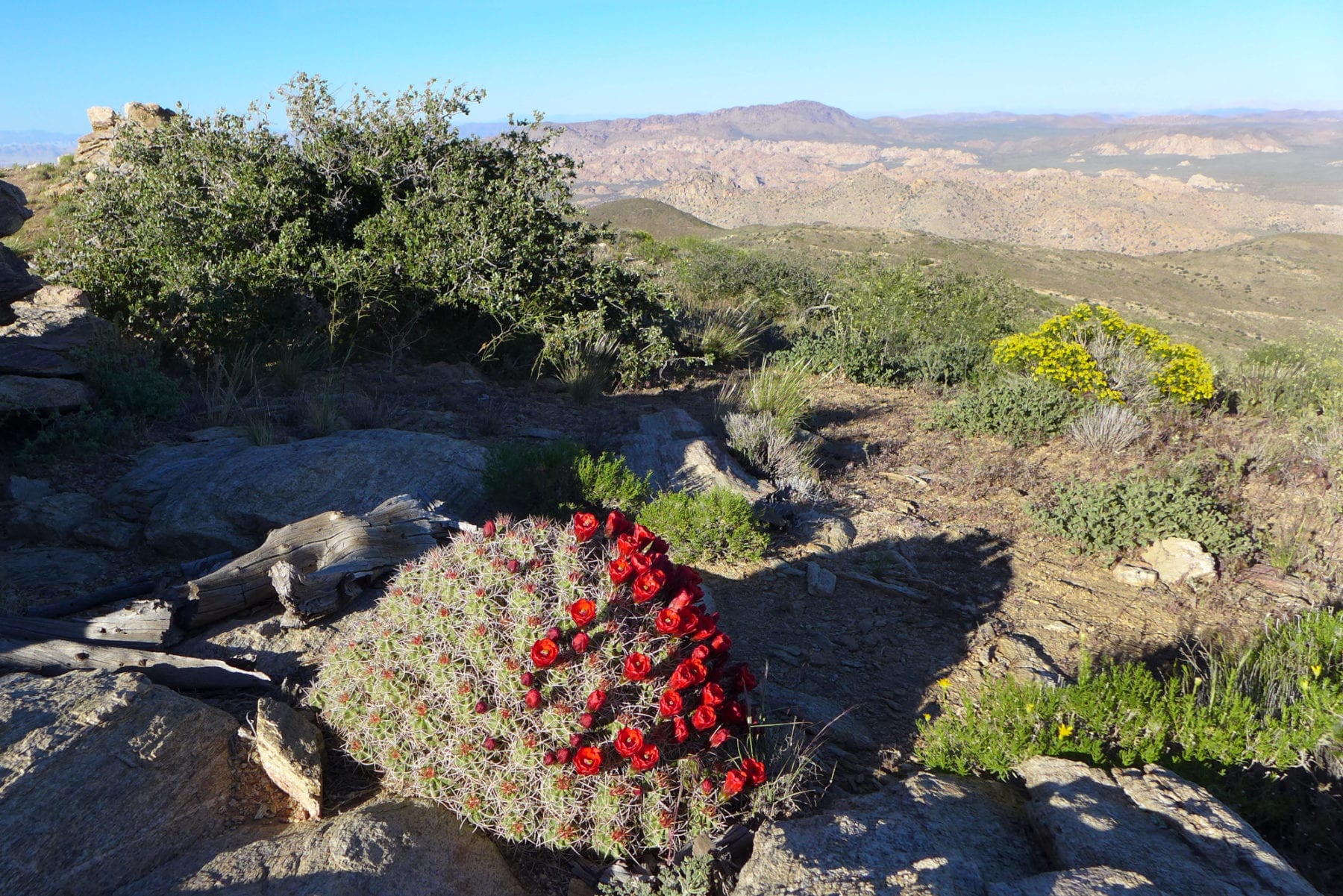 More Photos of the Day
Day 2: Johnny Lang Canyon to Indian Cove Trailhead
On our second day, we continued down Johnny Lang Canyon to Ryan Canyon, to our second water cache at Park Blvd., to Boy Scout Trail, then east to Willow Hole, then cross-country to Rattlesnake Canyon, and back to our car.
This was a challenging and diverse day with lots of class 2 and 3 climbing.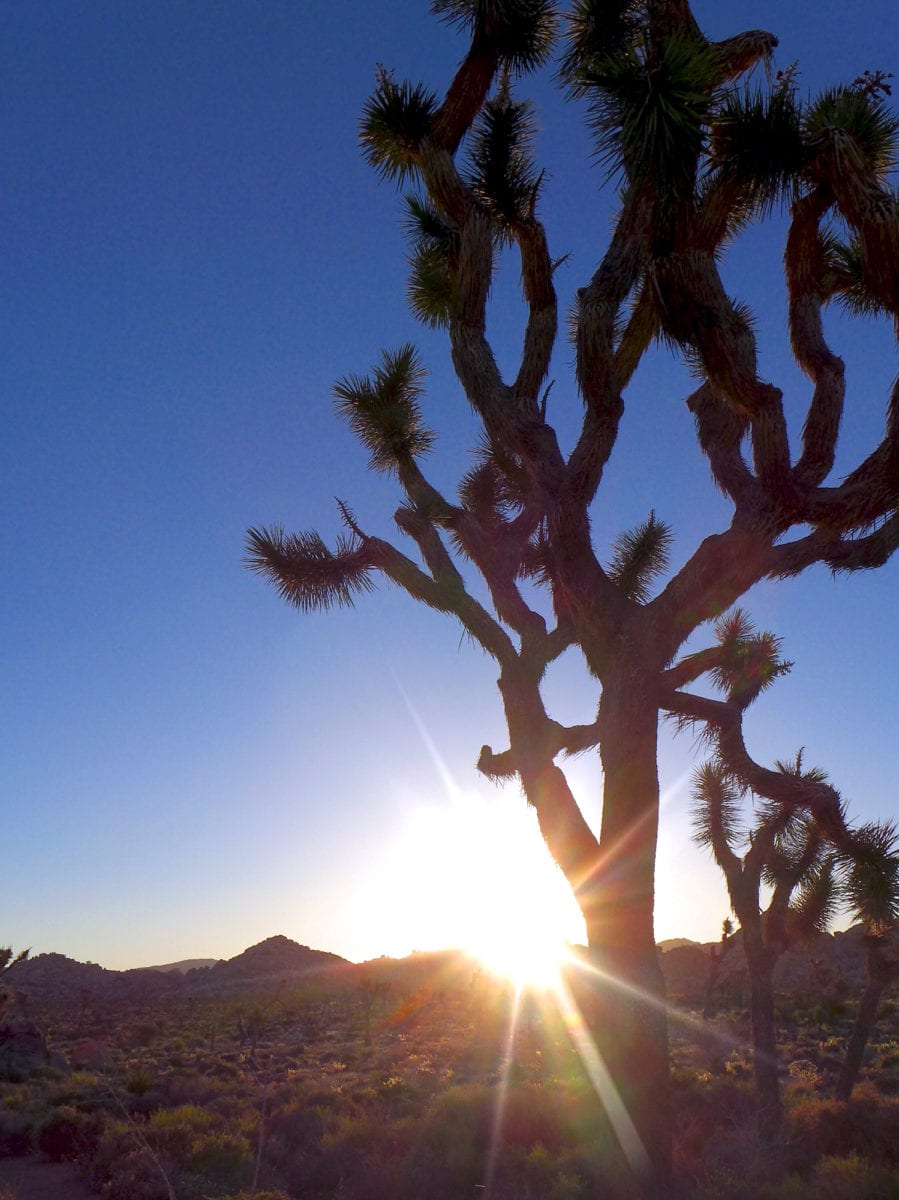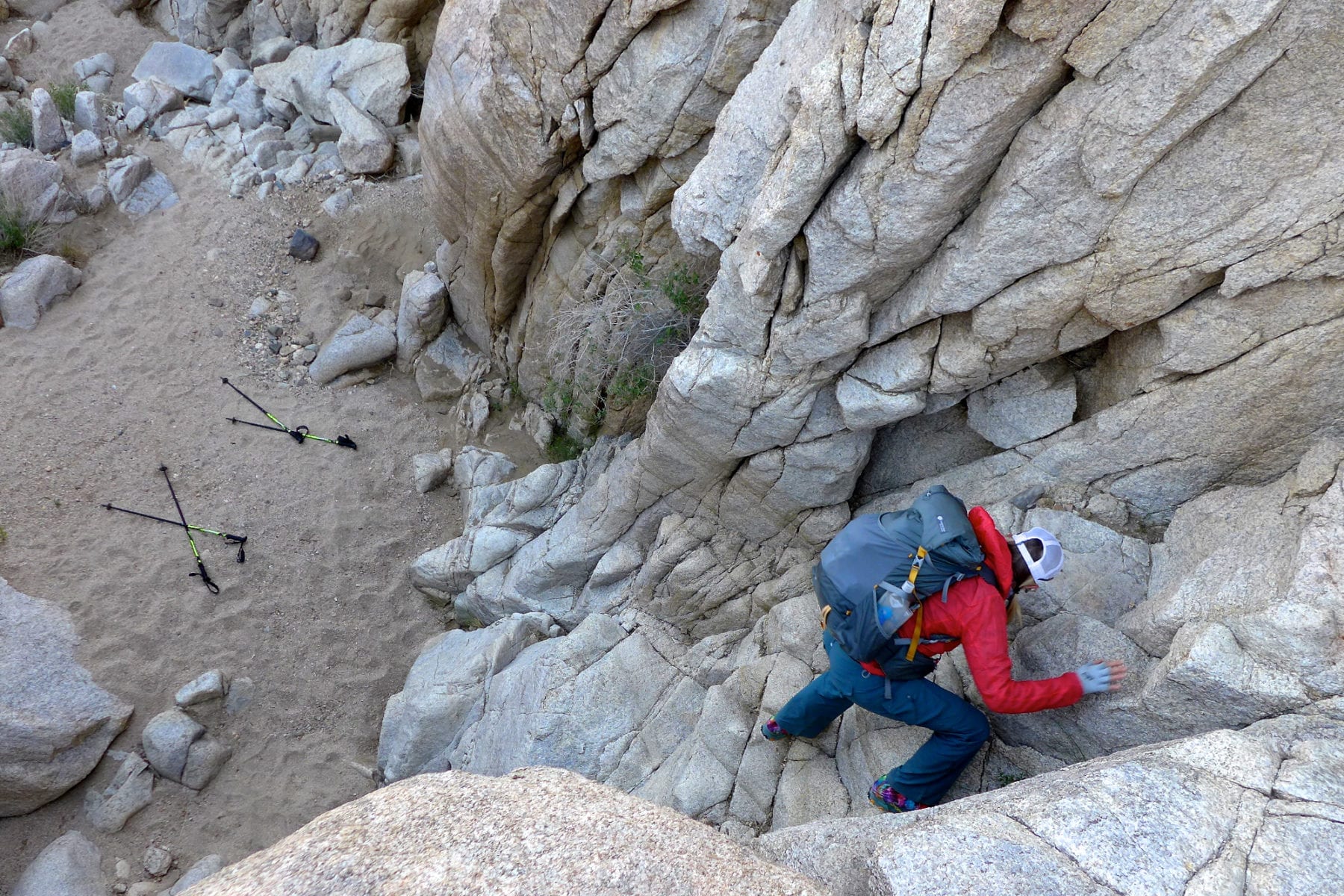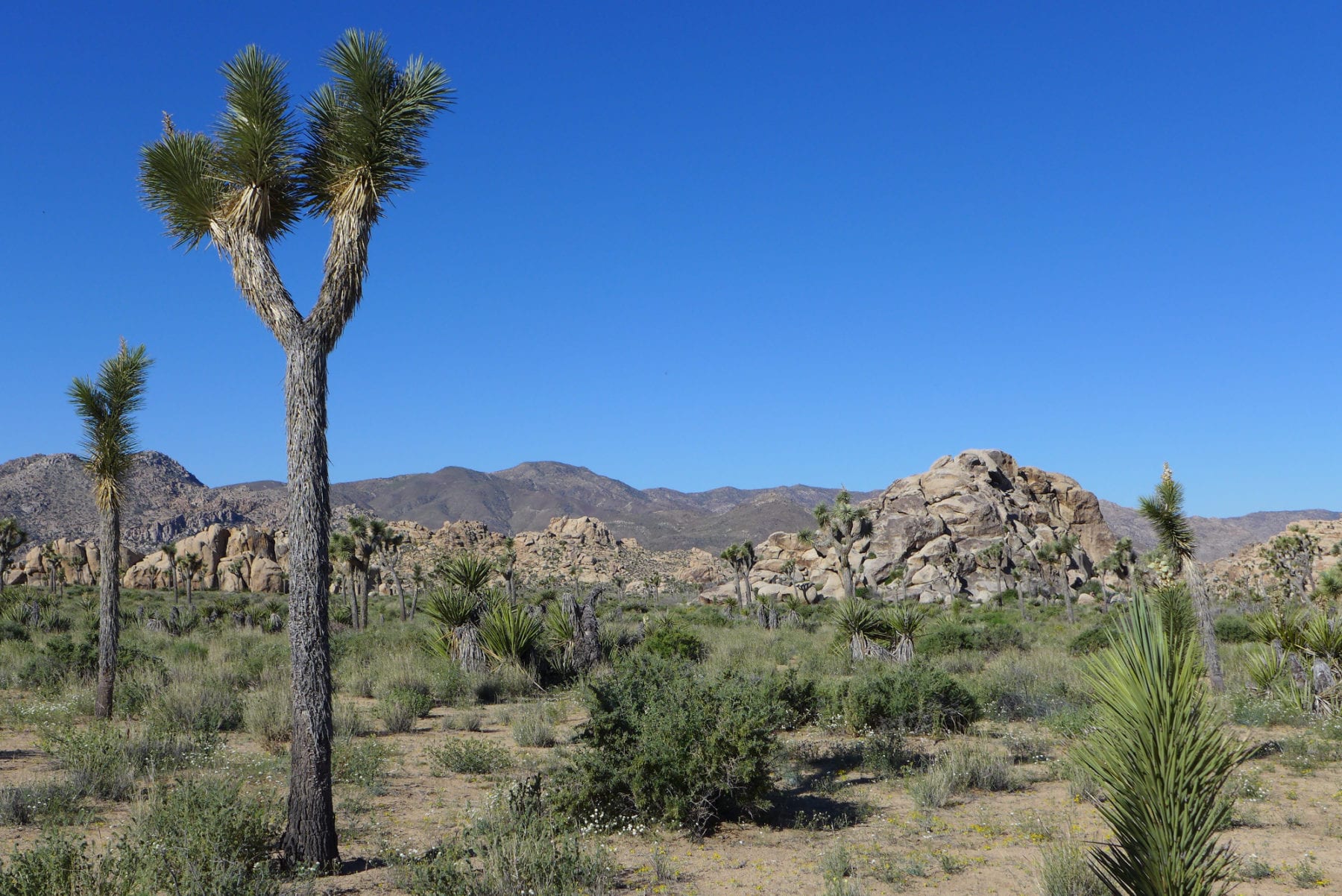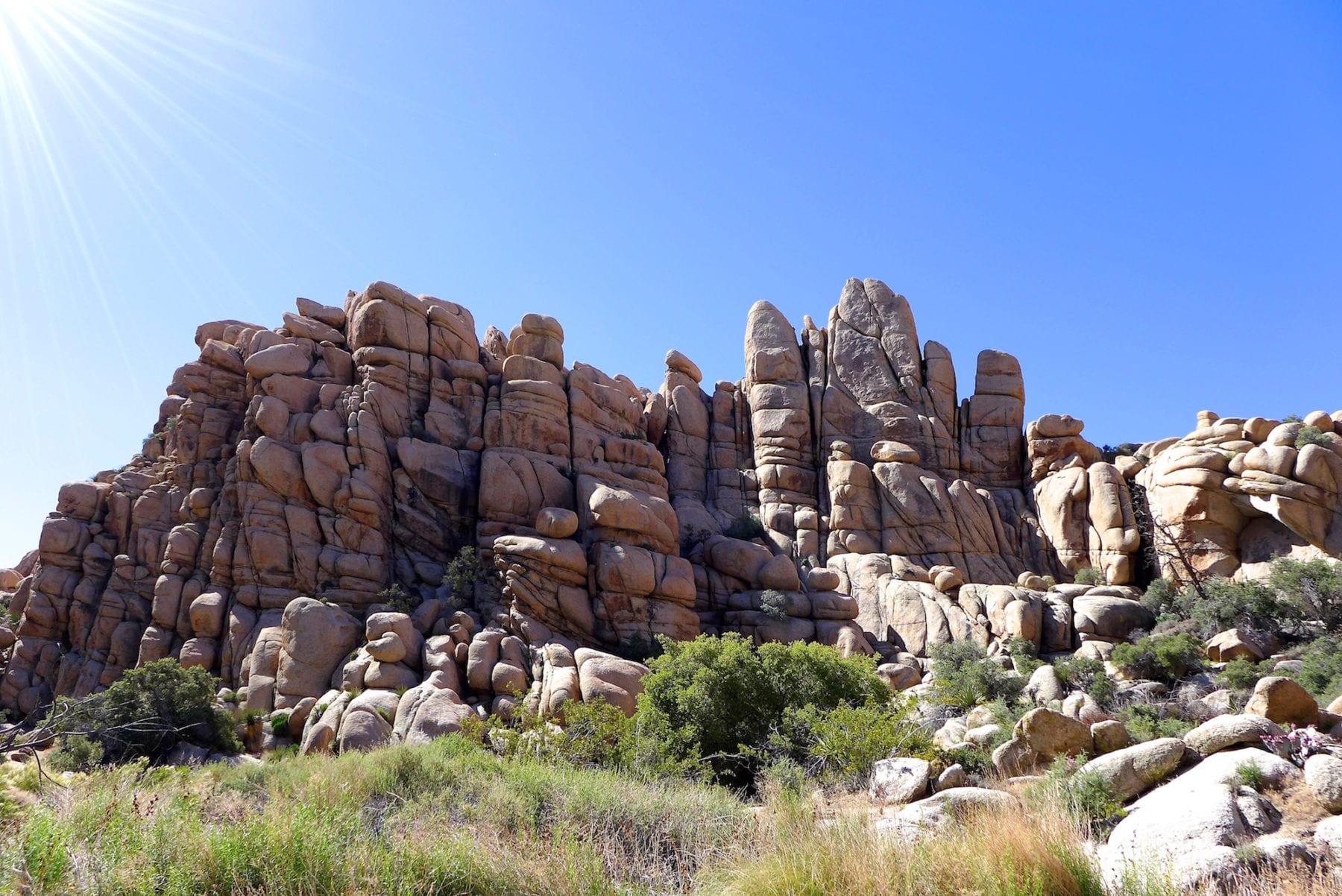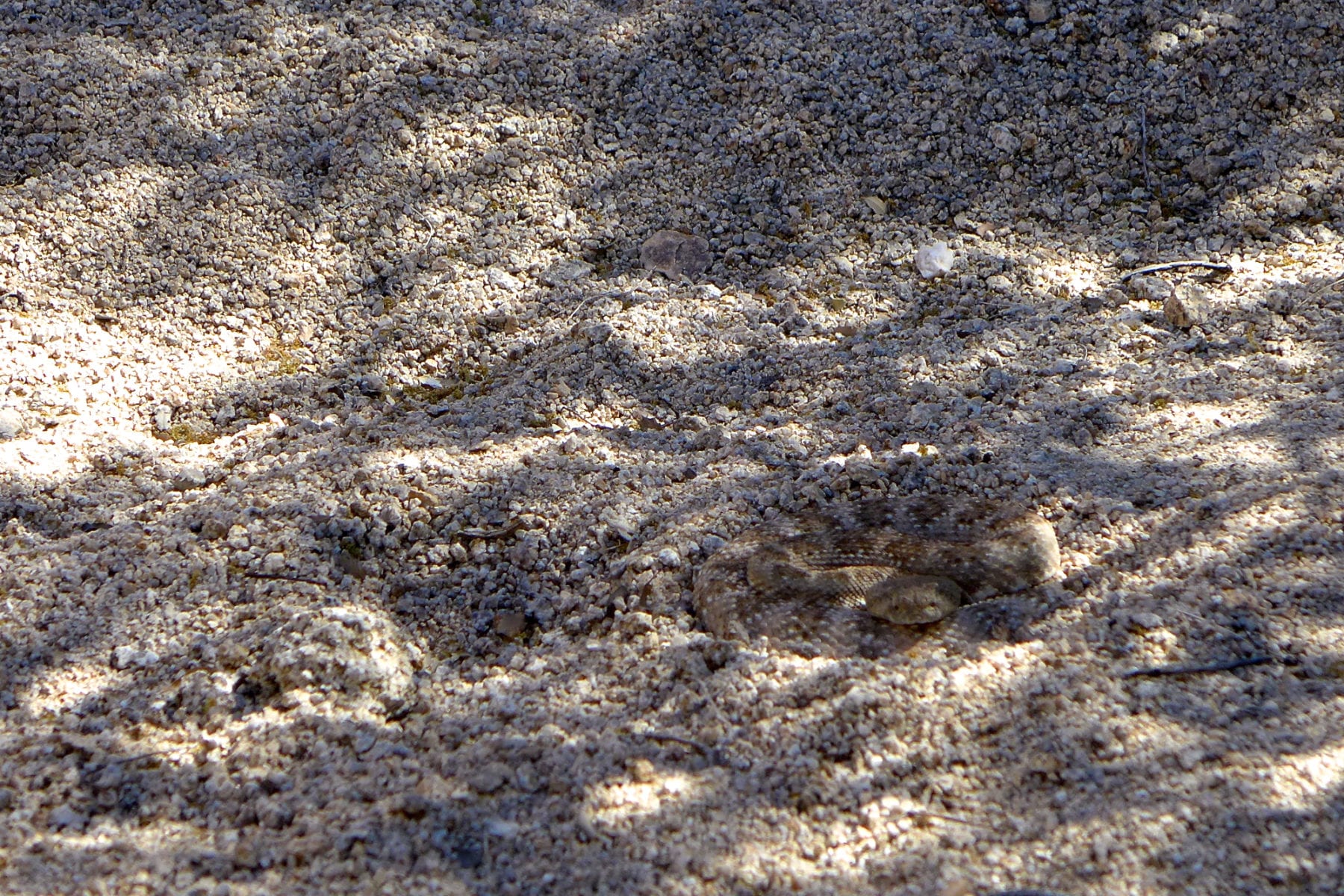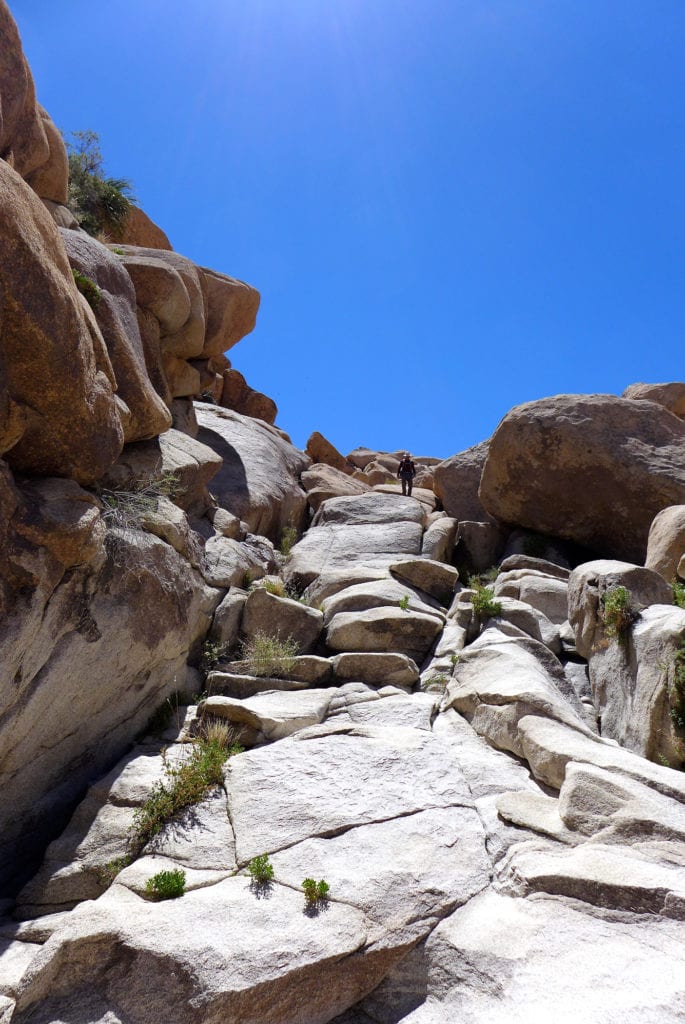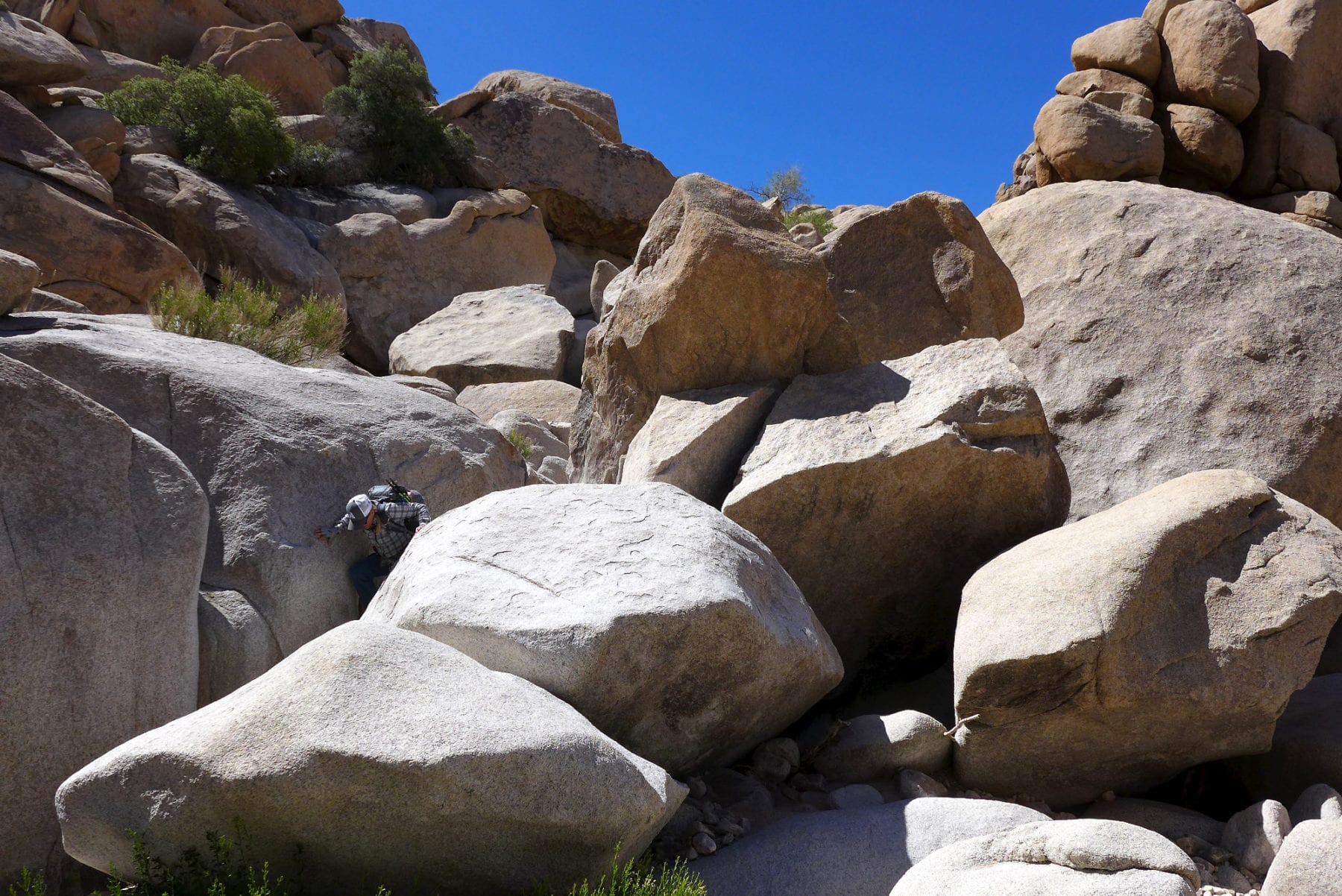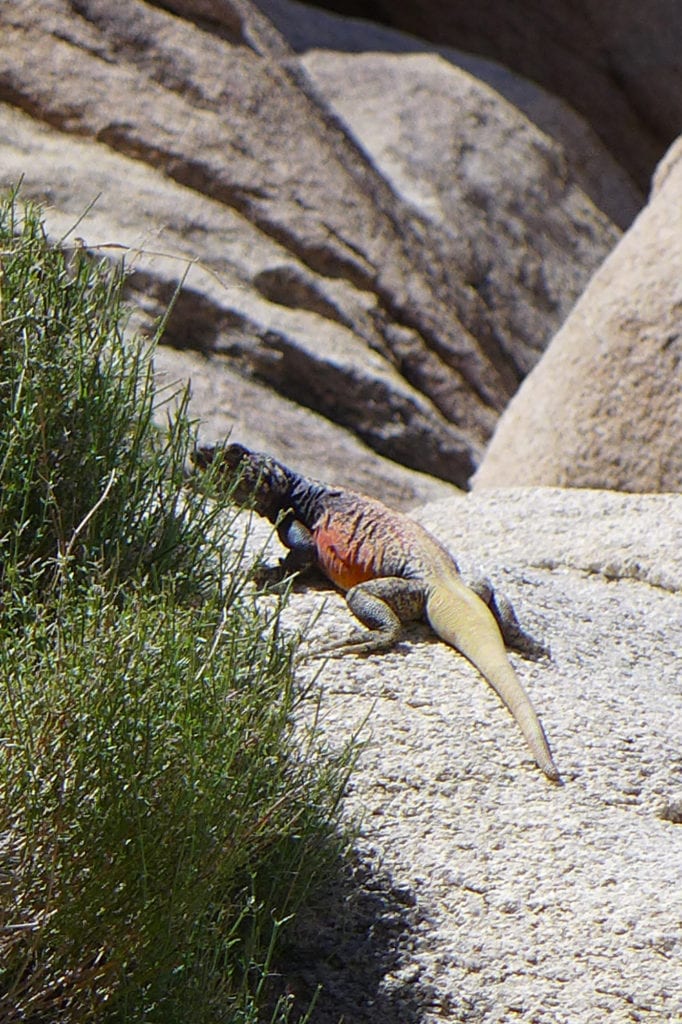 More Photos of the Day
View all trip photos on Flickr