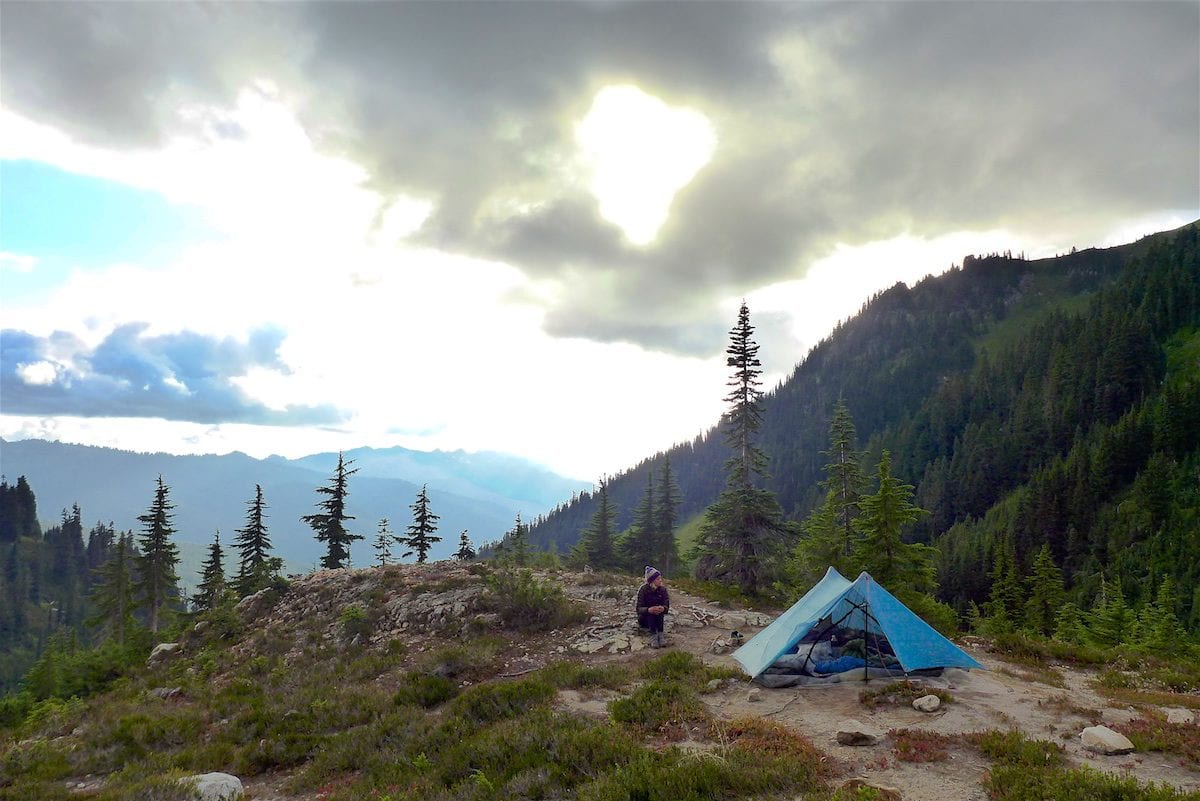 Fake it till you make it.
~Stealthy
It is a New Year! And guess what that means in my household? Yep, the trip planning begins.
If perhaps you are in need of a bit of inspiration or cheering on to make your dreams happen, I would like to share a letter that was given to me as a Christmas gift. A gift from the heart.
During the summer of 2014, I hiked through Washington on the Pacific Crest Trail with my daughter, Bryn. It was a big deal, because it was my final miles to finish my 4-year journey to section hike the entire PCT. The letter is a memoir of this time on the PCT. After reading the letter, I just knew I had to share it with my readers.
We all have excuses for not doing the things we dream of doing…not enough time or money, it is too hard, I will do it tomorrow, the house needs to be cleaned, I will wait until retirement, I'm tired, I'm not strong enough, I'm too old, it is scary, something bad might happen, it costs money, I don't know how… the list goes on and on. The following might just spur you forward to take that first step.
Hiking with Rockin': A Daughter's Perspective ~ Guest post by Bryn Rosander
There are many important things I've learned from my mom growing up. I've learned the value of "finishing the race strong and proud," to never stop at mediocrity when excellence is just around the corner, that forgiveness serves as an incredible healer, and to never let anyone take away the joy of something you love. An essential lesson I've learned from her, however, is that most experiences worth remembering never come without much hard work. It's the hard work and intentional effort that makes all the difference in the world. I did not fully process or accept this until I was the daughter hiking 508 miles with the one and only Lady on a Rock.
It has now been about two and a half years since I said yes to hiking with my mom on her last leg (the state of Washington) of the PCT. Looking back, I strongly believe that this was one of the best decisions I've ever made. To give some background information, being a daughter of the passionate, adventurous Rockin' meant I was often forced on many hiking and other outdoor adventure trips growing up. Unfortunately, I rarely saw the value in these strenuous activities and often preferred to stay home. It wasn't until I made the conscious decision to positively support my mother in her endeavors, despite my lack of passion for hiking, that I truly began to understand her drive and inspiring joy for the outdoors.
If you read any of the blog posts from our Washington adventures, you would know that our trip was definitely not always a walk in the park. I had so many random ailments, injuries, and allergies that we sometimes joked my trail name should be Trading Pains. I mean… I found out I was allergic to Latex AND wool on the trail, for cryin' out loud! Thankfully, my speed walking habits and introspective, quiet persona won me the name Stealthy. I am grateful that the memory of pain never became my identifier. Despite the need to live off Ibuprofen for most of the hike, I was given the gift of peace and escape. Hiking allowed my brain to reprioritized needs and desires in order to keep moving forward one step at a time. It simplified life and opened the door for me to appreciate the small joys such as the vibrant green of Washington trees, the refreshing taste of mint toothpaste just before going to bed, and the sound of utterly complete silence. Finishing this hike proved to myself that I really could accomplish anything and that hard work and discomfort is not something to fear, but rather something to grow and get stronger from. Hiking taught me to enjoy the journey, not just the destination.
Through the experience of hiking 508 miles with my mom, I came to appreciate many things she did that made our trip successful. First, she always made sure I had everything I needed including the best lightweight gear and nutritious meals. Never underestimate the power of hot coffee every morning, a lightweight pack, and good shoes. She planned excellent resupply hotels for regrouping, showers, wine, and ice cream. She documented our whole trip with her inspiring photography skills, and always made sure I kept going. But most importantly, my mom gave me the gift of space. I admit that I do walk very fast (partially due to my competitive nature but also from the panic of finishing mileage goals), and my mom let me. She never pressured me to stay behind or keep her company, and at that time in life, a chance to "just be" and walk peacefully alone was what I needed most. My mom respected my space and let me experience much of the hours on the trail alone. Granted, we always met at streams or lakes for lunches and in the evening to set up camp; moments I will never forget.
If I were to give advice to a hesitant hiker (such as myself before Washington), I would have to say that if you give yourself the option to quit, you will. So just don't give yourself the option. You'll make it and you'll be better and stronger for it in the end. I truly believe we are capable of so much more than we allow, and we shouldn't limit ourselves to the popular opinions or perspectives. My mom is one that never stops at a challenge and I can't wait to see all she accomplishes. I admire my mom for being able to love something like hiking and motivating others to get outside with such passion. Her energy for life is so inspirational and I am thankful to call her my mother. Here's to many more adventures with Rockin'. I'd follow her anywhere.
Love,
Stealthy