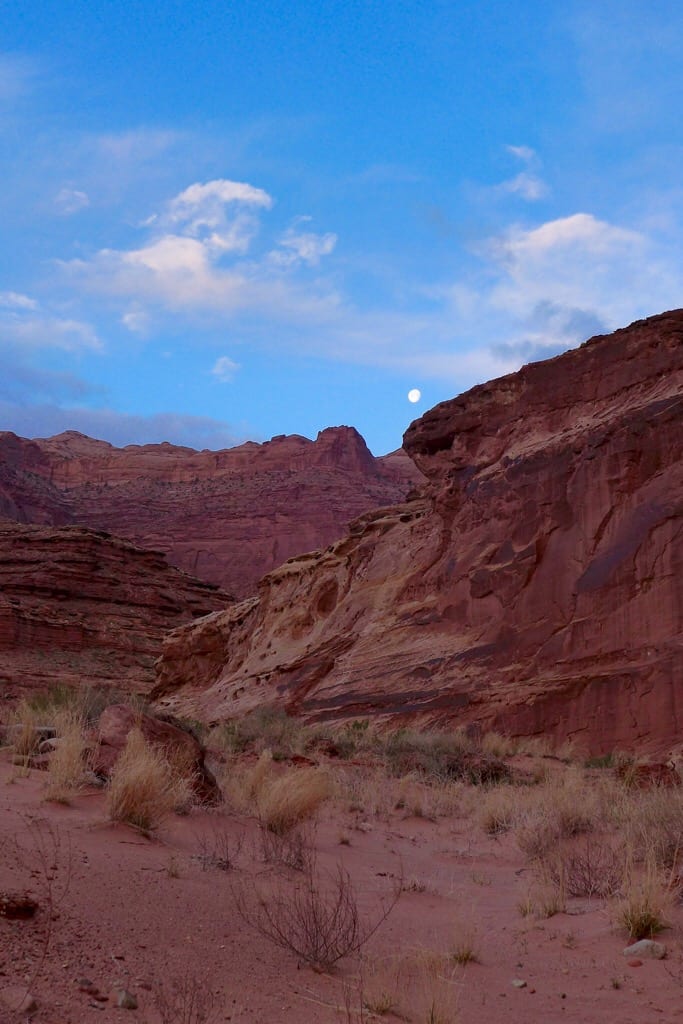 Shall I not have intelligence with the earth? Am I not partly leaves and vegetable mould myself?
~Henry David Thoreau
March 25
4WD road in Poison Spring Canyon to Hwy 95, amazing hitch by BLM Law Enforcement to Hanksville – 16 miles
There is sand literally in every nook and cranny of my gear, food, really everything. The Hayduke does that. One must accept it or go mad.
Tonight we are in Hanksville for resupply and a reassessment of Bubb's blisters and new snow in the mountains.
This morning we hiked through rain, wind, and some snow showers for a couple of hours, then everything opened up. Our goal was to hike 16 miles to Hwy. 95 (crossing it again), then hitch to Hanksville.
Just a few minutes after sticking our thumbs out after reaching the highway, a very nice law enforcement officer kindly offered us a ride for safety purposes. We gladly jumped in the fully armed truck.
I am now thankful, clean, well fed, and warm.
After really examining the plethora of blisters on Bubb's feet, she needs time and some new shoes. She has ordered new ones that will be here in Hanksville in a couple of days. That means a redirect and new plan. My car has the next resupply and water waiting in Capitol Reef. If I hiked on, that would mess everything up.
Drop n' Roll and I have decided to hitch to my car, cache all the gear, food, and water for their next leg, and then I will drive home.
I have managed to talk a group of off-road motorcyclists from Wyoming to give us a ride early tomorrow morning. Super cool and generous, because it is way out of their way.