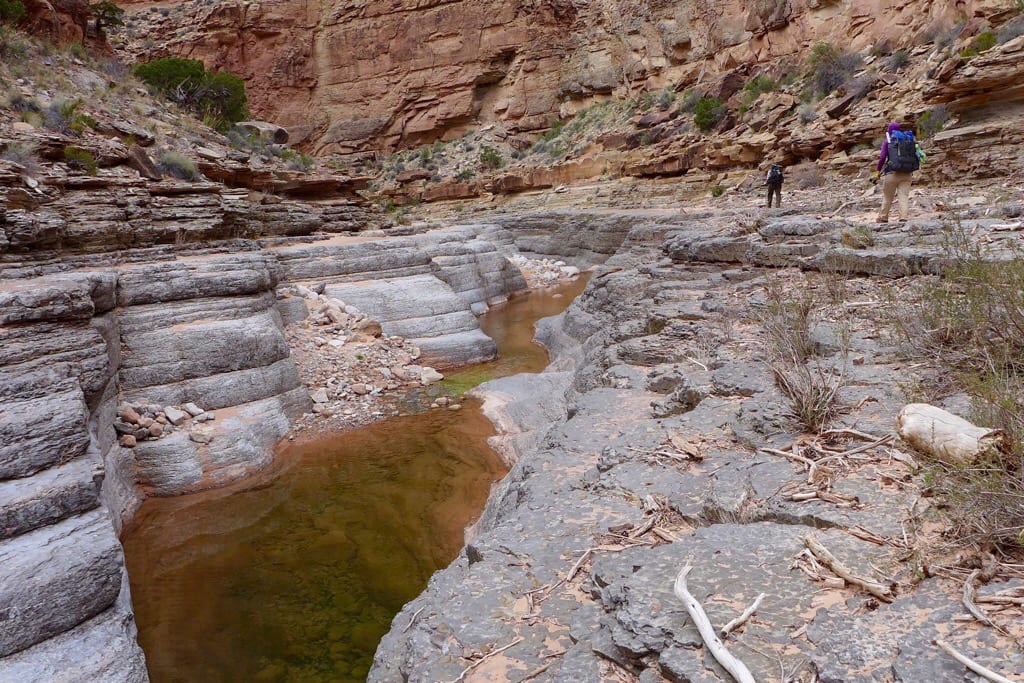 Look back and say, at least I didn't lead no humdrum life.
~Forest Gump
March 23
Dark Canyon to bottom of Sundance Trail – 24 miles
OH baby it was cold this morning. It took me a good 30 minutes walking to get my feet and hands from feeling like little knives were jabbing into them.
It was a very interesting and diverse day. We went from hiking through a very unique, remote canyon, dodging and climbing up and over ledges, pools, and rocks to camping tonight with what feels like a bizzilion campers. We even had a window of warmth where Bubs and I took a quick dip into one of the many enticing pools. I always find quick dips in cold streams or lakes to be restorative and energizing. Always worth that moment of major shock after hitting the water.
Bub's blisters were a bit better today, however I truly was at wits end with the pounds of fine sand constantly packing into my shoes. It feels like I have bound Chinese feet while walking. After quite a few miles of pondering this inconvenience and desperate for a solution, at lunch I cleaned out my socks and shoes and slipped my socked feet into ziplock baggies before donning my shoes. So far I am very proud of this solution.
With determination and not a lot of lallygagging, we made our destination tonight. It was a bit of a shock to view the plethora of campers here. Apparently, lower Dark Canyon is a very popular hiking destination and I can see why.