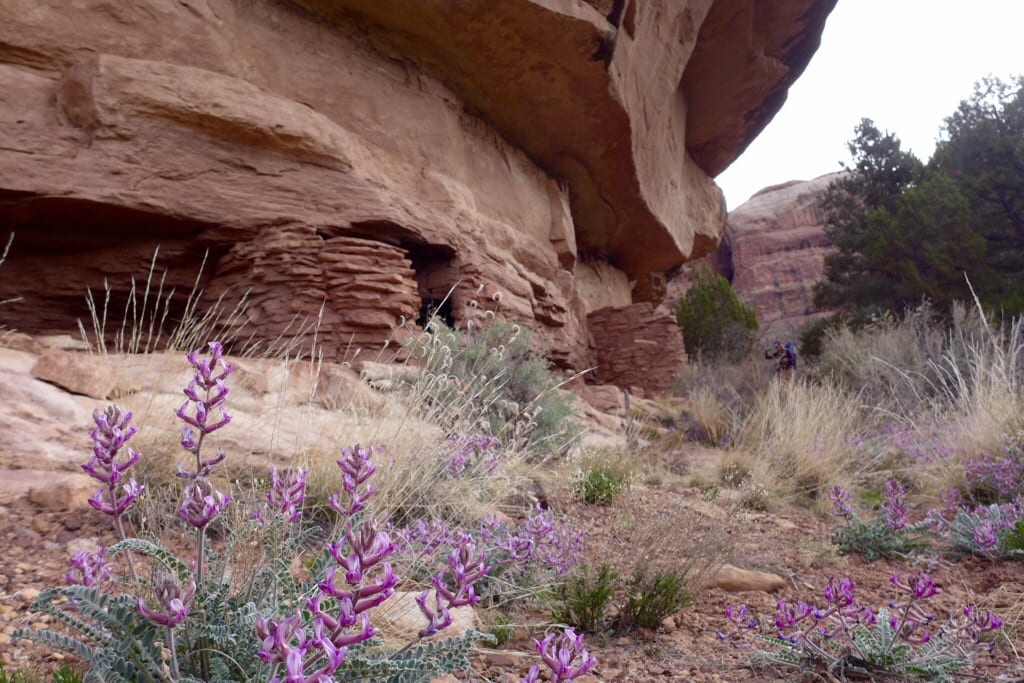 Any workout which does not involve a certain minimum of danger or responsibility does not improve the body — it just wears it out." —Norman Mailer
March 21
Hayduke Salt Creek/Dark Canyon Alternate, trail up Salt Creek to wash, then up to 4WD road intersection – 18.9 miles
Boy howdy everything ramped up today: views, artifacts, difficulty level, and weather!
First off… I spilled most of my breakfast protein drink (looks exactly like baby poop or throw-up) in the bottom of my tent. It was a big mess. I scooped most of the drink back up into my container and mopped up the rest quickly with a pair of underwear and off we went. And yes I drank the scooped up protein drink.
Indian granaries, beautiful open trail plateau walking, and the elusive All American Man attraction were great stops along the way.
Then we hit lunch and our last water for a day or so. Here we loaded up on water. Lots of it, because we are unsure of the next reliable source.
With heavy packs, we left the trail and headed cross-country up sandy washes, and over cacti littered terrain, and hit the hard stuff.
After a few sketchy climbs with very loose rocks, hauling packs up a chimney where big rocks nearly hit Bubs and I and weather turning colder and windy, I was mentally and physically pooped.
The last part of our trek was up the narrowest and steepest ATV road I have ever seen.
Drop n' Roll checked the weather on her InReach and it is forecasted to snow and rain tomorrow. We have decided to connect our current route to another alternate to avoid slippery rocks.
I am super tired tonight, but my body and feet feel great. Bubs is really suffering from old and new blisters. She is a trooper.