Time to get the maps and guidebooks out to start planning and dreaming a this spring and summer's hiking trips. I love the whole process of organizing, reading and sharing my plans. My heart races just thinking of shouldering my lightweight pack and hitting what nature has in store. It is the good stuff.
Lady on a Rock's annual hiking favorites is a post I have fun putting together. The list helps me to focus on what worked and what needs a bit of tweaking. It is super fun to look back on the year's adventures and look toward 2016's. In 2015, I managed to complete the goal of section hiking the entire Pacific Crest Trail by hiking 500 miles through Washington. Also, I hiked the Lowest to Highest Route: Badwater to Mount Whitney, the Tahoe Rim Trail, the Lost Coast Trail, a few century rides on my bike, and many other short climbs and backpacks.
The following list features my favorite outdoor items I used and loved. All items fall in line with my belief in keeping things simple and light. I also try to only buy new gear if my old gear is worn out or something lighter with attractive features hits the market. This year I added a quick list from past year's lists that I still use and love.
Thanks to Pinterest, my 2015 Hiking Favorites are again visually portrayed.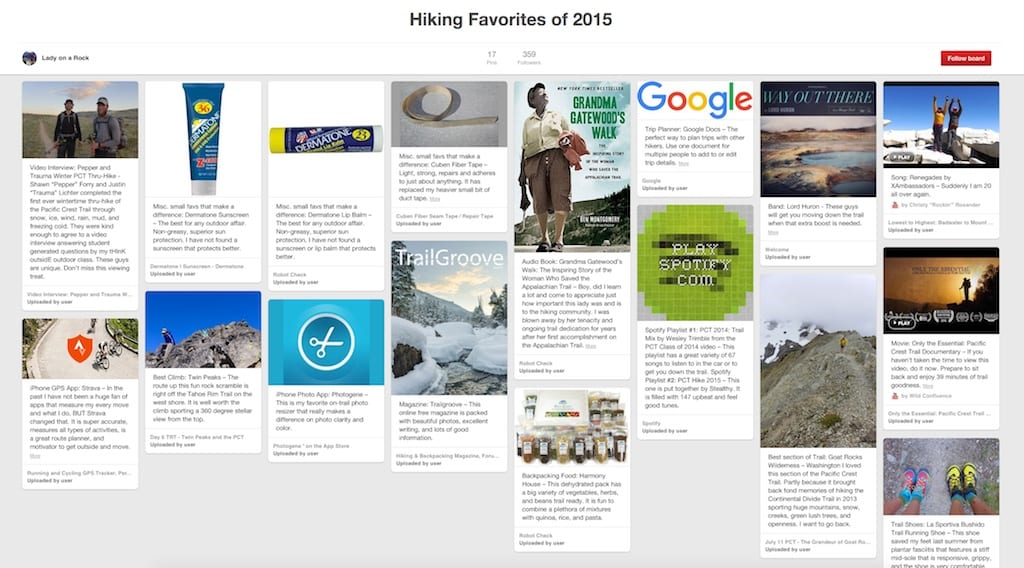 Hiking Favorites of 2015
Trail Shoes:
La Sportiva Bushido Trail Running Shoe – This shoe saved my feet last summer from plantar fasciitis that features a stiff mid-sole that is responsive, grippy, and the shoe is very comfortable.
Backpacking Food:
Harmony House – This dehydrated pack has a big variety of vegetables, herbs, and beans trail ready. It is fun to combine a plethora of mixtures with quinoa, rice, and pasta.
iPhone GPS App:
Strava – In the past I have not been a huge fan of apps that measure my every move and what I do, BUT Strava changed that. It is super accurate, measures all types of activities, is a great route planner, and motivator to get outside and move.
iPhone Photo App:
Photogene – This is my favorite on-trail app to resize photos before I post them online. I think it really makes a difference on photo clarity and color.
Best Climb:
Twin Peaks – The route up this fun rock scramble is right off the Tahoe Rim Trail on the west shore. It is well worth the climb sporting a 360-degree stellar view from the top.
Best section of Trail:
Goat Rocks Wilderness – Washington – I loved this section of the Pacific Crest Trail. Partly because it brought back fond memories of hiking the Continental Divide Trail in 2013 sporting huge mountains, snow, creeks, green lush trees, and openness. I want to go back.
Video Interview:
Pepper and Trauma Winter PCT Thru-Hike – Shawn "Pepper" Forry and Justin "Trauma" Lichter completed the first-ever wintertime thru-hike of the Pacific Crest Trail through snow, ice, wind, rain, mud, and freezing cold. They were kind enough to agree to a video interview answering student generated questions by my tHInK outsidE outdoor class. These guys are unique. Don't miss this viewing treat.
Movie:
Only the Essential: Pacific Crest Trail Documentary – If you haven't taken the time to view this video, do it now. Prepare to sit back and enjoy 39 minutes of trail goodness.
Magazine:
Trailgroove – This online free magazine is packed with beautiful photos, excellent writing, and lots of good information.
Spotify Playlist #1:
PCT 2014: Trail Mix by Wesley Trimble from the PCT Class of 2014 video – This playlist has a great variety of 67 songs to listen to in the car, at the gym, on a run, or to get you down the trail.
Spotify Playlist #2:
PCT Hike 2015 – This one is put together by Stealthy. It is filled with 147 upbeat and feel good tunes that are definitely on the hipster side.
Song:
Renegades by XAmbassadors – Suddenly I am 20 all over again.
Band:
Lord Huron – These guys will get you moving down the trail when that extra boost is needed.
Trip Planner:
Google Docs – The perfect way to plan trips with other hikers. Use one document for multiple people to add to or edit trip details. Currently, Wired and I are collaborating on a couple upcoming trips using Google Docs.
Audio Book:
Grandma Gatewood's Walk: The Inspiring Story of the Woman Who Saved the Appalachian Trail – Boy, did I learn a lot and come to appreciate just how influential this hardy lady was to our hiking community. I was blown away by her tenacity, stamina, and advocacy for the AT and other trails for years after her first accomplishment on the Appalachian Trail. 

Misc. small favs that make a difference:
Cuben Fiber Tape – Light, strong, repairs and adheres to just about anything. It has replaced my heavier small bit of duct tape.
Dermatone Lip Balm and Sunscreen – The best for any outdoor affair. Non-greasy, superior sun protection. I have not found a sunscreen lip balm that protects better.

Favorites from 2010-14 that are still my favorites!
After strolling through the last 6 years of my annual Hiking Favorites posts, I thought it would be fun to list items that I still use and still love. Here ya go:
2010:
Top: Patagonia Women's Capilene 2 Lightweight Zip-neck
Socks: injinji Trail Toesock
Hygiene: Diva cup
Sleeping Pad: Therm A Rest Neo Air
Online Organizer: Evernote
2011:
Traction Device: Kahtoola Microspikes and CAMP Corsa Ice Axe
Hiker Info Card: Moo Mini Business Cards
Comfort: Z-rest sit pad
Hiker Jewelry: Tarma Jewelry
Rain and Water Protection: Trash compactor bag inexpensive waterproof tough pack liner and cover
2012:
Stove: Jetboil SolTi
Gaiter: Dirty Girl Gaiters
Protection: Buff
2013:
Sleeping Bag: Zpacks 10 Degrees, Medium Length, Regular Width 
Pillow: ZPacks Pillow Dry Bag
Down Jacket: Mountain Hardware Ghost Whisperer Hooded Down Jacket
Wind Jacket: Patagonia Houdini Jacket
Convertible Pants: prAna Monarch Convertible Pant
Water Filter: Sawyer Mini Water Filtration System
All of my 2014 Favorites are still my jam. Visit HERE to view them all.
Okay now it is your turn. What are your hiking and gear favorites? Please share.