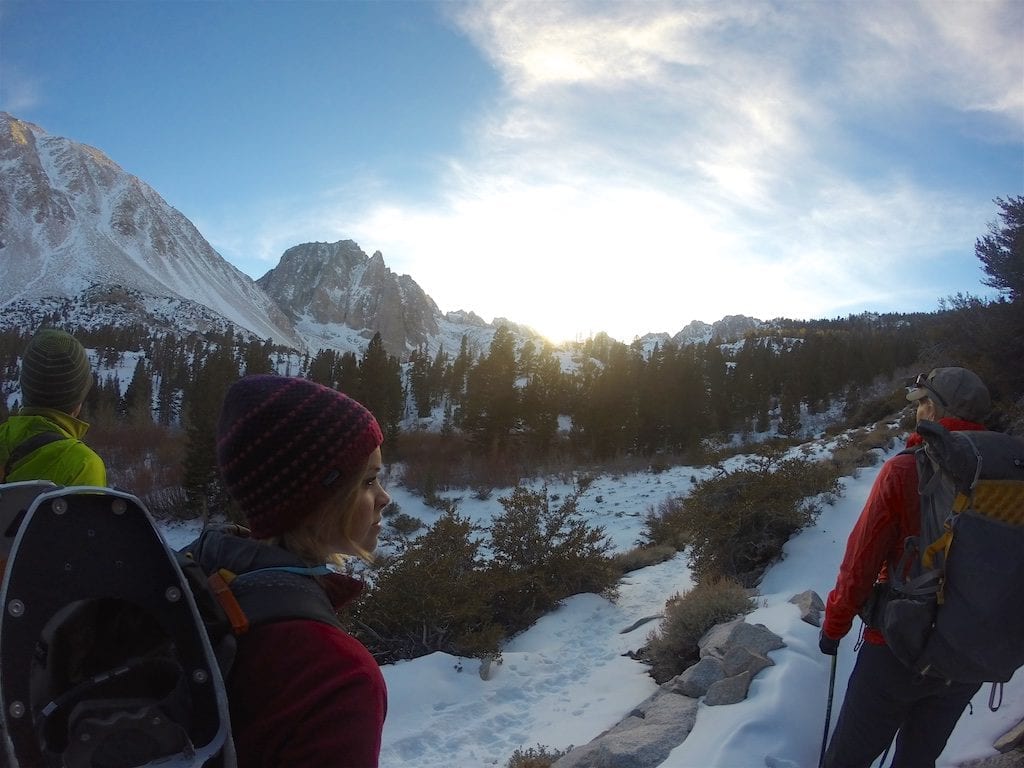 "To see the world, things dangerous to come to, to see behind walls, draw closer, to find each other, and to feel. That is the purpose of life."
― from the movie, The Secret Life of Walter Mitty
TRIP DATE December 27, 2015
DISTANCE About 8.5 miles round trip
TRAILHEAD  Day-use parking lot at the end of Big Pine Creek Road/Glacier Lodge Road, Eastern Sierras
DIFFICULTY Strenuous
EQUIPMENT Snowshoes
NAVIGATION GPS and/or good map skills required when hiked in snow
SEASON  Winter
USEFUL INFORMATION This is the only road plowed all the way to trailhead (Glacier Lodge) on the eastern Sierra.
Day 1: North Fork Big Pine Creek Trail Snowshoe
This trip is a keeper!
It delivers a High Sierra fix quickly with views, climbs, waterfalls, lakes, and just plain old winter outdoor pleasure. A real beaut.
Taking advantage of Christmas behind us, we headed up Highway 395 with Adele's new album blasting. To start this mini-adventure, we first stopped at the Lone Pine Ranger Station to inquire about current snow conditions in the Sierras, then picked up the book Arches of the Alabama Hills by Orlyn Fordham from Lone Pine Film History Museum.
We started from the Big Pine trailhead at 1:00 in the afternoon, a pretty late start. I recommend getting a morning start and perhaps exploring more of the lakes in the basin than we were able to. Plan for a very big day in the snow.
The trail leads up Big Pine Creek to 1st Falls, then meandered through aspen and pine groves, with open views, then lands the hiker in the lap of the Palisade Mountains. The Palisades include seven mountains topping 14,000 feet. That is nearly half of all of the 14ers in California. Simply incredible.
After a very cold evening descent, we drove to the historic Dow Villa Motel in Lone Pine, enjoyed pizza, and one of my favorite movies, The Secret Life of Walter Mitty.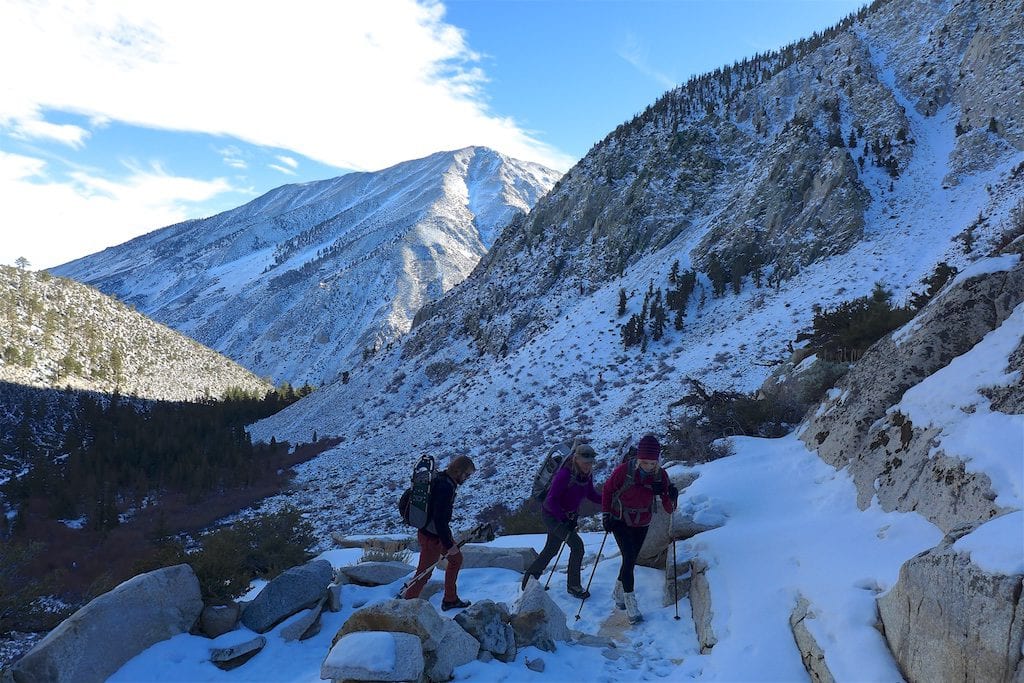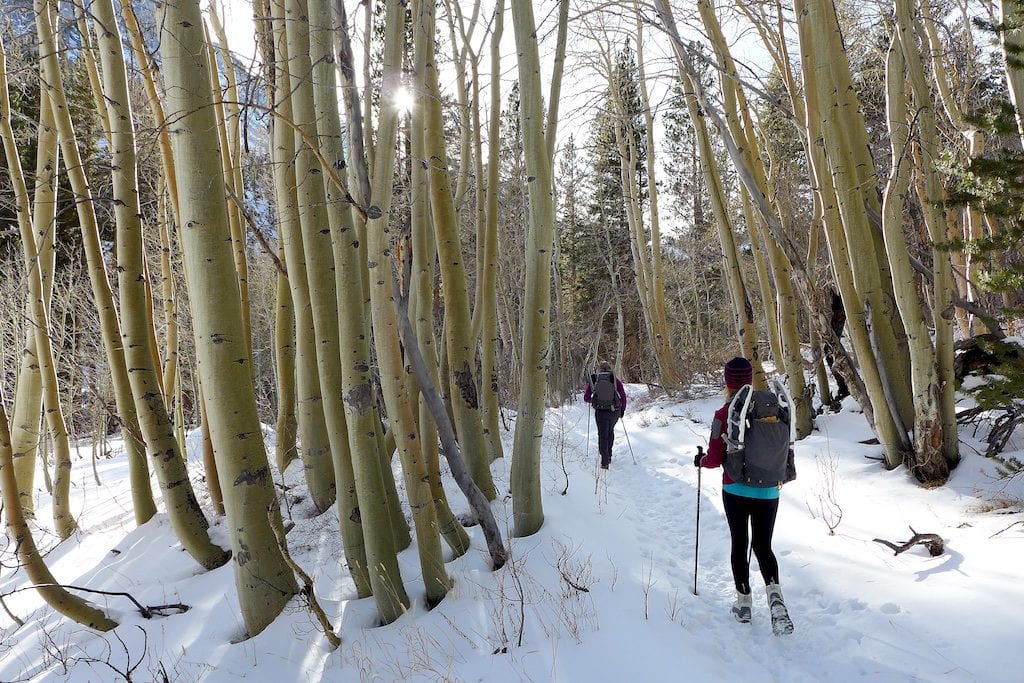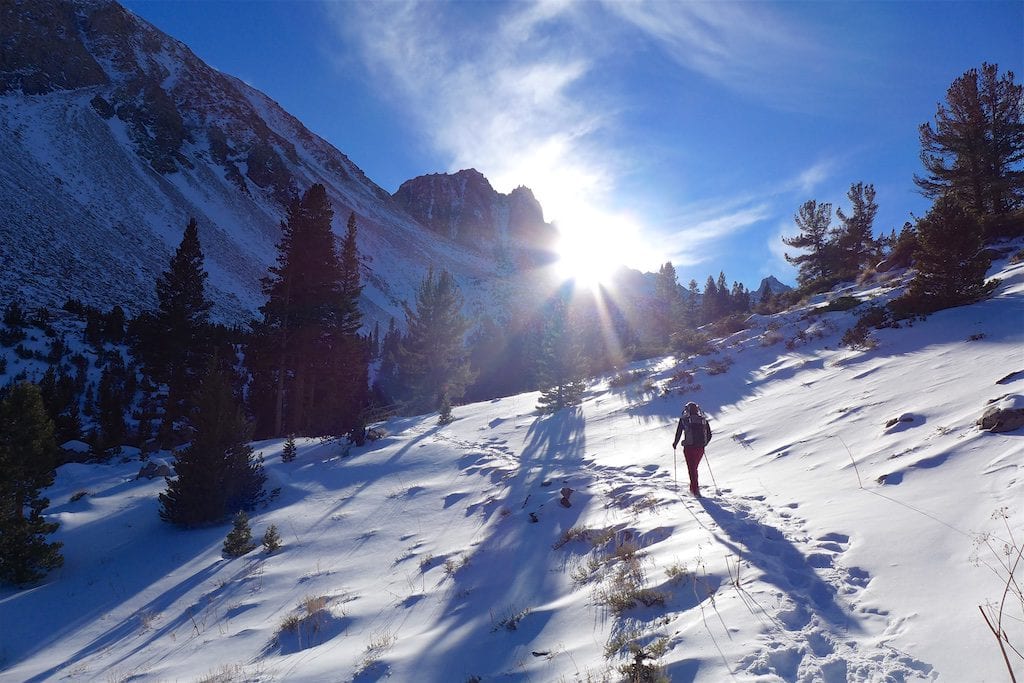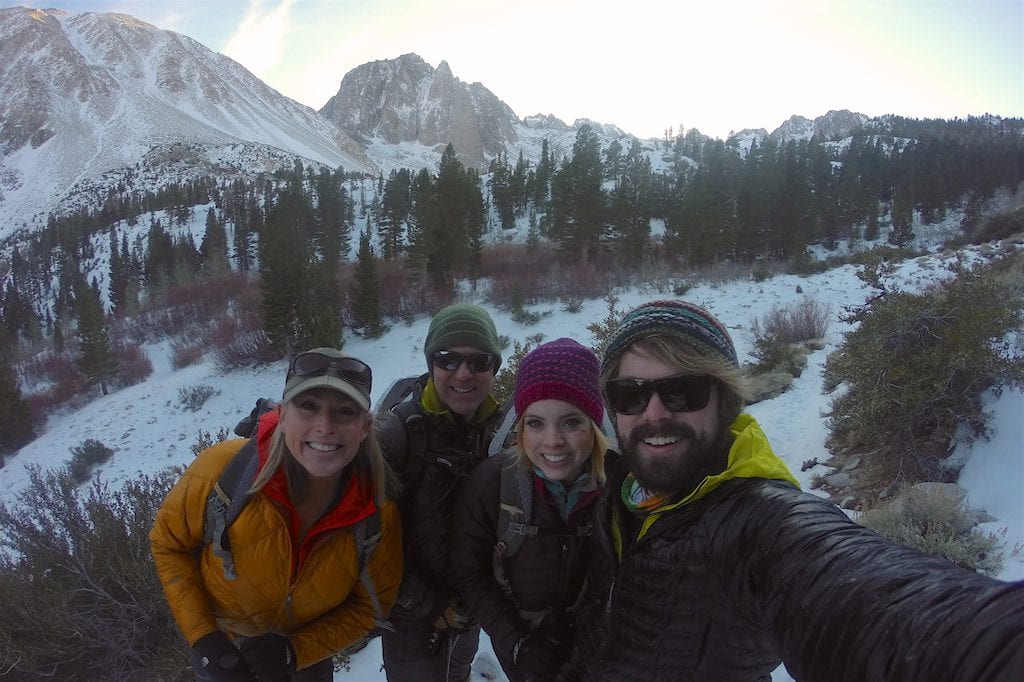 Download
Day 2 – Alabama Hills Arches
TRIP DATE December 28, 2015
DISTANCE  Create your own adventure exploring
TRAIL HEAD  Many of the arches are located off of Movie Road
DIFFICULTY  Varies from very easy to class 3 climbing
NAVIGATION The book Arches of the Alabama Hills by Orlyn Fordham is very helpful with GPS coordinates, names,  and photos of many of the arches.
BEST TIME TO HIKE  Fall, winter, and spring (too hot in summer)
After a very delicious and large portioned breakfast at Alabama Hills Cafe , we set out to beat the incoming storm and locate a few of the arches featured in the book, Arches of the Alabama Hills. Alabama Hills, located just a few miles west of Lone Pine is well-known for the set locations of popular western movies and for a plethora of rock arches.
We had a great day hiking, climbing, and exploring the unique rock formations. A perfect winter weekend get-a-way.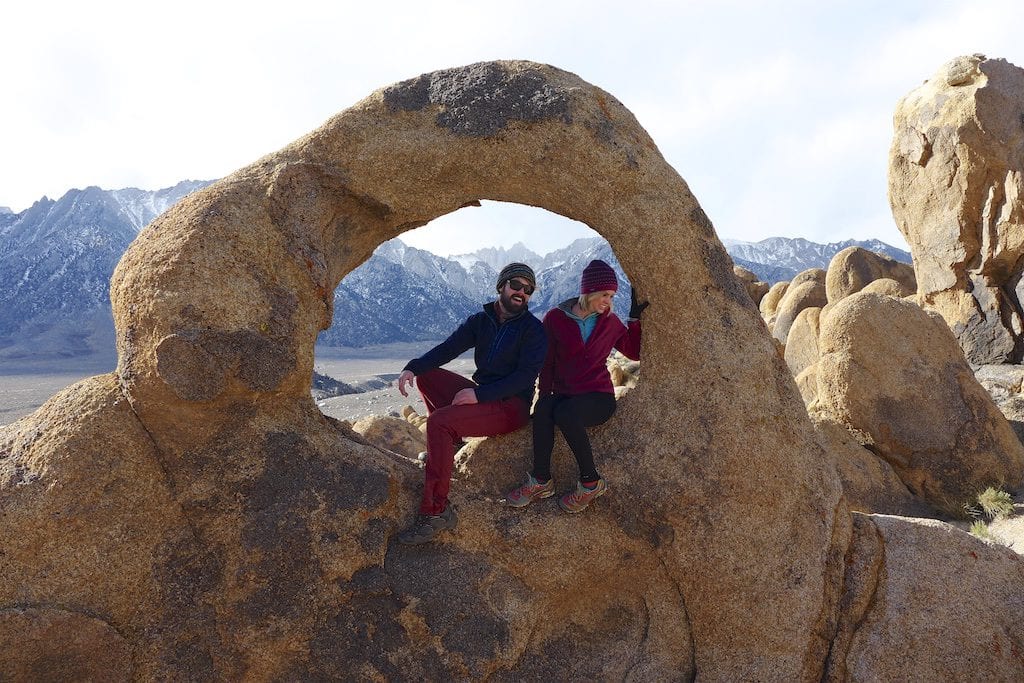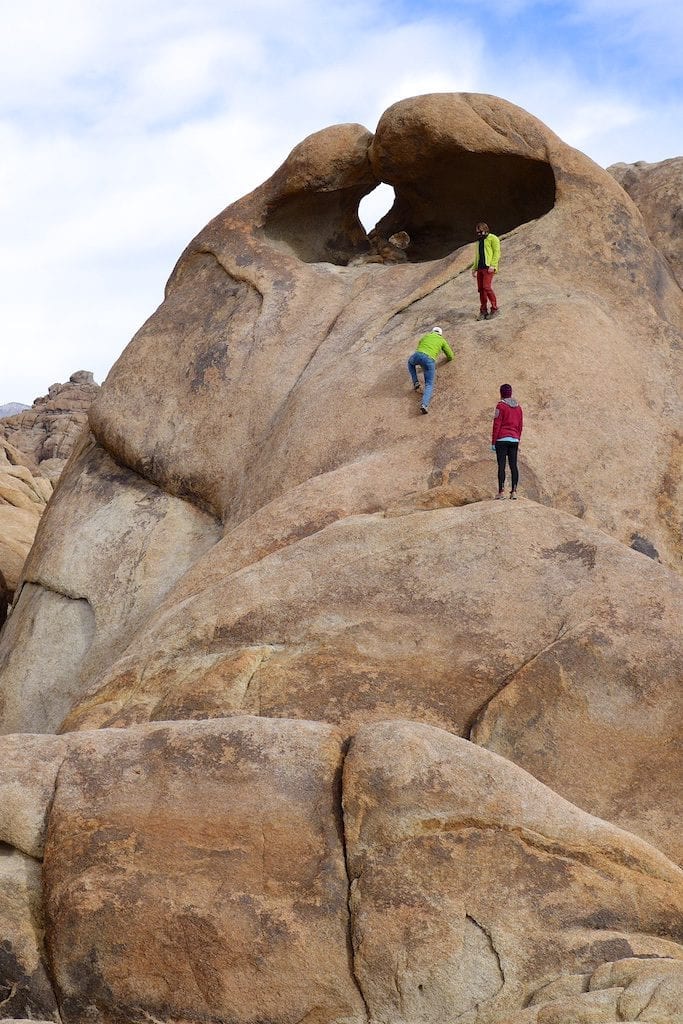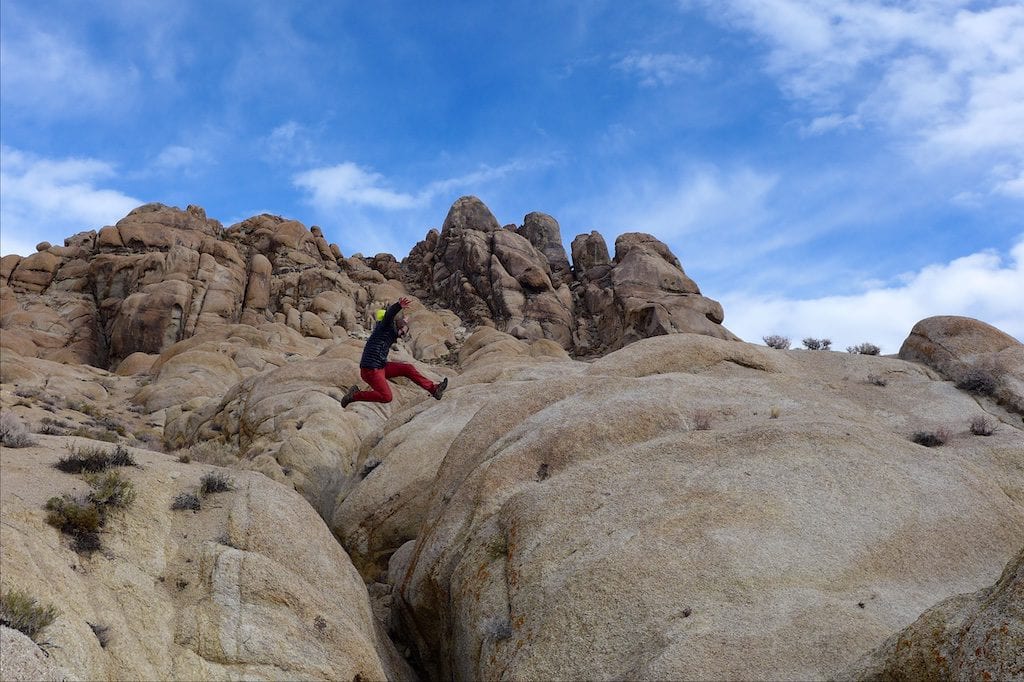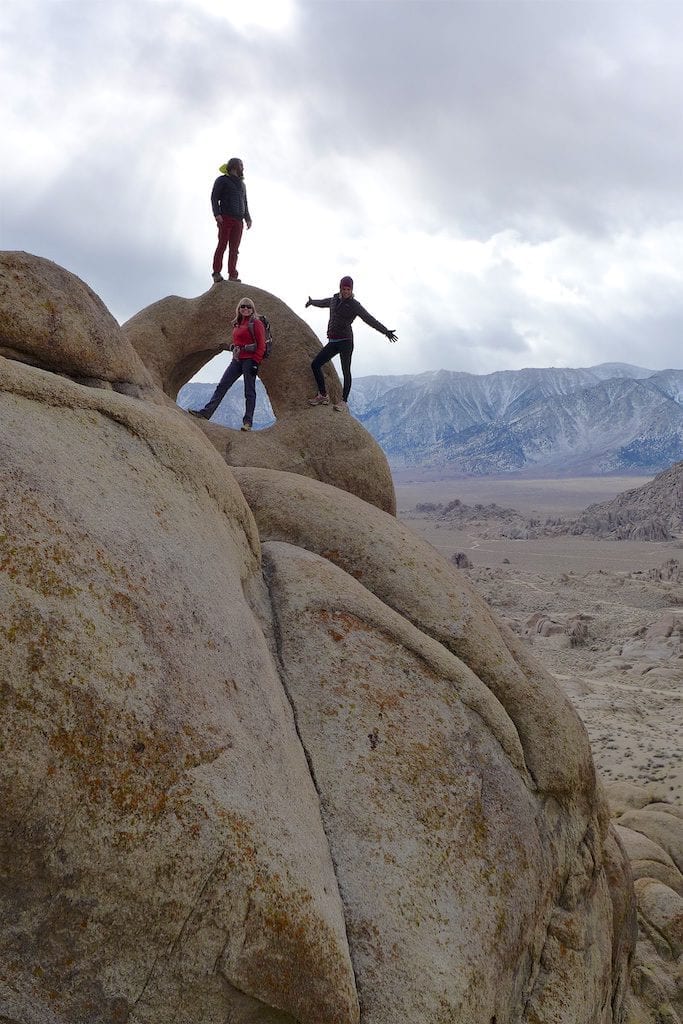 Locations of the arches we visited and of many we would like to come back to explore:
View all trip photos on Flickr