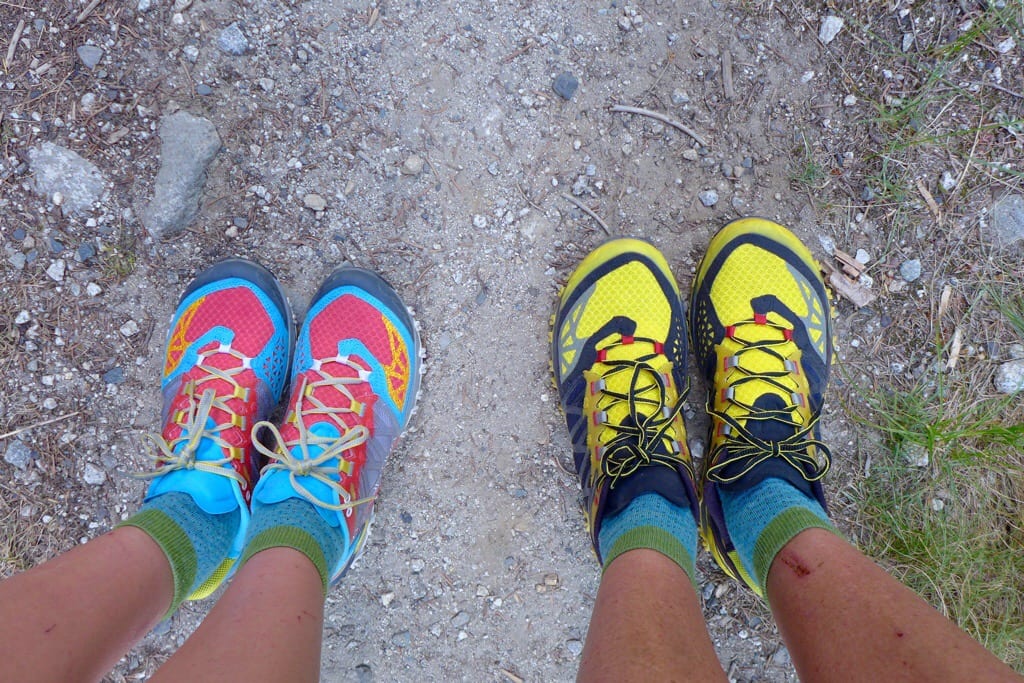 "The sum of the whole is this: Walk and be happy; Walk and be healthy."
― Ben Montgomery, Grandma Gatewood's Walk: The Inspiring Story of the Woman Who Saved the Appalachian Trail
News from a podiatrist a hiker never wants to hear:
"You have plantar fasciitis, most likely the whole fascia on both feet are inflamed, I would recommend an MRI to make sure it is not a stress fracture, in the meanwhile, wear a night splint (a heavy boot) every night while sleeping, 25 miles is not good for you to hike in one day, stop hiking for a month, stretch, ice, and change to stiff boots with a custom orthotic."
I looked at the doctor with wide eyes, asked a few questions, and limped out of the office.
That was last July. In 3 days, I would be leaving to hike 500 miles through the state of Washington on the Pacific Crest Trail. I quickly went to work creating a lightweight trail-friendly system to use while hiking to get on the road to healing.
According to FootCareMD, "A diagnosis of plantar fasciitis means you have inflamed the tough, fibrous band of tissue (fascia) connecting your heel bone to the base of your toes."
To me, plantar Fasciitis basically feels like a hot poker is jabbing into the bottom of the foot.
I walked the Lowest to Highest Route, Tahoe Rim Trail, and Lost Coast Trail with foot pain. Readers that followed me online during those journeys might recall some of my struggles (or complaints). Readers also virtually experienced the relief and joy, when the feet got better. I walked from pain to healing while hiking on the Pacific Crest Trail.
6 on-trail tips for managing plantar fasciitis:

1. Trail Shoe
I switched from a trail shoe with a flexible sole to a trail shoe with a stiffer mid-sole and heavier duty rock plate, such as the La Sportiva Bushido Trail Running Shoe or La Sportiva Ultra Raptor Trail Running Shoe. This change was met with the biggest resistance, but was the game changer. For years, I have been a fan of soft trail runners and walking barefoot. Also, be sure and buy shoes that are longer and wider than your regular street shoes.
2. Custom Orthotic
I let go of store bought insoles for a stiffer, but comfortable custom insole made by my podiatrist. I continue to wear these everyday.
3. Boot Sock/Night Splint
The visualization of packing one of those very bulky and heavy boot splints on top of a pack was just plain crazy. I found a comfortable sock, the STRASSBURG SOCK, to wear as a night splint. It did the job and was compact and lightweight.
4. Compression Sleeve
This was something that might have been an extra, but I think helped manage pain during the day. I wore Compression Foot Sleeves over my Injinji toesocks while I was hiking. I got this idea from Sage Clegg.
5. Soak Feet
Soak feet in cold stream or lake at least twice a day for 10 minutes. I tried to time the soaks around the lunch and late afternoon breaks. Dipping bare feet in snow, also works great.
6. Massage and Stretch
Massage at night: Before bed, deep tissue massage with both thumbs the ligaments between the heel and the ball of the feet. I used the techniques in Sports Massage Techniques for treating Plantar Fasciitis. During this massage I added a drop of peppermint and lavender essential oils. This step should be omitted in active bear areas. The oils are cooling, healing, pain-relieving, and relaxing.
Stretch in the morning: Stretch at least 10 minutes before exiting the tent in the morning (this includes potty breaks at night). I used the techniques in Morning Exercises for Heel Pain & Plantar Fasciitis and Plantar Stretch for Plantar Fasciitis.
Stretch at breaks: With the aide of a post, tree or large rock do the Wall Stretch Version 1 and Wall Stretch Version 2.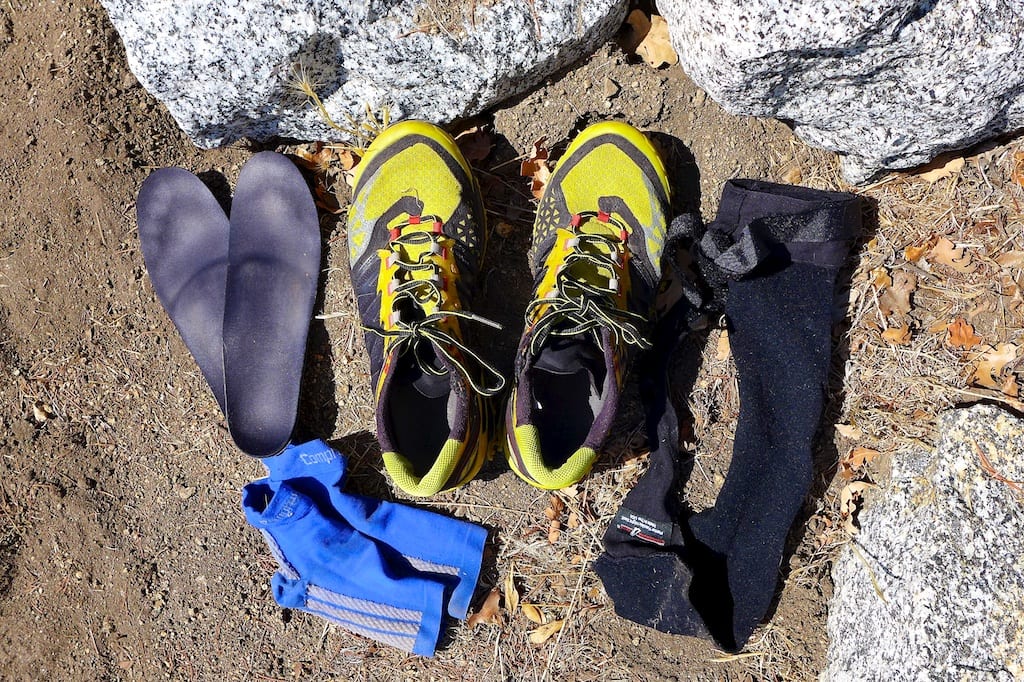 These are my on-trail strategies that made all the difference. Hiking in pain takes away from the enjoyment of a trip and is physically and mentally draining. Even now when I feel that frightening bottom of the foot twinge of pain, I race to stretch, massage, and wear the night sock. Plantar fasciitis is becoming more common among athletes. Have tips that have worked for you? Please share your successful treatment in the comments below.
If you liked this article, then consider following Lady on a Rock on Facebook and Instagram.

IMPORTANT DISCLAIMER: None of the health topics presented on Lady on a Rock have been evaluated or approved by the FDA. They should not replace personal judgment nor medical treatment when indicated, nor are they intended to diagnose, treat, cure, or prevent any disease.