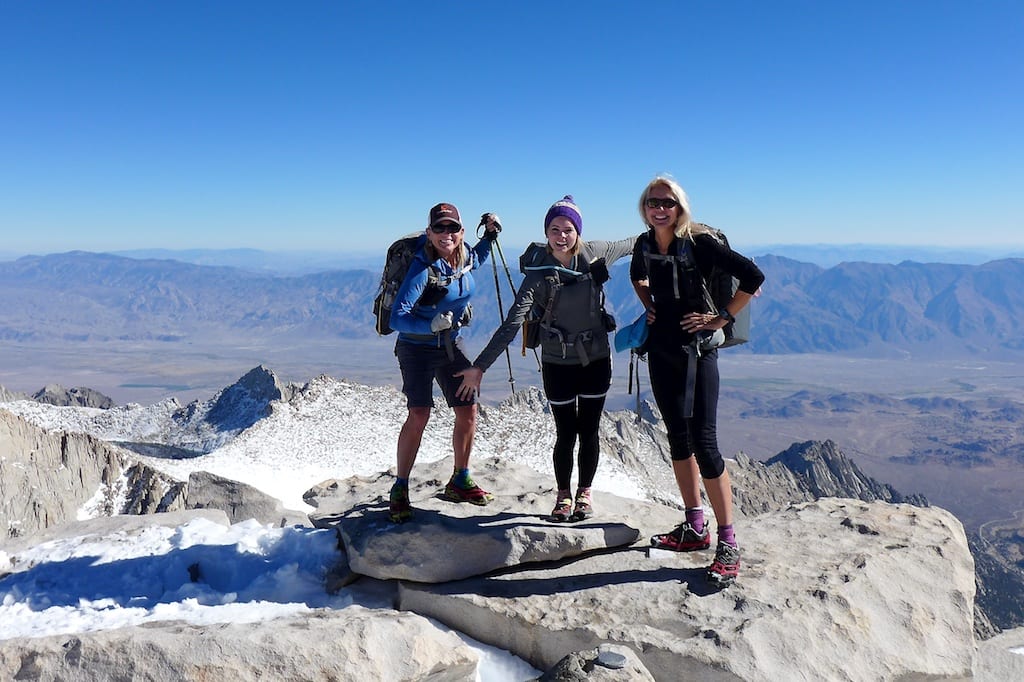 Just a few short months ago, I cartwheeled down the northeast chute of Mount Whitney. It was the final day in completing the route Lowest to Highest: Badwater to Mount Whitney. The fall left me bruised and cut from head to toe, but very much alive.
Last weekend, I questioned my sanity when I found myself climbing this very peak once again in snow.
A few weeks ago, my good friend and long time hiking partner, Arrow contacted me with 3 Whitney permits she nabbed through the lottery and asked if I would be interested in joining her. Stealthy and I both agreed and envisioned a quick climb with warm temps and clear trail. As a bonus, we all recently had birthdays, so what a great way to celebrate!
While in route to meet Arrow for the trip, we were quite surprised when she contacted us from the ranger station reporting snow from the recent storm had covered Mount Whitney. Conditions were unclear with reports of many hikers turning around at Trail Crest due to deep snow. Luckily, we had thrown in micro-spikes last minute for inclement conditions.
This beautiful and challenging fall climb was done Rockin' style:
-leave work on Friday afternoon, drive to trail head (Whitney Portal)
-hike in a few miles with headlamps, set-up camp and enjoy stars, beverage, laughter, and snacks (Outpost Camp, 10,300 feet)
-alpine start (5:00 am) Saturday morning
-climb peak (Mount Whitney)
-return to camp, pack up, hike out
-enjoy lots of in-town food (Totem Cafe in Lone Pine), drive home
I have climbed this famous and well-traveled peak many times from different approaches, conditions, and seasons. The lighting, rock, views, altitude, exposure, and sheer beauty always surprises me. After our alpine start, we hit Trail Camp just as the sun rose over the Inyo Mountains casting golden light over the spires of Mount Whitney. Morning light lit up the snow as we climbed higher and higher.
This was Stealthy's first summit of Mount Whitney, but not her first 14er (peak over fourteen thousand feet). She attacked it Stealthy style: in the lead, swift, and quiet.  A climber she passed yelled back at me, "Hey, your friend is flying!"
That is when the unexpected happened…
First mistake…looking down over and over again
Second mistake…looking west at the chute I fell down…one too many times.
Heart-rate way too high… breathing shallow and fast…dizziness…lots of dizziness…nausea
Then the crying started…
My body was panicking and I was not mentally ready. Caught unprepared. Fear had taken over.
Arrow was kind enough to sit down with me on the steep snow covered slope, get a snack, some water, and regroup. She was reassuring, kind, and supportive. Years ago, Arrow and I both glissaded down that same chute safely in soft snow. It was still steep and long.  She knew.
After that, things got better, I focused on touching the mountain one step at a time, thinking positive thoughts, planning new trips, and visualizing getting off the mountain without any mishaps. The rest of the day was met with celebration and thankfulness. We climbed to the top and even met hiker friends along the way.
Fear does crazy and dangerous things to our bodies and minds. I think Eleanor Roosevelt was on the right track when she said:
"I believe anyone can conquer fear by doing the things he fears to do, provided he keeps doing them until he gets a record of successful experience behind him."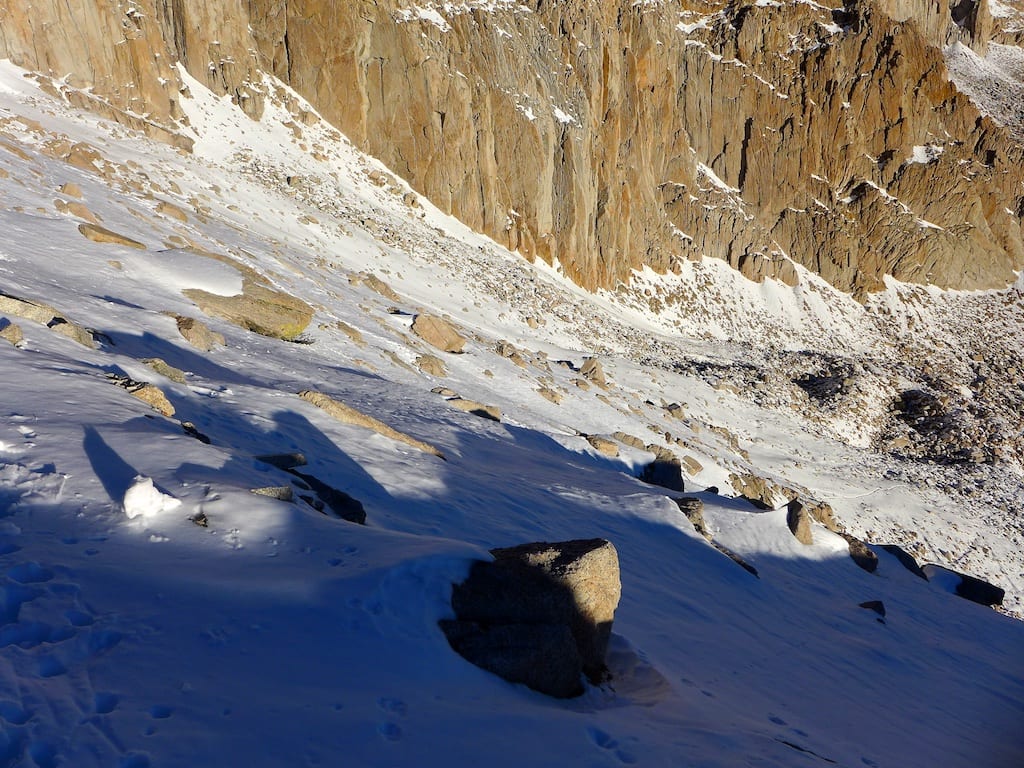 Photos
View all photos from the day on Flicker
Click once on any photo below to view full size. Flip through all photos by clicking arrows on the sides of photos or on mobile device, swipe. To exit slide show, click X in the upper left hand corner.
Rockin's Mount Whitney Trip Reports
Fear happens. Do you have a strategy to overcome fear? Please share in the comments below.