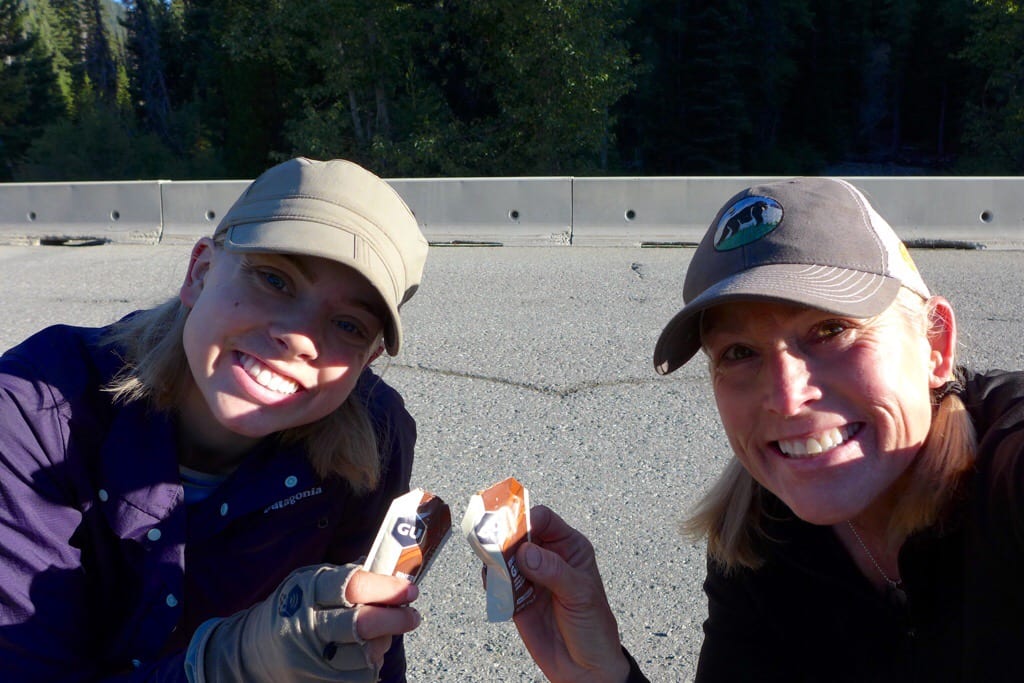 "Finish strong" – Breakfast Chicken, hiker
PCT Camp to Manning Park – 4.9 miles
Town day!
Stealthy and I made a quick dash out of camp with tunes a playin'. We had 2 Chocolate Outrage GUs left to celebrate at our ending, the Gibson Road Bridge.
The air was crisp, sun a shining, and all things were right. We sat at the bridge basking in all that had transpired over the last 26 days and contentment washed over us. I felt so blessed and full of emotion.
We talked and agreed that it took almost a month for our bodies to say, "Hey! Walking every day, all day, is good." Right now IF we were hiking on, we would first take a zero rest day and then increase our daily food substantially. But that is for another time.
After quick laundry, breakfast, hot tub, pool, and showers, we decided to stay a day at the Manning Park Hostel. Tomorrow we take the Greyhound Bus to Vancouver, take in some sites in Van, then fly home.
Breakfast Chicken is riding to Seattle with Malcolm, a northbound PCT hiker that just finished the whole trail in 4 months. We talked to Malcolm many times over the last few days and enjoyed getting to know him a bit. Best of luck to you Malcolm in upcoming veterinary school.
Today was spent eating, sleeping, and posting the last 10 days of blog posts. 10 days! It is the longest I have ever been without cell service while on the trail.
Thank you readers for following along this PCT ongoing journey over the last few summers. You have inspired and pushed me along through the triumphs and struggles, making it a richer and more meaningful accomplishment.
Also, thank you for taking time out of your day to post comments. It is a BIG deal. I plan on replying on the blog soon when I have regular service. So many of you have posted great questions and suggestions.
It has been one heck of a great long ride.