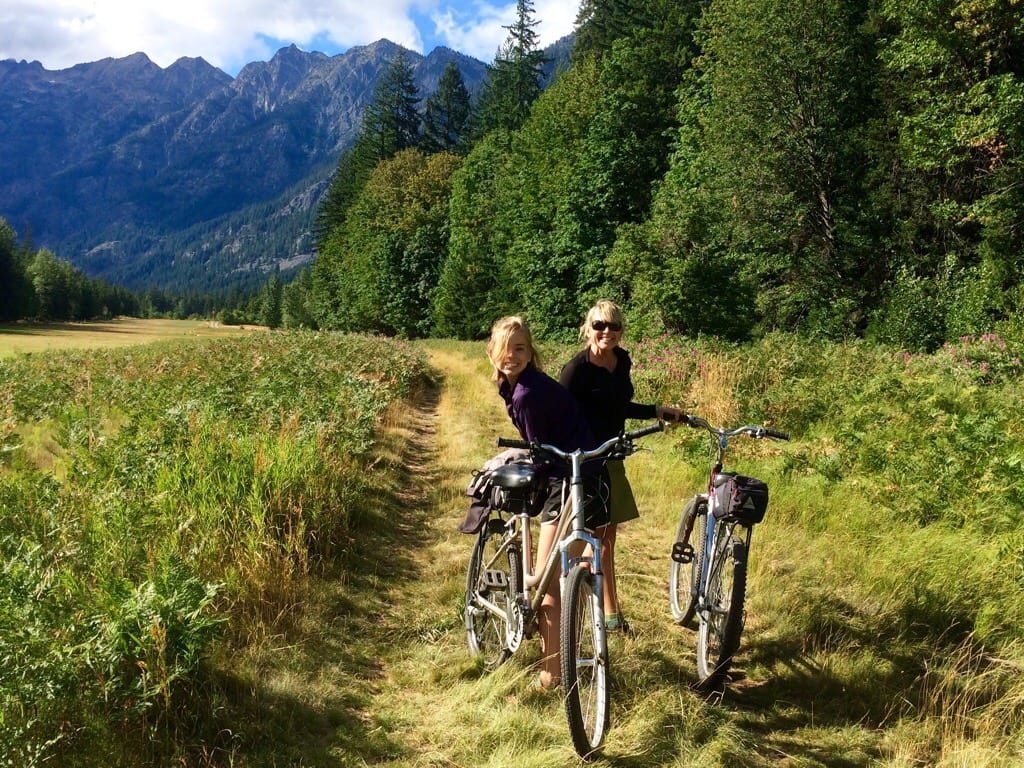 "Unless someone like you cares a whole awful lot, nothing is going to get better. It's not." – Dr. Suess
Swamp Creek to High Bridge – 8.76 miles
Over the last week, Dan and Trent have packed backpacking gear themselves and made arrangements to drive, fly, shuttle, drive, and hike to meet us in Stehekin. This is quite remarkable.
This is Trent's first backpacking trip. Dan set him up with lightweight gear from our gear room at home. Dan even made arrangements with Skyward, PCT hiker and friend to shuttle them from Burlington to Rainy Pass. Skyward and her hiking partner, Yellowstone stayed at our home during their 2010 PCT thru-hike. Thank you Skyward!
We did make it to High Bridge for the 9:15 shuttle to Stehekin, but after that things went quickly downhill.

A fire closure south of High Bridge confused our meeting place with Dan and Trent, so we missed them in Stehekin. After lots of problem solving and trying to figure out where they might be, Stealthy and I rented bikes to go look for the two. It worked.
Both Trent and Dan had hiked an extra 30 miles to find us on the fire reroute. What they didn't know is we had just made it through before the fire area was closed.
In the movie "Phenomenon" an older movie with John Travolta, the main character buys his hope to be girlfriend chairs she is selling. It is a metaphor of the giving kind of love. That is what Dan has done for me, by coming to finish this hike.  Watch the movie guys to understand. 🙂
The rest of our stay in Stehekin was marvelous with showers, laundry, delicious lunch, and dinner at the resort restaurant, free camping, and two visits to the famous Stehekin Bakery.
Tomorrow we are meeting Skyward at Rainy Pass. She is bringing  resupply to us. Yaaaaaaay!