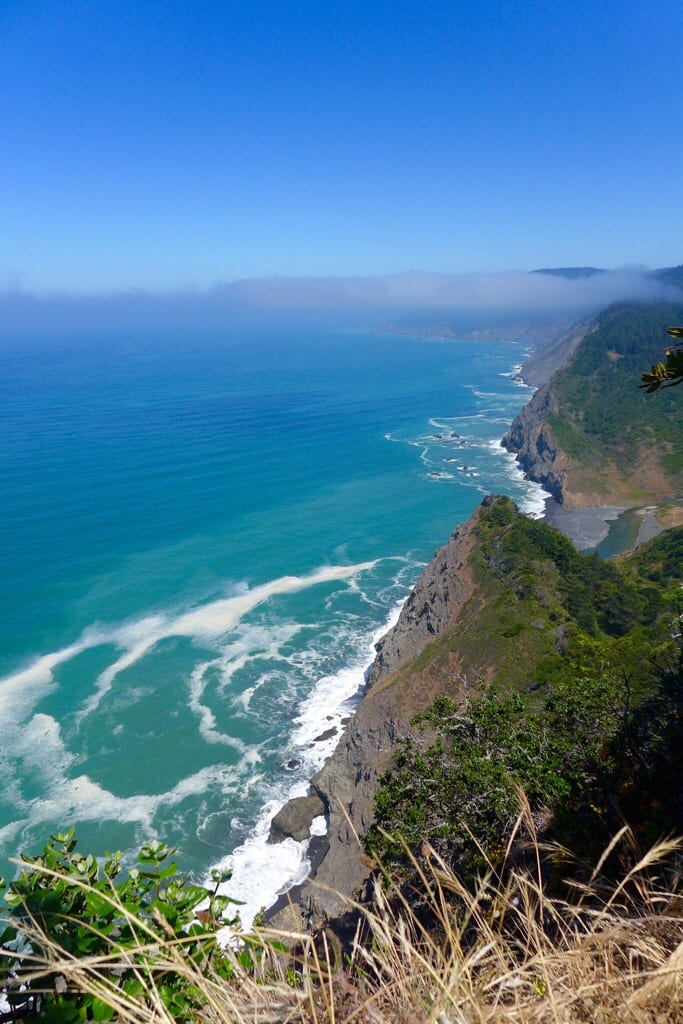 There should have been a warning sign. – LoveNote, thru-hiker
June 14, 2015
Jones Beach Campground to Usal Beach (end of Lost Coast Trail) – 21 miles
This is a very intrepid group, but even this day got to all of us.
If you hike the southern section this year, it is not forgiving.  Be ready for large swings of elevation gain and loss and paths that lead straight up, then down. The trail 10 miles into Usal Beach is overgrown with face high pointy, sharp thistle, large bushes of poison oak covering the trail, and broken loose drop-offs.
On the other hand…..I really loved the first couple hours of this day. My crocs were divine on my feet, the air was cool, wildflowers and elk appeared often, and the forest was deep, healthy and lush. The group took advantage of short side trails that led up to stunning overlooks of the ocean far below our trail. From these vantage points it is easy to see why this is the Lost Coast, where building a road in short vicinity to the shoreline was impossible.
After a very trying afternoon fighting bush and thorn, we were very thankful to reach the trail head where we had fresh food and drink waiting, and the poison oak wash, Tecnu to cleanse our bodies from head to toe. We all agreed that the route was not what we had expected given the glorious write-ups in the magazines. From my perspective, I do have to add that it was a new style of hiking and taking photos on the beach was inspiring.
Tomorrow, Dan and I are heading north to hike in the Redwoods with Wired and John Abela from hikelighter.com, then meandering south down Highway 1 for a short additional vacation.
After that, I will be home for a couple of weeks to prep for hiking 500 miles on the Pacific Crest Trail through Washington starting July 5th. It is going to be epic. 🙂
*For even more details and pics from the trip, check out Drop n' Roll and Wired's blog entries*