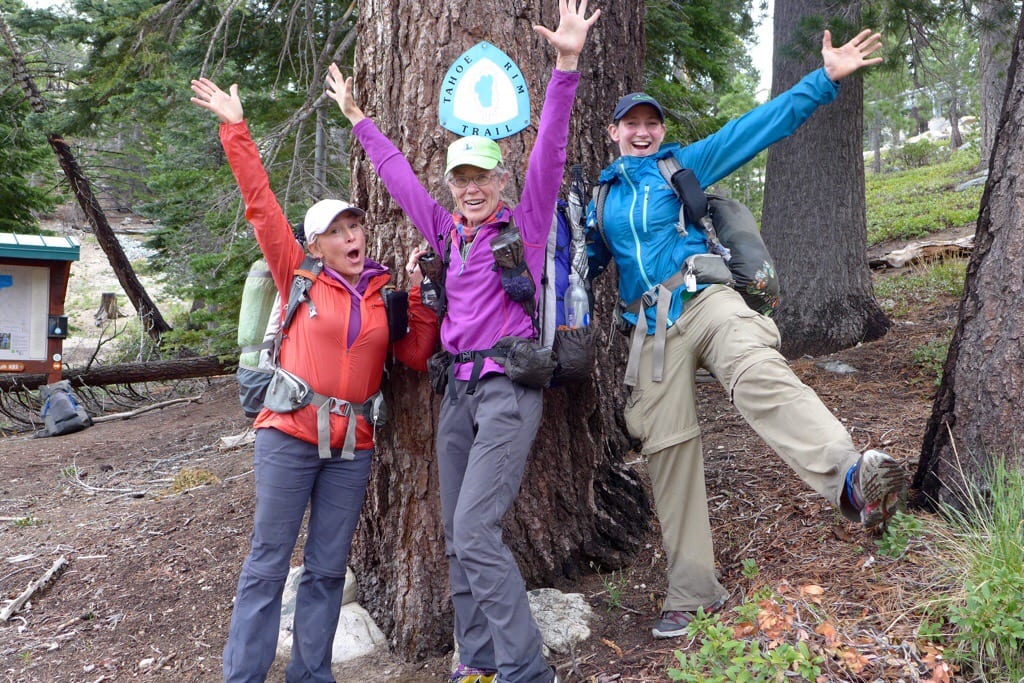 The best thing one can do when it's raining is to let it rain. – Henry Wadsworth Longfellow, American Poet
Finishing the Loop – Highway 89 to Kingsbury South (Heavenly Valley) – 22.3 miles
Beautiful liquid sunshine pelted the tent most the the night. This morning I peaked out my tent and a new day began with mist and fog. Our group readied to tackle the last 22 miles of the Tahoe Rim Trail. I prepared for some serious elevation ups and downs with an extra packet of Via coffee.
As we ascended up, rain began to fall and continued throughout the day. Umbrellas seriously rock. It is the difference between walking in comfort and walking soaking wet.
A juniper tree of enormous size sheltered us during a downpour during our lunch break. How great is that? I even heated water for tea and Thai Noodles.
Fog and rain continued throughout the day. What a blessing for California, as moisture is desperately needed.
We celebrated the ending of our hike of the Tahoe Rim Trail with high fives and smiles. It has been an honor hiking with such experienced, kind, and fun women. It is a rare thing and I am very thankful.
Wired and I are heading next to hike the Lost Coast Trail in northern California with Drop n' Roll, Dan, and Lovenote meeting us there. This hiker group is a sure to be very entertaining.
Stay tuned and thanks for following along.