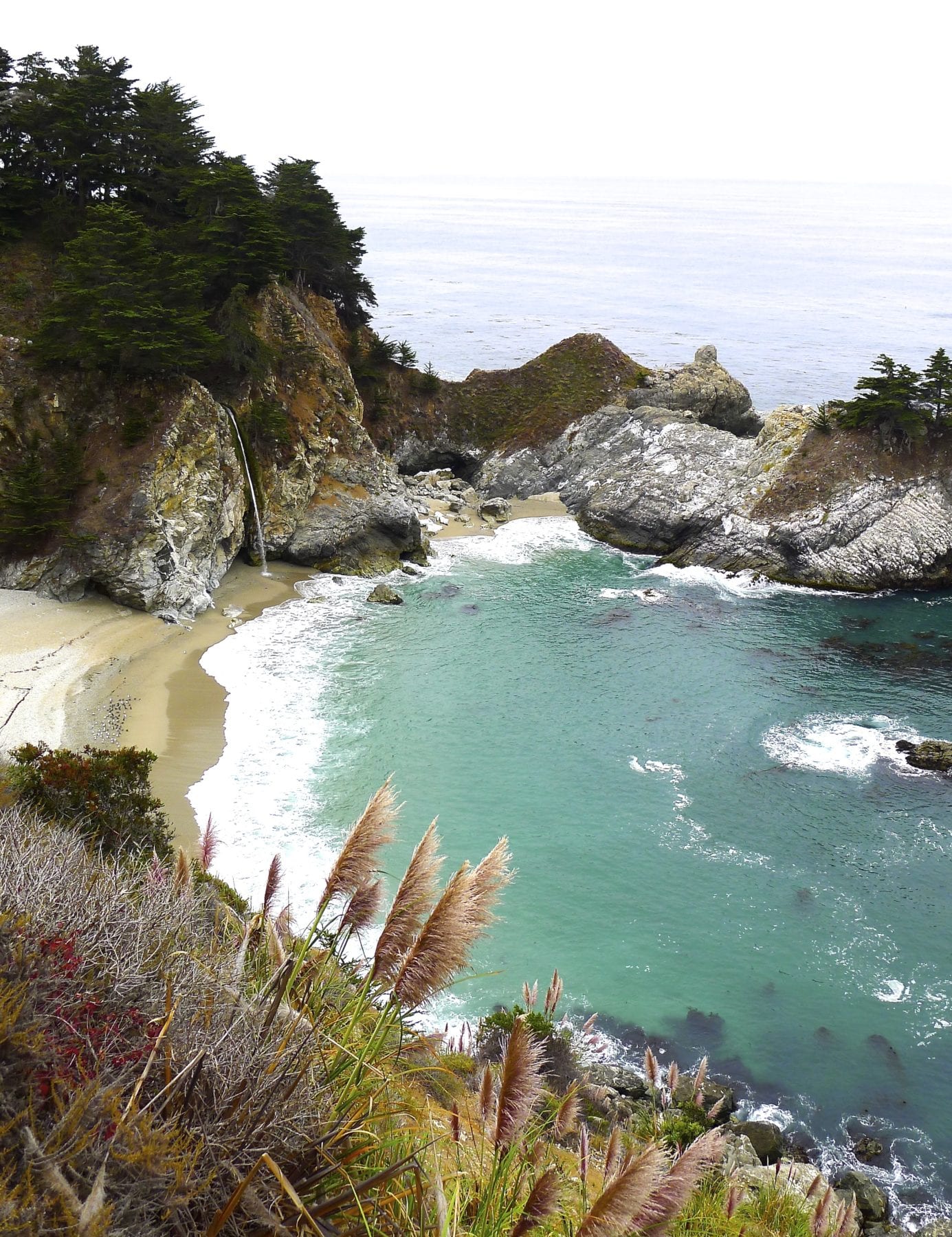 "If you obey all the rules, you miss all the fun."
~Katharine Hepburn
Company of good friends and a dog named Huckleberry
Nice scenery
Light pack
Great food and drink
Natural hot springs
all coupled with feet that itch to burn some trail miles
= One great weekend
Late last summer, Silly Chili and I met at Big Sur, CA for a weekend overnight with Continental Divide Trail hiker friends, Drop n' Roll, Love Note, Burly, and Huckleberry (puppy adopted while hiking the CDT). Drop n' Roll was in California for work and we all jumped at the chance to make a quick backpack happen. The weekend to Sykes Hot Springs was filled with laughter, fun, and a bit of shenanigans.
Dramatic Big Sur is on the coast of central California. The route to Sykes Hot Springs is very popular with evidence of many violations of the leave no trace policy and poison oak along most of the trail.
If you are looking for solitude, this is not the trip for you. However, Big Sur features a rugged coastline, dense redwood groves, open meadows, rivers, waterfalls, arid inland peaks, and mild weather most of the year.
TRIP DATE August 23-24, 2014
LENGTH 20 miles out and back on maintained trail
TRAIL HEAD Pfeiffer Big Sur State Park, Pine Ridge Trail Head CA, Ventana Wilderness, CA
DIFFICULTY moderate
NAVIGATION  marked trail
BEST TIME TO HIKE Year-round
HIGHLIGHT Soaking in Sykes Natural Hot Spring
Day 1 – Pine Ridge Trail Head to Sykes Camp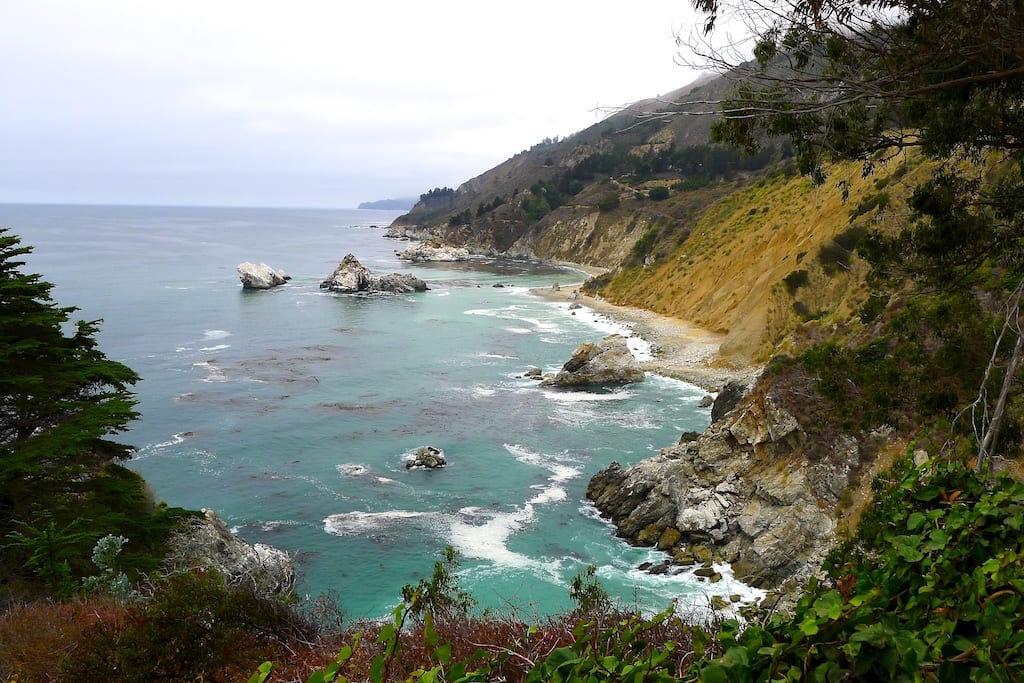 Our route left from the parking lot at Pfeiffer Big Sur State Park on Highway 1 and followed the Pine Ridge Trail ending at the crossing of Big Sur River at Sykes Camp. Sykes camp is large with many available tent sites.
After dinner, drink, and a bit of swimming, our herd headed upstream to popular Sykes Hot Springs. The spring is a great place to meet other hikers and features a few tubs with varying degrees of water temperatures.
Day 2 – Sykes Camp to Pine Ridge Trail Head
After packing up and snapping a few family photos we reluctantly headed back.
As I mentioned earlier, Leave No Trace principles is widely lacking in this area. Evidence of garbage, food, and other unmentionables abound.
Burly even found a roller backpack full of trash and hauled it out by stuffing it in the top of his pack! Lovenote found an abandoned daypack with garbage and also hauled it out. Pretty scary actually.
I think it must be a lack of education for this to happen. Perhaps a solution is to require at trail heads on over populated trails, a short 5 minute interactive course on Leave No Trace ethics. The pamphlets apparently are not working.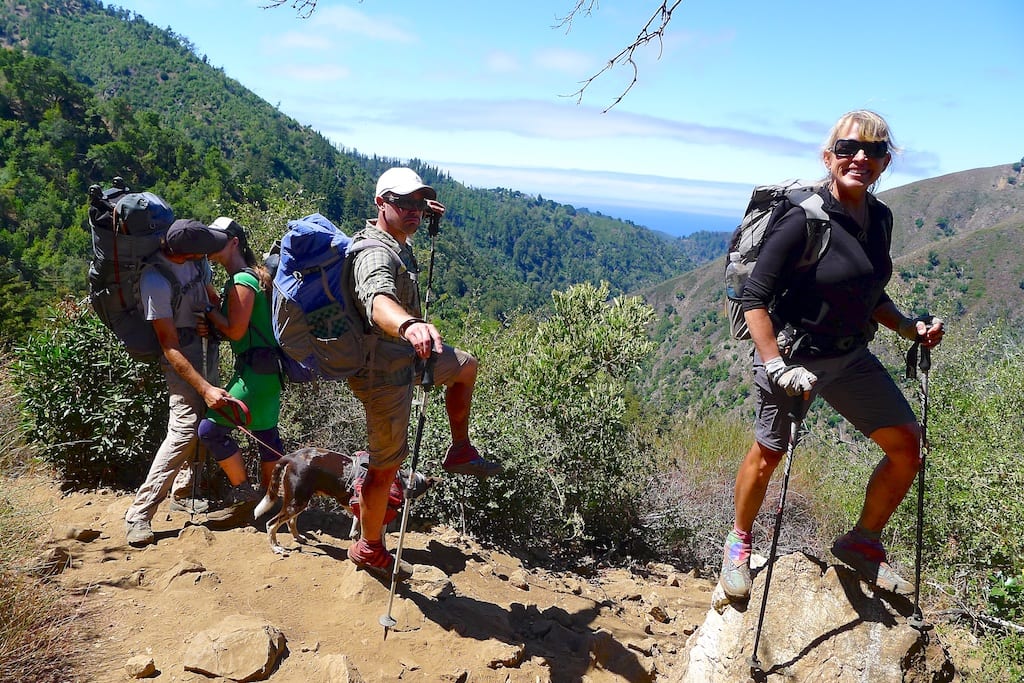 Exciting news!
Many of you who followed the Wandering Herd on the CDT a couple of summers ago, just may have wondered about Lovenote and Burly on the CDT.
Great and awesome news…they are getting married this August in the Sierras. Silly Chili and I plan on celebrating with them in full hiker trash regalia. 

I love these guys!

Links: