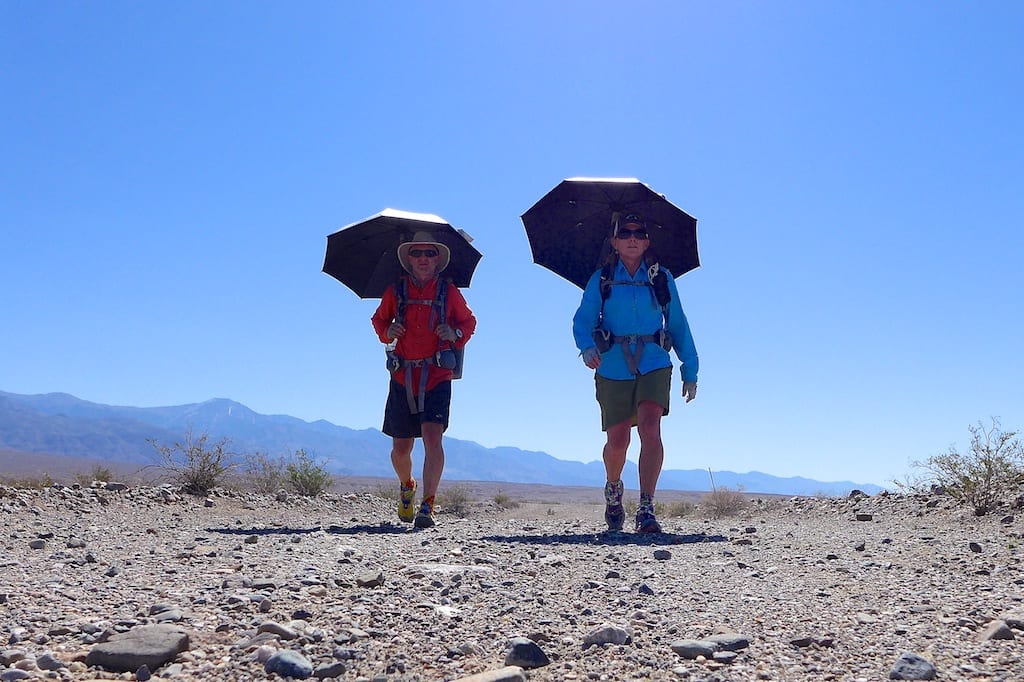 Rain
Snow
Sleet
Sun
Exposure
All part of a hiker's life.
A lightweight hiking umbrella is standard in my backpacking kit. It can fend off heat stroke and exhaustion. In rain, it is the difference between being soaked to the bone or slightly wet.
Many of you have asked, "How can I hike with an umbrella while using poles?" or "I just don't want to continually hold the handle of the umbrella while hiking, how can I hike hands-free?"
I have tried many different combinations of ties, pads, and small bungies. All have been okay, but moved around a bit. My latest system works perfectly. The system is balanced, stays in place, easy to attach and take off, inexpensive, and lightweight. The straps used to attach the umbrella were recycled off old packs and gear.
Materials:
about 6 inches of 1/8″ cord with a  mini cord lock (we used cord with a slight stretch)
Note: Two cords with a mini cord lock would work also. The velcro strap just seemed to keep the umbrella in place better.
Assemble:
attach velcro near top of shoulder around pack strap (be sure this is attached to the pack: loop or suspension strap)
attach small bungie below sternum strap around vertical webbing, loop, or whole strap
Attach the Umbrella:
slide umbrella handle through velcro
IMPORTANT AND THE SECRET TO SECURING: slide umbrella handle under clipped sternum strap
slide end of handle in cord
tighten both sternum strap and cord
Note: Dan likes to loop the umbrella handle cord under bungie and sternum strap, so the cord does not flop around.
Examples shown below are on the new Gossamer Gear Gorilla and Mariposa, but these variations will work on most packs.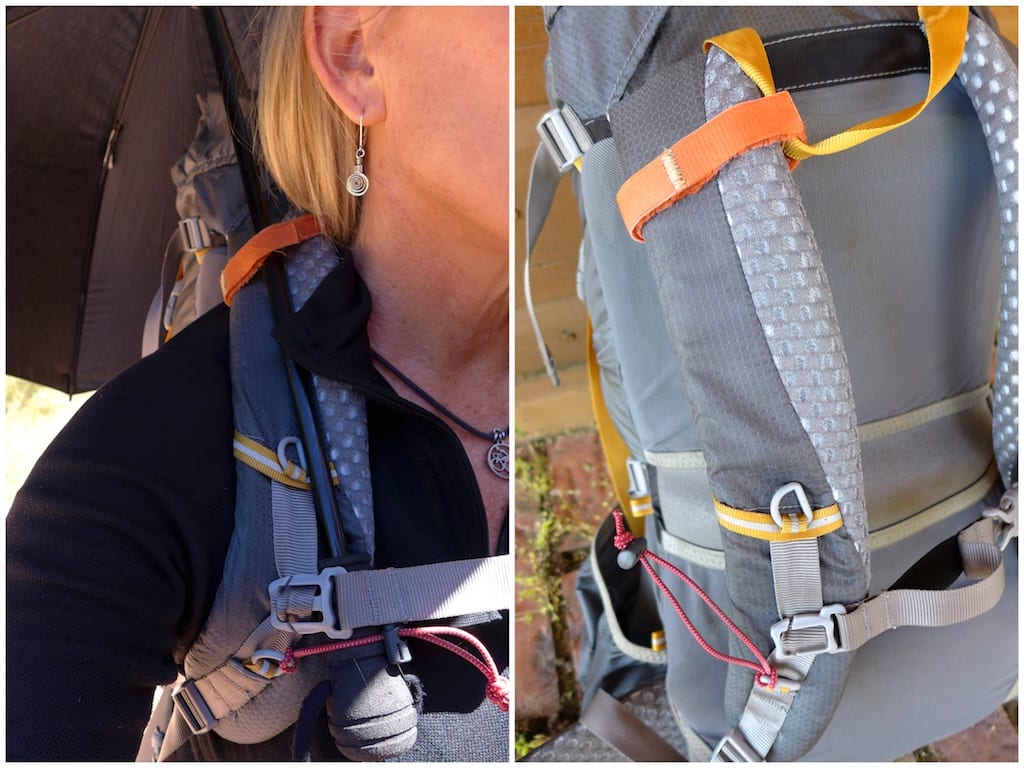 Lady on a Rock Reader Exclusive!
In addition to my favorite pack, the Gorilla, many small items I carry and love can be purchased at Gossamer Gear. It is like a one-stop-shop for lightweight gear. Have fun!

---
---