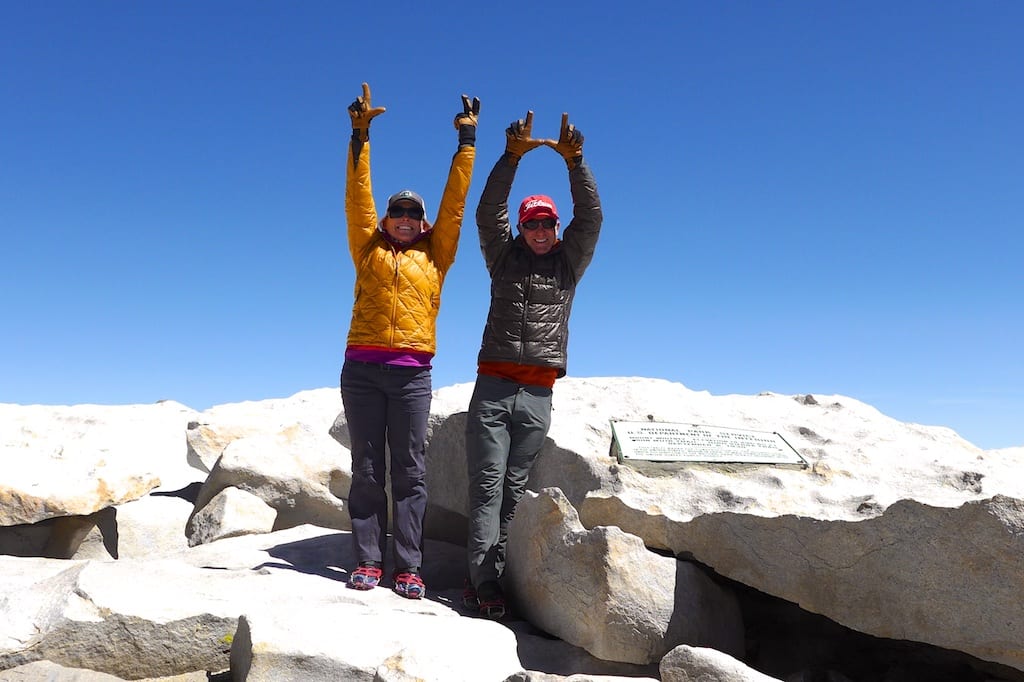 "When your life hangs from a knot, it helps to know who tied it.

"

~Peter Zuckerman
April 3, 2015 – Final Day
Whitney Portal up Whitney and back to Whitney Portal
22 miles
6,188 feet elevation gain, 6,188 elevation loss
A day of triumph, fright, and genuine thankfulness and gratitude…
So fitting for the finish of the Lowest to Highest, the trip of extreme contrasts.
Ya think that after all this hiking up and down, up and down that we would be zooming up Whitney with no problem. Well, I wish. Historically, altitude does not really get to me, but today I struggled. Both Dan and I just had to push through. And we did.
It is always hard to force a body out of a warm, cozy, sleeping bag for those alpine starts, but so worth it. Our plan was to hit the deep snow early to avoid post-holing and get down off the mountain before it was too icy and dark.
There were only 2 other climbers today. They started at Trail Camp, 3/4 the way up Whitney at 7:00 am. Climbers usually take the chute up the southeast side of Whitney instead of the snow-covered 99 switchbacks. The chute is long and steep.
It was butt cold the entire day which made the snow super tricky. The high temps over the last week and now the cold, created an ice crust on top and soft stuff underneath with intermittent solid ice.
We reached the top at 1:00 pm and quickly made some hot tea, ate oranges, and fresh deli lunch meats and cheese in the shelter. After a very rejuvenating break, hugs, high fives, and pics we quickly started our descent.
We reached the top of the chute just as the sun was covering the bottom half.
In 2010, a high snow year, I descended this very chute with my good hiker friend, Arrow. It was soft, fluffy snow and scarier than snot. How had I forgotten that minor detail in this plan? In 2010, we glissade down on our sides with our ice axes securely planted, using it as a type of rudder and brake.
Today, after securing any outside equipment inside the packs, including electronics, we carefully descended using various techniques: side-stepping, sitting down and stepping, digging in steps, and sliding a bit with our ice axe dug in. The snow changed to ice as we went down.
With a quarter left to go, I started accelerating with my ice axe dug in and close to my side. I kept going faster and faster and had trouble hanging on with the hand closest to my body.
I have been in a few mountaineering classes and know how important it is to keep the axe next to your body or you are in deep trouble. I couldn't hang on with the blows to my hand over and over. My grip let go. The ice axe started flipping around and I knew I had to get that thing away from me afraid of being impaled.
After that things flew.
Racing down on my back feet first.
Ice flipped me around.
Sliding face first.
Ice tossed me up in the air several times.
Landing each time hearing body cracks.
All the time knowing I was heading for rocks at the bottom.
Flying in the air one last time and plopping to a dead halt.
So what goes through the mind at a time like this? For one, I was pretty sure I was done for or broke my neck, but all I could think of is that my dear husband had to watch the whole mess of a thing in horror. I wouldn't want that for him.
I am very lucky, fortunate and very blessed. I know that God was looking out for both Dan and I on that mountain.
Poor Dan had to make his way down to me gathering all my equipment along the way. By the time he reached me, I had assessed all my parts, had some blood and figured nothing was broken. He was so sweet and said I had all my teeth.
Everything fell into place after that, I was okay to descend the 8 miles on my own. Dan was super worried I had a concussion and kept me moving down one step at a time. Above Lone Pine Lake, we met 2 older gentleman that showed up out of now where. I think they were my guardian angels. They talked to me the way down and offered to give us a ride to Lone Pine where our car was parked. When we got to the trail head, another young guy, Kip offered to give us a ride even though he had just arrived and wasn't going down. Pretty amazing really.
So I am okay. Really bruised, scraped, and have a few pulled muscles, but all will heal with a bit of time.
Thank you for following along. This has been one heck of a spring vacation. Yes sireeeeeee.
What We Did or Wish We Did:
-Get an early start even if you are climbing with no snow in the fall.
-On a normal snow year, the snow level usually starts well below Whitney Portal. We have snowshoed from Lone Pine Campground to the Portal at this time of year.
-Bring extra clothing layers, you will wear all of them.
-The Pizza Factory in Lone Pine is open until 9:00 pm, if the Whitney Portal Store is open, get a burger there before heading down.
-Do not to fall going down the chute if climbing in the winter and please wear a helmet.