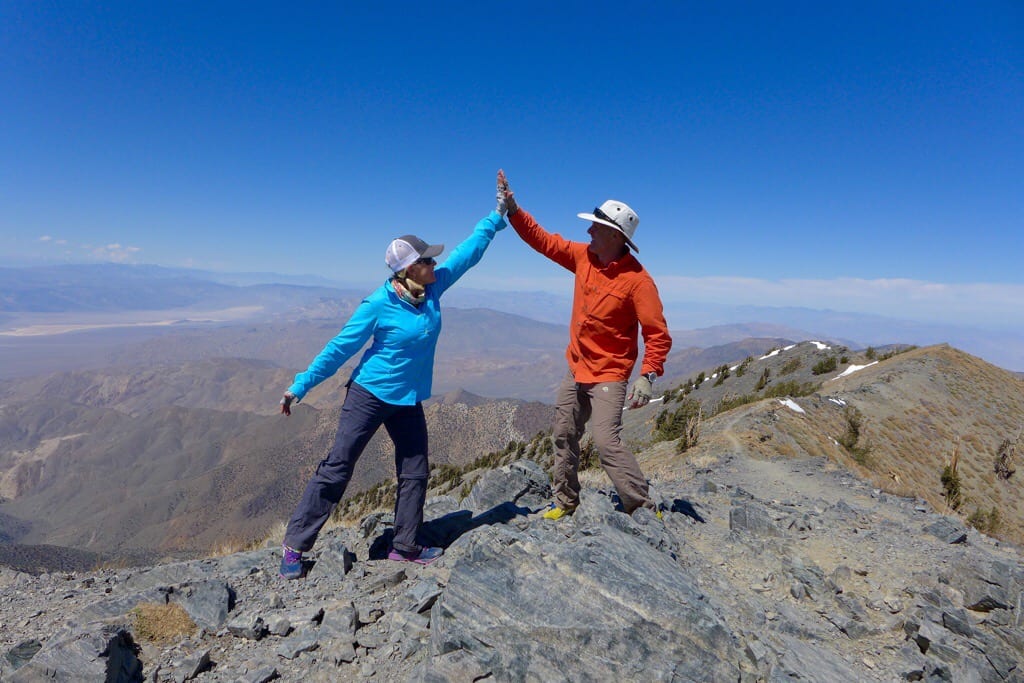 It's mind over matter. If you don't mind, it doesn't matter. –Anon
March 29, 2015
Ridge above Hannupah Canyon to below Tuber Canyon Lower Spring
14.5 very long miles – 5,000′ elevation gain and 8,000′ down
Well this was one long and strenuous day, but super rewarding.
The air was cooler the higher we climbed up to Telescope Peak. The cross-country route is steep, of course, through brush, talus, and rocks. It is an interesting transition from the stark desert to alpine mountains in so short of miles.
We celebrated at the top with a high-five and quickly started the 8,000 foot descent into Tuber Canyon.
It grew hotter on the descent and we were glad we hauled 6 liters of water out of Hannupah Spring, because the spring in Tuber Canyon seemed to be dry. The canyon took way longer than we anticipated, even though we were warned ahead of time that the mileage on the maps might be a bit off.  Down through the canyon wild burros have made convenient use trails to follow and rattlesnakes abound.
Because of the heat and hoping to get much closer to our next water cache at Miretta Road, we decided to hike a couple hours into the night. The alarm is set for 4:00 am tomorrow morning.
What We Did or Wish We Did:
-Wear pants or some kind of leg protection up the ridge and in Tuber Canyon.
-Until our drought is over in California, don't count on water in Tuber Canyon unless you are willing to dig.
-When the Trona-Wildrose Road is open again, stash water there. If not where the route meets Miretta Road in Panamint Valley worked great.