"I Loved it…I Loved it All"
~Edward Abbey
Bear Lakes Basin is a hidden gem nestled in the John Muir Wilderness that features serene lakes, high passes, and exciting cross-country travel. Last August, my son and I explored this high granite basin, one of the finest in my years of travel in the high Sierras.
We started the Sierra weekend off "Rockin's Favorite Way": leaving work, picking up dinner on the way (gluten-free pizza), driving to trail head, hitting the trail around 6:00, hiking 6 or so miles (headlamps required), find campsite (sometimes this is tricky), set-up camp and then relax to enjoy bizzillions of stars overhead. Interested in more of these quick challenging week-end get-a-aways? Here are a few:
The traditional route into Bear Lakes Basin from Pine Creek Trail Head, heads up Pine Creek Canyon, through Granite Park, over Italy Pass, then into Bear Lakes. Silly Chili and I had a great tip from a hiker we met along the way and by-sided Italy Pass and climbed Granite Bear Pass (un-named on map) to the south and not Italy Pass. This route not only was shorter, but I believe more scenic, challenging, and interesting.
TRIP DATE August 16-17, 2014
LENGTH About 24 miles with maintained and unmaintained trails and off trail boulders, snow, and talus
TRAIL HEAD Pine Creek, north of Bishop, CA, John Muir Wilderness, CA
DIFFICULTY Strenuous with on and off trail
NAVIGATION Map and compass
BEST TIME TO HIKE Summer
MORE INFO Steve Roper's The Sierra High Route passes through this stark wonderland.


Night 1 – Pine Creek Trail Head to Honeymoon Lake
Our route took us on-trail up Pine Creek Canyon, then at about 6 miles leaving the maintained trail to Honeymoon Lake. It took us a bit to find camping in the dark of night, but we quickly located a use trail at the east end of the lake with a large flat area.
Click once on any photo in the mosaics below to view full size. Flip through all photos by clicking arrows on the sides of photos or on mobile device, swipe. To exit slide show, click X in the upper left hand corner.
Day 1 – Honeymoon Lake to Meriam Lake
After an early start we quickly went up canyon, checked our GPS and map and redirected to the north side of the creek, heading northwest up into Granite Park. The lush park is filled with creeks and green carpet. We then located our destination, Granite Bear Pass and headed cross-country over large boulders, snow, and talus.
The pass is the gateway into a fairyland. Grant and I spent a few hours exploring the many lakes, overlooks, and cascading creeks. This basin would be the perfect overnight stay for a 3 day trip.
We then headed up rugged and rocky Feather Pass and down through a series of gorgeous lakes and tarns to our overnight destination, Meriam Lake.
Fun fact. The pic below is featured in the slider at the top of Dirty Girl Gaiters new website! Yes, I am a dirty girl.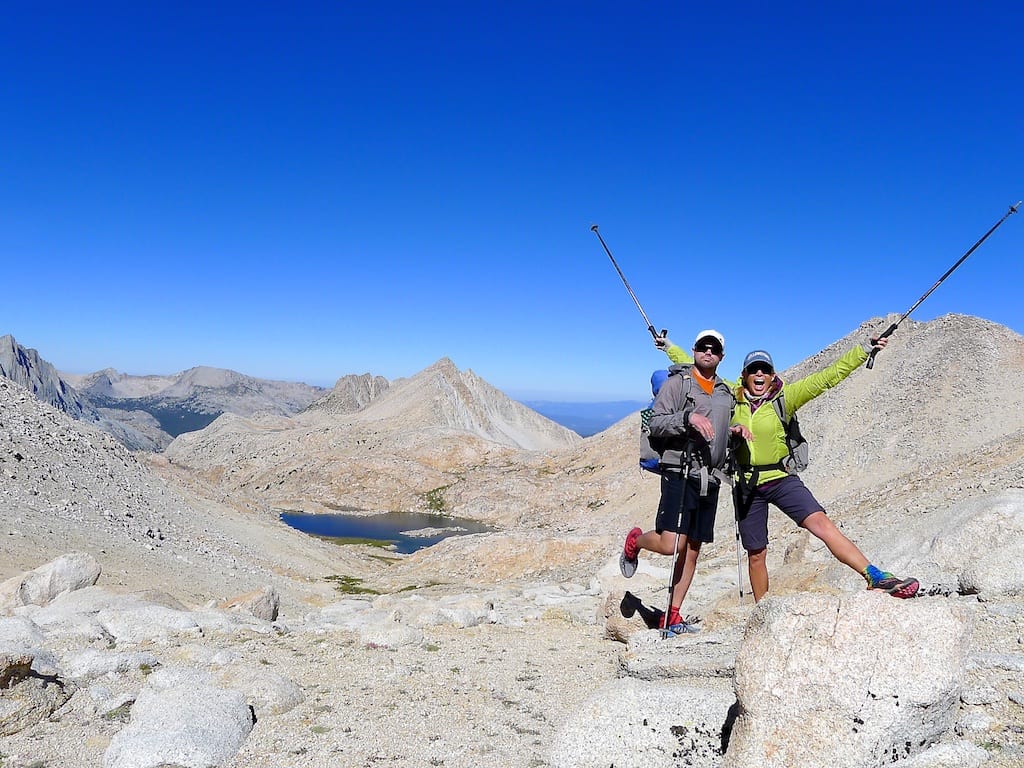 Day 2 – Meriam Lake to Pinecreek Trail Head
We headed out early to enjoy the sunrise and put some miles under our feet. The use trail leaving Meriam Lake is a bit of a trick to find, but easy to follow once located. This use trail intersects with the main trail heading up to easy and wide Pine Creek Pass and then we retraced our steps back to the trail head.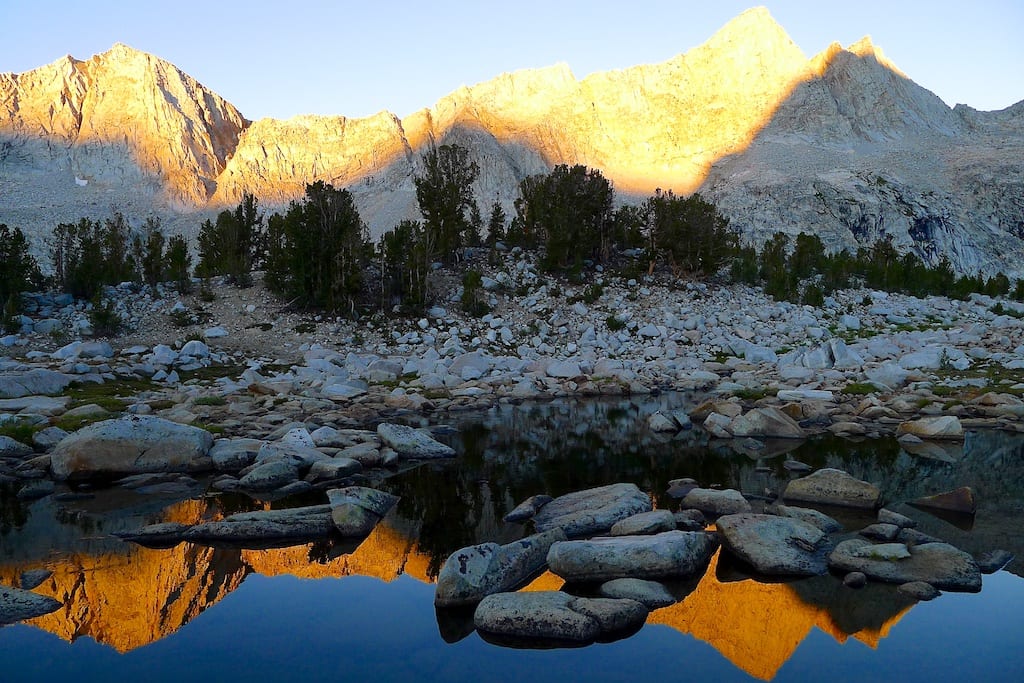 This was one fast, beautiful, and very fun weekend trip into the High Sierras. I am thankful to have shared it with my son, Silly Chili.
I don't know about you, but just writing this post made me want to pull the maps out and start planning for this upcoming summer! What are your backpacking plans for summer 2015? Please share in the comments below.