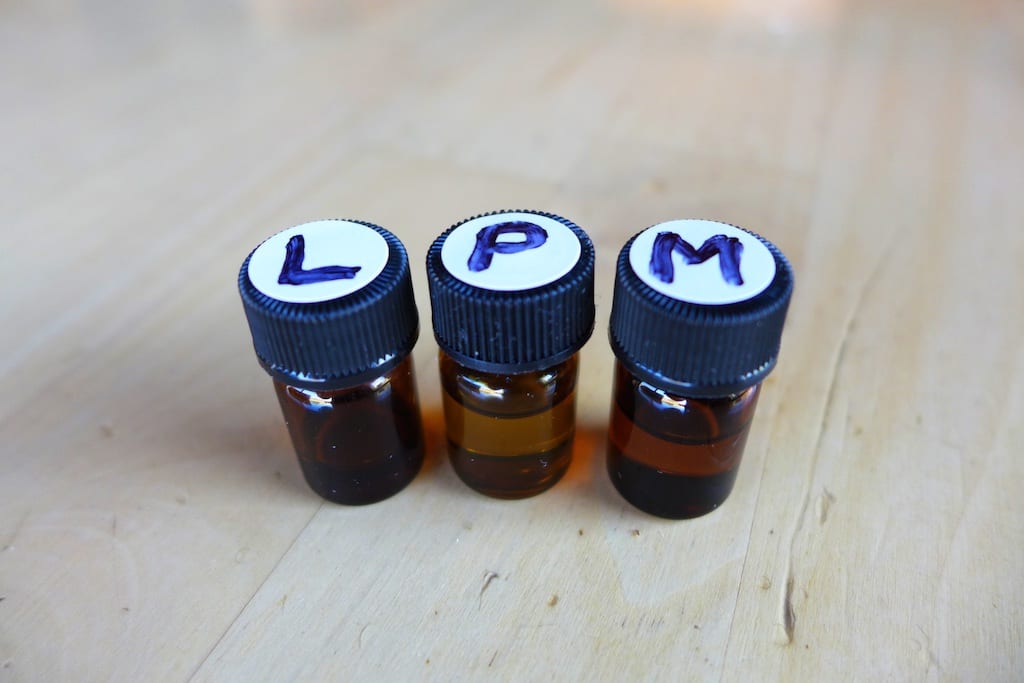 My pack always includes sample sizes of Lavender, Peppermint, and Melaleuca essential oils.
I want to begin this post by saying I am no expert on Essential Oils. Just Google essential oils and thousands of articles giving facts, properties, uses, and cautions are available at your fingertips.
BUT I do want to share the positive impact using just a few basic oils have made on my family. This is especially true on hiking trips.
About a year ago, my daughter introduced me to the benefits of essential oils. Since then I have added Lavender, Peppermint, and Melaleuca oils to my basic hiking first-aid kit replacing:  Sudafed, antibiotic ointment, and reducing the number of Ibuprofen tablets I carry. By using the oils daily on trips, I have less congestion, breathe easier at high altitudes, sleep better, and have fewer headaches. Also, everyday cuts/scrapes/bruises/blisters/muscle & joints throb less and heal faster. On top of all that, I am now getting benefits of using natural remedies and not putting unnecessary chemicals in my body.
Some of you have even emailed me after viewing my BACKPACKING GEAR LIST asking about the oils. This post is long overdue.
One of the first mistakes I made when starting to use essential oils was buying inexpensive, poor quality oils found at drug stores or Whole Foods. I found they do not work as well. If this interests you, I urge you to do your research and buy quality oils. The oil companies I have experience with and have worked well for me are doterra, Young Living, Mountain Herbs, and Spark Naturals.
To get you started, I have a special discount coupon code "ladyonarock" for 10% off any Spark Naturals essential oils order.

How to Hike with Essential Oils
First and foremost, I wanted the trio to be lightweight and sealed. This took some trial and error. After a few experiments, here is how I carry the oils.
Add each oil to a 5/8 dram bottle designed just for carrying the oils. I tried other options, but oils leaked. I love these and they come in a 5 pack. Tap once on the bottom of the bottle to dispense a half a drop.
Apply round sticky 1/2″ label on the lid, then label with a sharpie. This stays on better than applying the sticker directly on the bottle.
Seal bottles in a small zip lock baggies and add to your first-aid kit. I like snack size bags or smaller.
Entire tiny kit weights less than an ounce and will last a month or more on a long distance trip.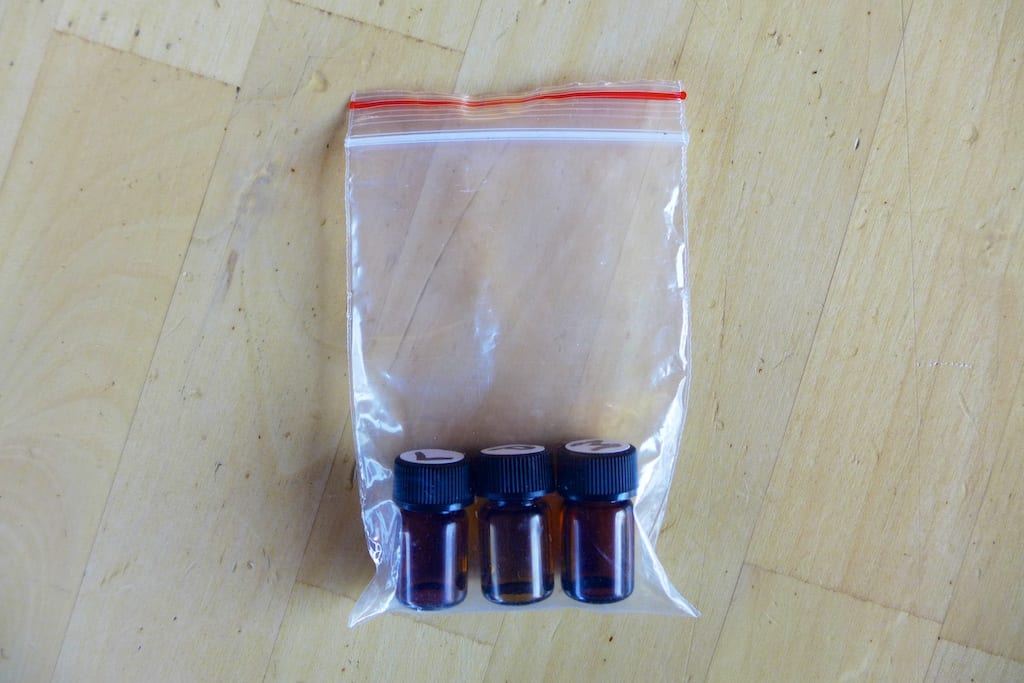 Common Sense Cautions

Essential oils are very strong. One drop is usually plenty. More is not better. Do not get into your eyes by rubbing, applying too close, or dropping directly into the eye. Use caution when using on children by diluting oils with a carrier oil, lotion, or salve.
My Favorite Uses
I created a handy 1/2 sheet chart of my basic uses for backpacking and hiking to add to your first-aid kit.Click on the image or link below to download printable.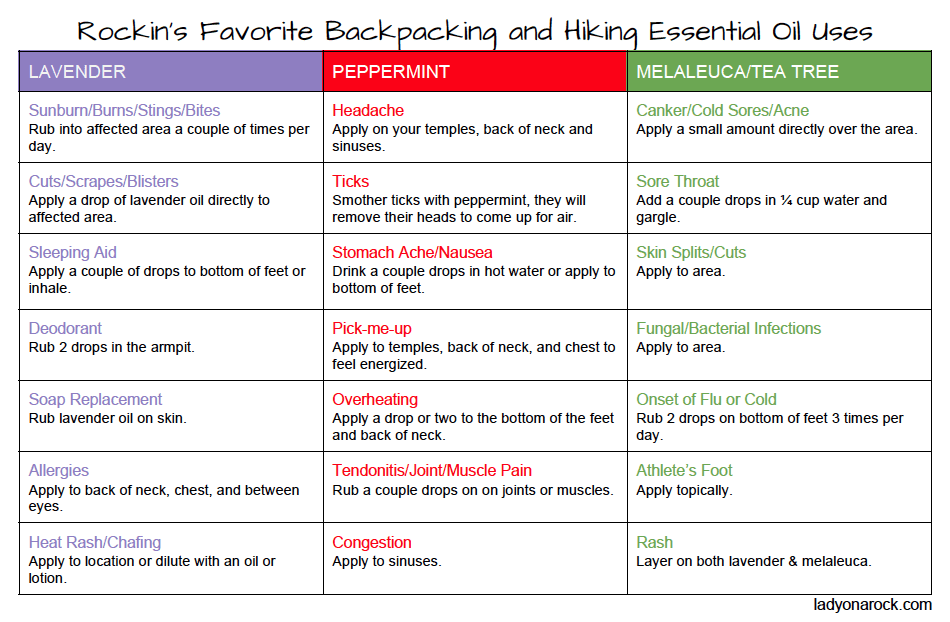 Extra Tips:
My nightly essential oil routine non-bear areas.
Apply Lavender to any cuts or scrapes and a couple drops to the bottom of my feet to help me sleep restfully. Apply Peppermint to sides of nose and chest to keep sinuses clear in the night. If I have any muscle pains I might add a drop of Peppermint to a bit of salve and apply to a tender area. I always carry a small pot of Fragrance-Free Neutrogena Hand Cream.
Do you use essential oils in the outdoors? Please comment and share what works for you. 
IMPORTANT DISCLAIMER: None of the health topics presented on Lady on a Rock have been evaluated or approved by the FDA. They should not replace personal judgment nor medical treatment when indicated, nor are they intended to diagnose, treat, cure, or prevent any disease.