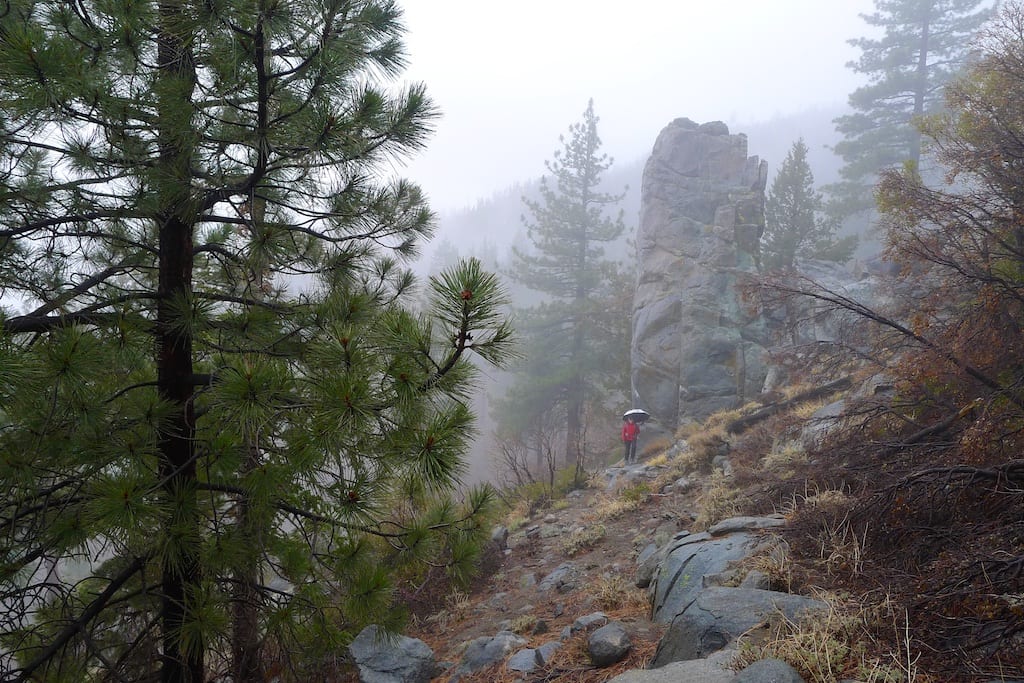 In honor of Dr. Seuss's birthday tomorrow…
"Life's too short to wake up with regrets. So love the people who treat you right, forgive the ones who don't and believe that everything happens for a reason. If you get a chance, take it. If it changes your life, let it. Nobody said it'd be easy, they just promised it would be worth it."
~Dr. Seuss
Bad weather forecast? Yes. Rain? Yes. Snow…hopefully.
With optimistic attitudes, we headed into the Southern Sierras to climb Crag Peak.
Normally this peak would not be accessible in winter, but with extremely low snow levels currently in California this climb was possible.
The drive into the Sierras showcased exquisite lighting, clouds, and rainbows. Before starting the hike, we were able to pick up winter equipment on the way for Pepper and Trauma.
Crag Peak is just north of Kennedy Meadows, west of the Pacific Crest Trail. The route starts at the north end of the Kennedy Meadows Campground, then heads north on the PCT about 4.2 miles, leaving the PCT heading west through Clover Meadow and cross-country to the summit.
The cross-country route took longer than expected due to bushwhacking, mud, rain, and navigation. On a clear day the summit would most likely be visible during the climb making navigation easier. We reached the top thankful and tired.
I am told that the top has amazing views of Olancha Peak, Mt. Langley, Kern Peak, and lovely meadows below!
Because of wet, windy, cold, and slippery weather conditions, we climbed the official Crag Peak and did not climb the highest point 1/4 mile north. This point requires a shimmy across a rock knife-edge and a bit of Class 3 climbing.
The clothing and rain systems we used on Scotland's Great Outdoor Challenge worked perfectly for the day's wet conditions. We even popped out the umbrellas in brush free areas.
We arrived back at the trail head at dark, feeling tired but very happy about our day.
Trip Date: February 7, 2015
Distance: 14.7 miles, out and back
Elevation gain: 4158′
Summit Elevation: 9,480′
Season: Spring, summer, and fall
Difficulty: Strenuous with trail, route finding, bushwhacking and cross-country travel, Class 1 and 2
Trail Head: North side of Kennedy Meadows Campground
Extra Information: Crag Peak is on the Sierra Peaks Section list
Click once on any photo below to view full size. Flip through all photos by clicking arrows on the sides of photos or on mobile device, swipe. To exit slide show, click X in the upper left hand corner.