"The best adventure is always the one that I will go on tomorrow."
~Kilian Jornet, Skyrunner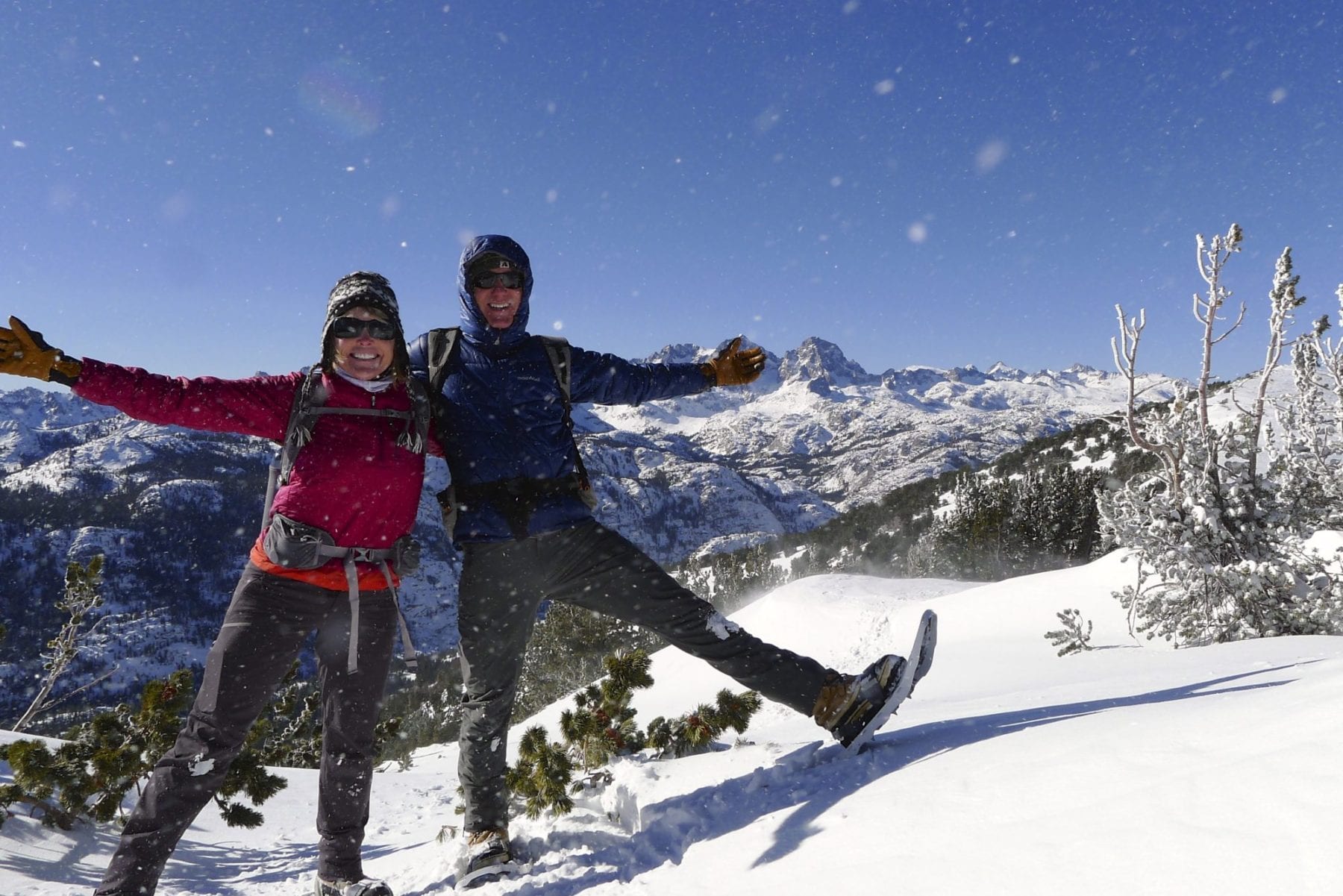 Hmmmmmm….what to do when everyone is away for Christmas and it is impossible to join them?
Plan a micro adventure of course. The timing was perfect for a winter excursion with a snow storm coming in and temperatures in the teens.
Our micro adventure blasted off with a lovely Christmas Eve dinner at the Totem Pole Cafe in Lone Pine, CA with our hiker friends, Love Note and Burly.
After spending the night in Bishop, CA, we woke up to a white Christmas morning with new snow icing the surrounding mountains.
Lake Mary Basin Cross Country Ski
Day 1 we spent the day exploring Mammoth Lakes Basin on cross country skis. The Tamarack XC Ski Center south of the town of Mammoth Lakes has everything for the beginner to advanced skier including groomed trails through frozen alpine lakes and forest. Nineteen miles just waiting to be explored.
Minaret Vista and Deadman Pass
Day 2 we strapped on snowshoes and headed out from the Mammoth Ski area main lodge. Our first destination was Minaret Vista. This is a popular drive during summer months with some pretty spectacular sunsets. During the winter it is a quiet and tourist free snowshoe.
Next up with the help from my iPhone GPS, we trekked up to San Joaquin Ridge. This ridge is open, high, and is known for high winds, but so worth the exposure. The views are endless with breathtaking panoramas of the Minarets, Mount Banner and Ritter, and views north to Yosemite.
Next we headed down to Deadman Pass then up to an unnamed peak with lunch at the top.
I highly recommend this winter excursion. Challenging and the reward is great.
TRIP DATE December 26, 2014
PEAK ELEVATION 11,387
LENGTH 10.4 miles round trip
ELEVATION GAIN 2,329 feet
TRAIL HEAD Mammoth Mountain Main Lodge
DIFFICULTY Moderate to strenuous

I love planning and going on these little trips. You come back home fully exercised, relaxed, and feel like you have been away for a week.
What micro adventure have you been on lately? We all need inspiration. 
Download GPX File
Photos on Flickr