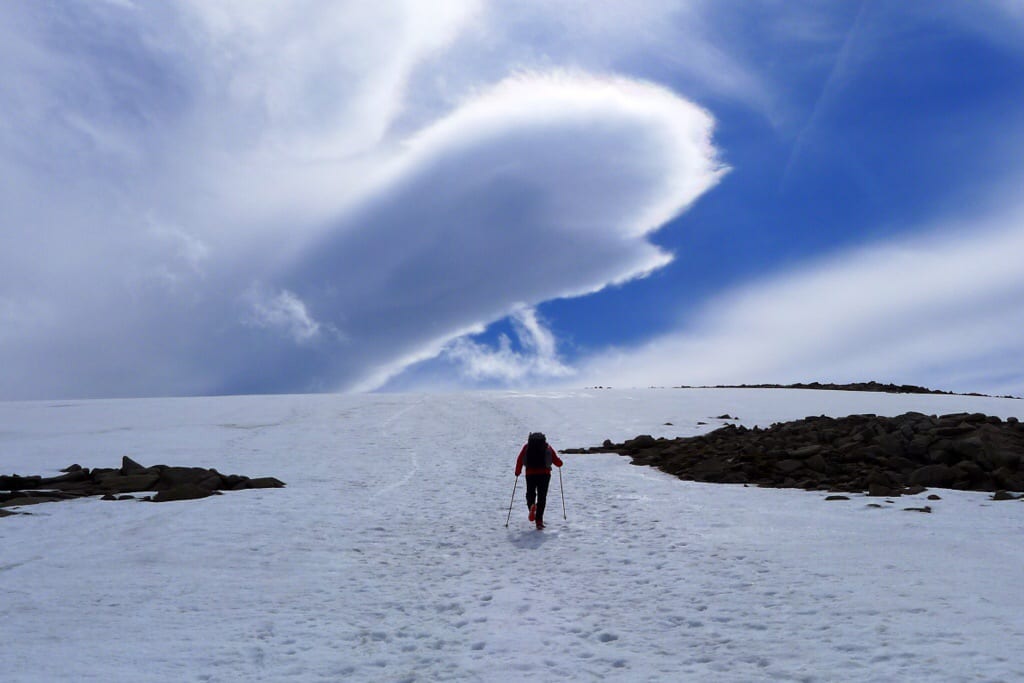 …Cairngorms …
Hills that demand my respect
More than any other range
In Scotland.
– WH Murray
May 16, 2014
Glenmore to Derry Lodge
Cairngorm Mountains
I now have respect for the wind.
Today was one of those days that will not be forgotten.
I now know what it is like to be picked up by the wind like a rag doll and then slammed to the ground.
Ben Macdui is the second highest Munro in Scotland. The morning looked excellent so we headed up. The route up Ben Macdui was a bit on and off trail. Just as we hit the first major uphill the winds hit and did not let up for the rest of the day.
The Cairngorms are famous for crazy storms with a wind record of over 170 mph. We were there in wind gusts exceeding 50+ most of the day. As we climbed we were up there alone, uncertain, and unsettled if we should be there and if was safe to keep going. Then we saw a local chap forging up another route. That sure eased our minds.
As we continued up to the summit winds would gust so hard that we had to plant our poles and spread our legs to stay upright and hang on tight.
Ben Macdui's summit had little rock shelters spread about. We hunkered down and made hot soup and tea for a well needed rest.
Views from the top were spectacular and far-reaching with artistic cloud formations. Breathtaking really.
Once off the summit winds decreased and we stopped for a little water break. That's when it happened…
Dan bent over to fill his water bottle in a beautiful pristine stream (see photo below), I took a photo, he stood up and out of no where we were lifted up. I looked over and Dan was in the air in front of me, I slammed into him, watched my camera fly by in the wind, and then face planted onto green moss and Dan landed on his shoulder. We were both thrown about 15 feet.
It happened so fast it was confusing and scary. It really shook us up. God was so looking out for us. It could have happened while we were on a high steep ridge or in an area of rock boulders or by a steep cliff or by a lake. There are so many scenarios that have gone through my mind. So many.
After that escape from danger, walking was easy and stress-free down Glen Derry. Our goal for this night was to find a pitch out of the wind. When we saw a flat spot behind the abandoned stone lodge of Derry Lodge we called this place home.
Right now Scotland has long days. It gets dark we are told about 10:00 pm and light at 3:30ish am. We have slept so well at night that we have not actually seen it dark. Bedtime has been about 8:30 pm and the alarm goes off at 5:00 am, then hitting the dirt at 6:00 am. How nice is that?
Blogging has been tough from the tent on this trip. I have fallen asleep while trying to write many times and I know I am making mistakes in spelling, grammar, and sometimes facts. Gotta apologize ahead of time everyone. I guess focus on the photos. I do. That is where my heart is. If questions arise, please ask in the comments and I welcome corrections. Again I sure appreciate you all following along!!!!!