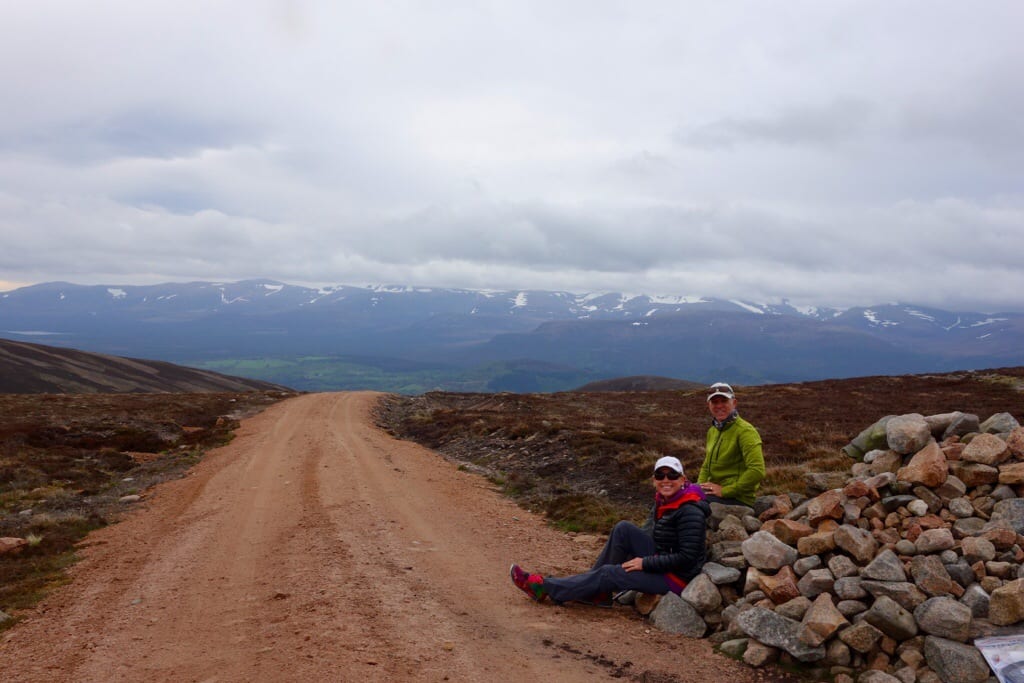 "Marry an outdoors woman. Then if you throw her out into the yard on a cold night, she can still survive."  
-W. C. Fields  
May 16, 2014
Red Bothy to Glenmore
Cairngorm Mountains
This day was all about food…
Good food…
AND we are halfway across Scotland!
The walk into Aviemore was windy and cold. At the top of the fIrst saddle, we met Heather from England. She is hiking the TGO solo and was in a big hurry because her iPhone battery was dead. It was great talking to a woman hiking on the challenge.
Just as we were coming into Aviemore we met Andy and Katie. They had the best tips on where to eat and stay. We listened and were so glad. Breakfast was at The Mountain Cafe that consisted of pork and beans, sausage, black pudding, hash browns, bacon, fried egg, mushroom, and fried tomato all stacked on a plate. I have never had anything quite like it! We then had a delicious steak dinner at The Glenmore Lodge.
Aviemore is the ideal sports mountain town. You name it you can either do it or learn how to, from sailing to dog sledding.
Tomorrow the weather is supposed to clear and windy and we will be attempting to climb Ben Macdui, a challenging and scenic monro we are really looking forward to.
We are showered, happy, and well-fed.
Follow our progress across by clicking on "Track Scotland" in the top menu.