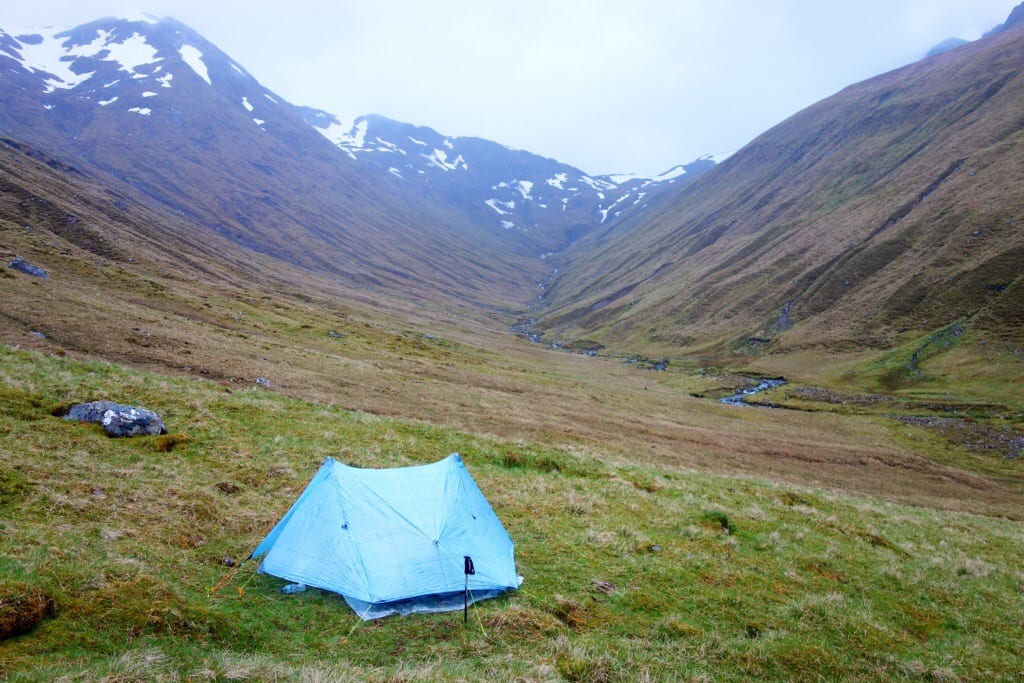 "Walk away quietly in any direction and taste the freedom of the mountaineer."
― John Muir
May 10, 2014
Shiel Bridge B&B to All Cam-ban
Scottish Highlands
We went for it today.
Of all the days of our planned route across Scotland the first day was the one we looked forward to the most. It was by far the most challenging, scenic, and demanding. The Five Sisters and Brothers ridge directly up from Shiel Bridge is a ridge route that takes the hiker up over 8,000 feet of elevation gain and 8,000 down, all in one day and climbs multiple peaks or munroes (mountains over 3,000 feet). This was also a day that would demand a good weather forecast.
After having a lovely breakfast at the B&B, we accessed the weather…rainy with fog, but no real wind. We then decided to take the risk and go for it with the intent of turning around or dropping down off the ridge if things got bad.
The route up to the ridge was muddy with slick rocks, but beautiful. As we gained elevation the views were very limited due to fog rolling in and out. We kept going and were so glad we did.
Both Dan and I took every step carefully. This route is not for people that are uncomfortable with heights. The path many times leads right near an edge. If you look over…it is straight down. I like heights, but many times today my stomach took a flip.
At the top of our 4th peak we met Phil who is also hiking the TGO. He is our 3rd challenger we have met, It was fun meeting and talking about his planned route. Everyone on the challenge creates their own route, so hikers have different destinations, but may cross paths. How unique is that?
We loved the climbing today. There were even a few areas that required class 3 climbing using hands to maneuver up or down. Rain continued off and on with views opening up periodically.
Our progress climbing the munroes up and down, up and down repeatedly was slow, steep, slippery, and took longer than we had anticipated. Near the end of the day the weather worsened and luckily we spotted a safe route down to our destination, the creek All Cam-ban. Our tent is now pitched in a gorgeous little canyon with a herd of deer on the surrounding hillside and the sound of rain pattering continues.
An Epic Day!