Yaaaaaaay!!!!!! 2013 Hiking Favorites list is up. This post is by far my most popular each year with thousands of reader hits. I was lucky in 2013 to trek over dirt and rock over 1500 miles. This made for a fair amount of gear testing.
This list features my favorite new outdoor items I used and loved. All items fall in line with my belief in keeping things simple and light. I also try to only buy new gear if my old gear is worn out or something lighter with more features hits the market.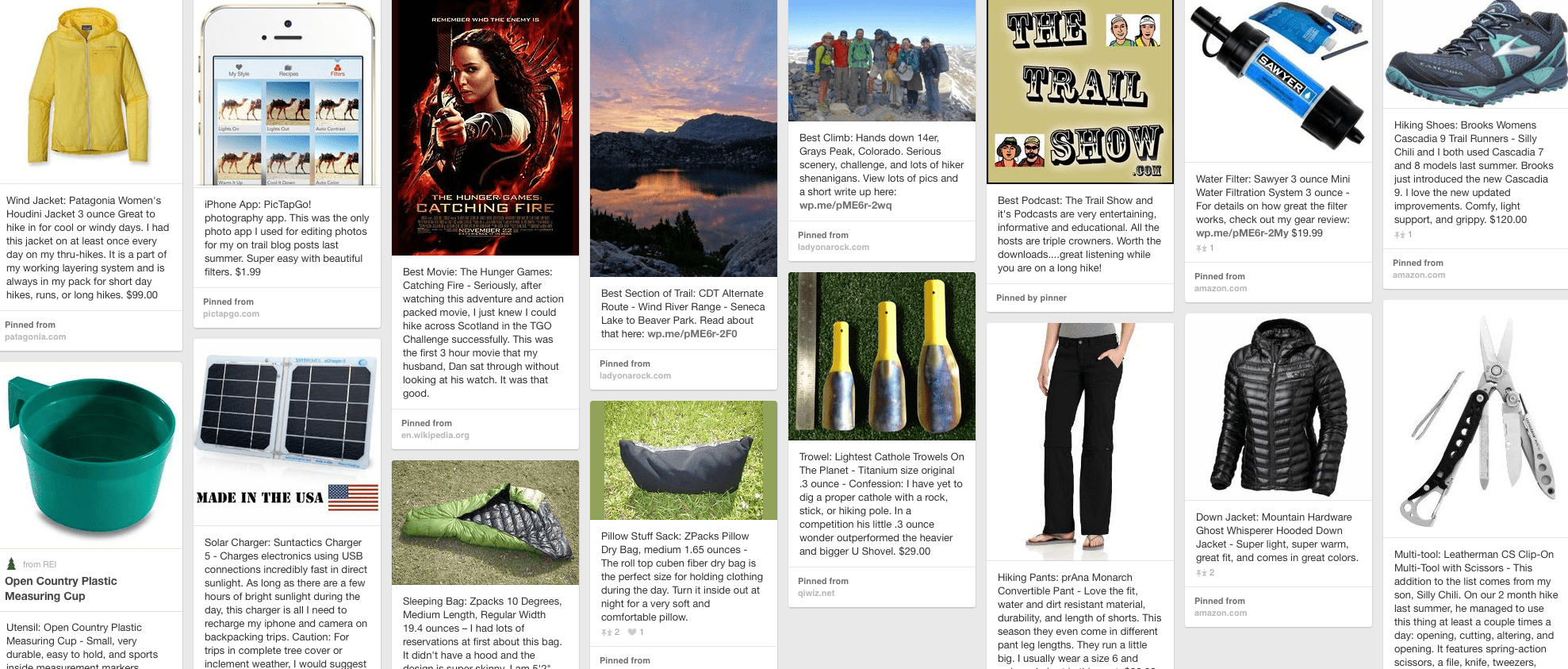 Thanks to Pinterest, my 2013 Hiking Favorites are again visually portrayed with purchasing and weight information.

Here they are not in any specific order…
Sleeping Bag:
Zpacks 10 Degrees, Medium Length, Regular Width 19.4 ounces $410.00 – I had lots of reservations at first about this bag. It didn't have a hood and the design is super skinny. I am 5'2″ and get cold easily. After sleeping in this bag over 80 nights I am in love. It is super light, warm, comes with a waterproof cuben fiber roll top sack, and stayed pretty much odor free. This bag will be in my pack on Scotland's TGO and PCT this summer.

Pillow Stuff Sack:
ZPacks Pillow Dry Bag, medium 1.65 ounces $28.95 – The roll top cuben fiber dry bag is the perfect size for holding clothing during the day. Turn it inside out at night, stuff it with extra clothes or a Flex-Air pillow for a very soft and comfortable pillow.

Solar Charger:
Suntactics Charger 5  8 ounces $139.95 – This is the only charger I carried on the CDT last summer. It charges incredibly fast in direct sunlight. I also used it on top my pack on sunny days. As long as there were a few hours of bright sun during the day, this charger was all I needed to recharge 2 iPhones and a camera. Caution: For trips in complete tree cover or inclement weather, I would suggest using another option or turn your phone off and use it as little as possible hoping for a little bright sun.

Down Jacket:
Mountain Hardware Womens Ghost Whisperer Hooded Down Jacket, mens jacket 7 ounces  $319.00 – Super light, super warm, great fit, and comes in great colors.

Wind Jacket:
Patagonia Women's Houdini Jacket, Men's Houdini Jacket  3.5 ounces $99.00 Awesome to hike in for cool or windy days. I had this jacket on at least once every day on my thru-hikes. It is a part of my working layering system and is always in my pack for short day hikes, runs, or long hikes.

Convertible Pants:
prAna Monarch Convertible Pant regular length, short length, tall length $80.00 Love the fit, water and dirt resistant material, durability, and length of shorts. This season they even come in different pant leg lengths. They run a little big.  I usually wear a size 6 and order a 4 short in this pant.

Multi-tool:
Leatherman CS Clip-on Multi-tool with Scissors 1.4 ounces  $18.03 This addition to the list comes from my son, Silly Chili. On our 2 month hike last summer, he managed to use this thing at least a couple of times a day opening and cutting all kinds of things. It features spring-action scissors, a file, knife, tweezers, bottle opener and mini-screwdriver.
Trowel:
Lightest Cathole Trowels On The Planet Titanium size original .3 ounce $29.00  – Confession. I have yet to dig a proper cathole with a rock, stick, or hiking pole. In an unofficial competition this little .3 ounce wonder outperformed the heavier and bigger U Shovel.
Trail Runners:
Brooks Womens Cascadia 9 / Brooks Mens Cascadia 9  $120.00 – Silly Chili and I both used Cascadia 7 and 8 models last summer. Brooks just introduced the new Cascadia 9. I love the new updated improvements. Comfy, light support, and grippy.
Utensil:
Open Country Plastic Measuring Cup 1 ounce $1.50 – Small, very durable, easy to hold, and sports inside measurement markers.
Water Filter:
Sawyer Mini Water Filtration System 3 ounce $19.99 For details on how great the filter works, check out my gear review: Gear Review: Sawyer Mini Water Filter

Podcasts:
The Trail Show podcasts are very entertaining, informative and educational. All the hosts are triple crowners and very experienced. It is good to know ahead of time that one of the main focuses of the show is beer tasting and drinking. Worth the downloads….great listening while you are on a long hike!  FREE
Best Climb:
Hands down, 14er Grays Peak, Colorado. Serious scenery, challenge, and lots of hiker shenanigans. View lots of pics and a short write up here: June 27 – Two 14ers One Day

Best section of trail:
CDT Alternate Route – Wind River Range – Seneca Lake to Beaver Park. Read about that here: July 23 – Knapsack Col / Go Away Bear

iPhone App:
PicTapGo! photography app. $1.99 This was the only photo app I used for posting photos in on-trail blog posts. Super easy with beautiful filters. My favorite trail landscape filters are: Auto Color, Shadows, Brightside, and Lights On

Fitness:
BurstFIT: $46.93 Dr. Josh Axe's complete home Fitness Workout DVD program is divided up into 7, 20 minute workouts that rotate muscle groups throughout the week. The burst-interval system combines strength, cardio, and core training, the perfect conditioning for outdoor sports. Our family really likes that in every workout there are 3 athletes doing 3 different levels, videos have low impact options, and moves along quickly. The whole family can actually workout together happily at their optimum fitness level. $46.93

Movie:
The Hunger Games: Catching Fire – Seriously, after watching this adventure and action packed movie, I just knew I could hike across Scotland in the TGO Challenge successfully. This was the first 3 hour movie that my husband, Dan sat through without looking at his watch. It was that good.
Note: Rockin's yearly favorites list are just the new things of the year that I loved. Check out my other hiking favorites lists for other gear I use and continue to find very useful.

What are your hiking and gear favorites? Please share.