I think of myself as of an artist who loves to hike. But a hiker who loves to paint is probably a more precise description. For me, nothing replaces being outside in nature.
~from Nancy Romanovsky's Biography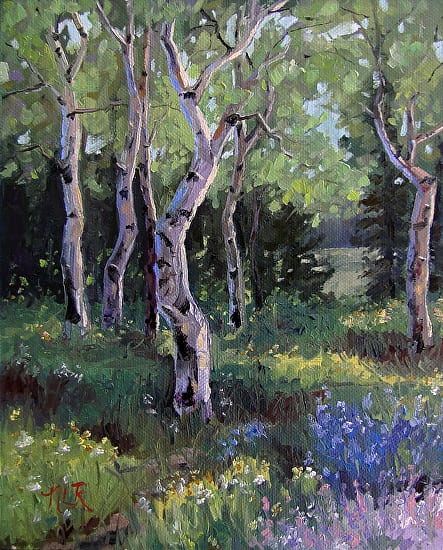 I am thrilled and honored to share that artist Nancy Romanovsky chose to paint from another of my photos of aspens. Last year she painted  Sierra's Radiant Aspens of a photo taken in the Eastern Sierras (North Fork Big Pine Creek) from the blog entry Falling for Fall.
This year she selected a picture from the trail journal entry Oh Wyoming taken while I was hiking on the Continental Divide Trail this summer. I love how she captured the beautiful summer colors, light, and the emotional feel of the actual day. All this from a photo. Even more interesting is I remember the moment I took the photo I felt it was meant to be painted! How very cool is that? Be sure and visit Nancy's website featuring her original art capturing scenes from the trail and nature.
Continental Divide Trail Part 5
Dubois WY to Old Faithful – July 29-August 2
This is the final video "Photo Story" from our summer on the Continental Divide Trail. Enjoy the last footsteps ending with the geyser Old Faithful erupting.