Less is good. Lighter is even better.
~Rockin'
Albert Kim created this xtranormal video that was featured on Andrew Skurka's blog, The Trail Show Podcast, Drop n' Roll's CDT blog and probably many others. I think "Alaska" in this clip could easily be substituted for "Continental Divide Trail" in this fun creation. Most long distance hikers have experienced this dialog at least a few times. As for me, more than I can count. Enjoy.
I love to think, buy, and talk about gear.  Especially for long hikes. This summer I made some BIG strides in getting my pack weight even lighter without giving up much comfort and convenience. At the beginning of my hike in June, my base pack weight without food, water, ice axe and micro-spikes was around 12 pounds. By the end of my hike I am sure it weighed much less. Over my 2 month trek, I was willing to just let some things go in the quest for going even lighter.
Thanks to Pinterest, an on-line bulletin board website, my "Continental Divide Trail Gear 2013" Pinterest board is newly updated with thoughts about each gear item and how it worked on the hike for me. Just click on the board below to view all my CDT gear with photos, weight, cost, where to buy, and a short review: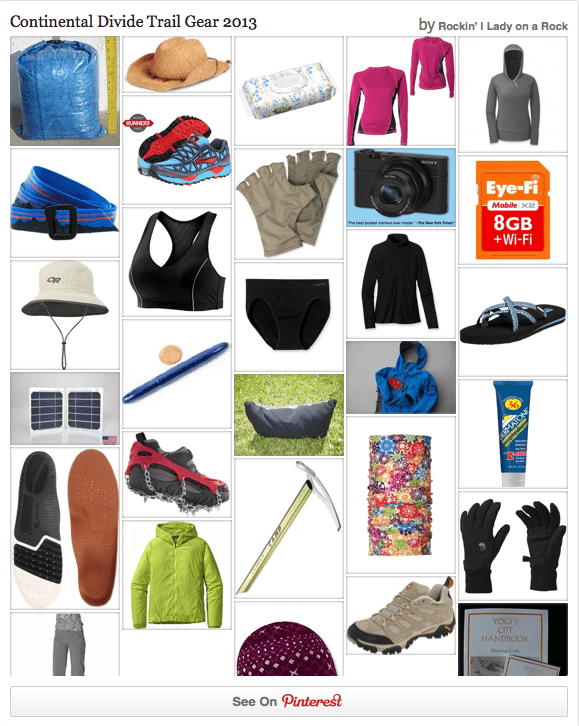 Gear I Loved:
Basically I have become a fan of any gear made from Cuben Fiber. I found it ultra-lightweight, durable, and waterproof. Expensive to buy, but worth every penny. My new Pinterest board "Gear Wish List" is filled with Cuben Fiber products. Visit my Pinterest board "Continental Divide Gear List" for photos, weight, cost, and where to buy all my favorite gear listed below:
Six Moon Designs Skyscape X
15 ounces for a full featured Cuben Fiber shelter. Yes it is expensive, but very very light. Got to admit it took me some time to get quick at setting the Skyscape up. But after the initial break in time I LOVED the protection against all elements, size, durability, and most of all it did not get heavier when wet from rain or condensation. Did I mention it is super light? Worth every penny.
ZPacks Cuben Fiber Roll Top Pillow Dry Bag
This is simply genius, a waterproof clothes bag by day, turn it inside out for a comfy, cozy pillow by night. This was one of my biggest finds this season. I loved the soft material.
ZPacks Cuben Fiber Bear Bagging Kit
The bag is waterproof, roll top, plenty of room for 5 to 6 days of food, and super lightweight (3 ounces total weight). Comes with slick cord, rock sack, and carabiner. Easy system to hang food.
ZPacks Ultralight 10 degree 900 Fill Power Down Sleeping Bag
19.8 ounces – The CDT gets cold at night…a lot. I am a cold sleeper and this bag kept me warm and cozy. On super cold nights I did wear my down jacket and beanie in combination with the bag. It is compact, super light, warm, durable, and I didn't miss having a hood on the bag.
Suntactics Charger 5
This is the only charger I carried. It charges incredibly fast in direct sunlight. I also used it on top my pack on sunny days. As long as there were a few hours of bright sun during the day, this charger was all I needed to recharge 2 iphones and a camera. Caution: For trips in complete tree cover or inclement weather, I would suggest using another option or turn your phone off and use it as little as possible hoping for a little bright sun. Perfect for the CDT.
Patagonia Women's Houdini Full-Zip Jacket
3 ounce wind jacket, great to hike in for cool or windy days. I had this jacket on at least once every day. It is an important piece of my working layering system.
Prana Monarch Convertible Pants
Love the fit, material, durability, and length of shorts. This season they even come in different pant leg lengths.
Brooks Cascadia 8
I used both the Cascadia 7 and 8 models during the hike. The 8 model is a bit wider and longer in length. I found it was best to replace them every 400 or so miles and they worked great with the my Spenco Earthbound insoles. Comfy, light support, and grippy. Oh they also come in fun colors.
Huggies Natural Care Unscented Baby Wipes
A long distance hiker's best friend. This brand by far out shines the rest. The cloth is durable and very soft. One cloth cleaned more skin surface and left skin feeling clean and not too dry, than all the others we used on the CDT. The perfect combination.
Dermatone Lip Balm Stick – SPF 23
This lip balm and sunscreen by far out performs most lip protections. It is hard to find in California except online and at REI, but in Colorado and Wyoming it was available at almost every outfitter.
Neutrogena Norwegian Formula Hand Cream, Fragrance-Free
I repackage the concentrated lotion in a small pot from REI. This is the best lotion for face, body, and for preventing painful finger and heel cracks I have found. LOVE IT!
Counter Assault Bear Deterrent Pepper Spray with Holster
Luckily I did not have to use this protector, but I liked the holster it came with. I fastened it to my shoulder strap low by my pack. It was not in the way and was in a place so I could quickly grab it and spray if needed. $40.57
Gear I Want:
Gossamer Gear Gorilla Ultralight Backpack
I am looking forward to trying this smaller capacity pack. I seem to favor simple, no frills backpacks.
ZPacks Small Roll Top Dry Bag
I have become a huge fan of Cuben Fiber. I want this one to hold misc. items and electronics.
ZPacks Zip Pouches
Yep for my important wallet items. This just might replace the trusted zip-lock.
ZPacks Zip Pouch
I would love this Cuben Fiber pouch to house my toiletries.
Golite Chrome Dome Trekking Umbrella
Love Note (CDT hiker) used this cheery piece of equipment in the rain, sun, wind, and even for privacy. On my next thru-hike it will be in my pack.
SEA TO SUMMIT AlphaLight Long Spork
I broke 2 Light My Fire spoons on the CDT. Sweetfish (CDT hiker) had this long spork. It is lightweight, unbreakable, fits well in the hand, and the length is perfect for eating out of freezer bags.
Gaia GPS iPhone App
I have long been a fan of Topo Maps with great success. This summer I hiked with Love Note (CDT hiker) and had the opportunity to watch this app in action. It has updated maps and is easy to use. Ideally I would like both the programs loaded with the maps I need for a trip. they each have unique qualities.
Lightest Cathole Trowels On The Planet
I want the original size (it is the smallest). Confession:I have yet to dig a proper cathole with a rock, stick, or hiking pole. Love Note and Burly Whites on the CDT had a cat hole digging competition. This little .3 ounce wonder outperformed the heavier and bigger U Shovel.
Petzl Tikka XP 2 Headlamp
I want more light (80 lums) for hiking and navigating at night, a red light for in camp use, and a band not a zip cord. I had trouble taking off my Zipka without ripping out some hair and for me it was too dim for night hiking.

After the Hike Update February 25, 2014:

How about sharing your new gear finds, thoughts or questions in the comments below? Gear talk…how fun is this?