Kids + Camping = LOVE
Red Rock Canyon State Park located right off of Highway 14 in the southernmost tip of the Sierra Nevada Mountains is the perfect fall, winter, or spring desert get-away. Red Rock is loaded with unique canyons with dramatic shapes, geologic features, and vivid colors. A perfect location to explore, hike, climb, and camp.
Our overnight camp-out included: hiking Hagen Canyon Nature Trail, exploration at the Red Cliffs Day Use area, and walking through the self-guided Desert View Nature Trail .
Hagen Canyon Nature Trail is about a mile loop, starting from a spacious parking spot at the south end of Abbott Drive. There are several side canyons on the loop that you can check out along the way. Don't miss the window, camel, and amazing red, green, and pink colors.
The Red Cliffs Day Use Area is located across Highway 14 from the entrance to the park. Be sure to allow extra time to explore the unusual formations, bright red cliffs and caves. Birds of prey build their nests in the dramatic red cliffs.
The Ricardo Campground is tucked beneath dramatic White Cliffs and has lots of rocks, caves, and mounds of sand for kids to climb, jump, hop, dig, and slide.
The next morning we headed to Desert View Nature Trail that starts at the campground road just beyond campsite 46. It is an easy loop on a well-marked trail. At marker 12, you can follow a trail south, up the ridge to a bench that overlooks the Mojave Desert and the Fremont Valley. The top of this trail is the perfect location for enjoying gorgeous sunrise and sunsets.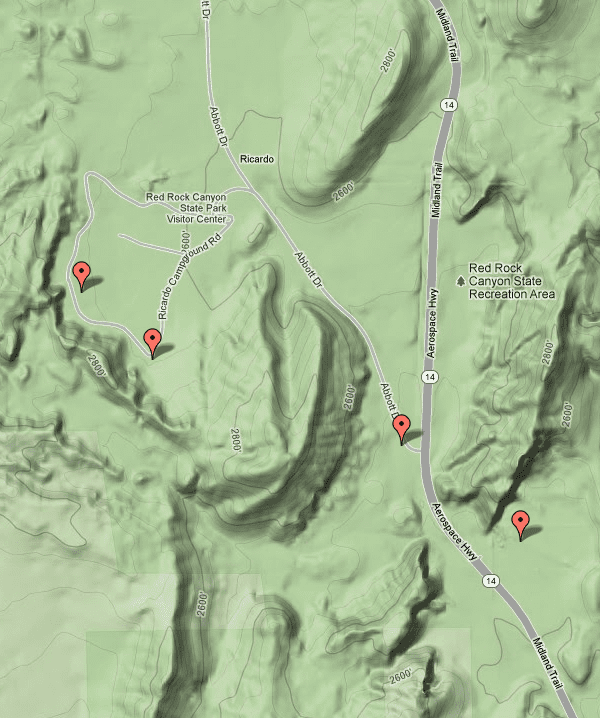 Desert View Nature Trail Guide
Photos on Flickr
Visit Nightmare Gulch for more hiking in Red Rock