A strong woman is someone who is able to smile this morning like she wasn't crying last night.
~Harriet Morgan
Arrow, my good friend and long time backpacking partner hit Death Valley for a winter backpack in early February. We were both in need of a well-deserved wilderness fix. Death Valley is the perfect winter backpack destination, but be prepared for frigid desert nights and scarce water sources. The Cottonwood-Marble Canyon Loop is a popular and remote route that begins 8 to 10 miles outside of Stovepipe Wells. This 32 mile route is usually completed in three days, but Arrow and I completed it easily as an overnight in 2 days. This trip is well-documented on the Internet.

TRIP DATE: February 9-10, 2013
LENGTH: 32 miles
DIFFICULTY: Moderate with some trail and off-trail
NAVIGATION: Good maps and GPS are recommended on this trek
HELPFUL LINKS FOR WATER AND ROUTE:
Our backpack started at the intersection of Cottonwood and Marble Canyons hiking up Cottonwood and returning via Marble. Caution: this trip includes some trail and off-trail with a couple very tricky turns that are not obvious. Namely, the route out of Cottonwood Canyon and route into Dead Horse Canyon. I have included helpful detailed maps at the bottom of this post.
Download
The water source in Cottonwood Canyon was good, fresh, and running. A beautiful little area that would be a great camping spot.
This is the first tricky area to navigate. Turn RIGHT in Upper Cottonwood. The pass is the low spot on the RIGHT.
We camped at the low pass above the route to Dead Horse Canyon.
After turning left at the Dry Spring (named on the map) the views into Dead Horse Canyon are stunning.
In many of the trip reports I read  hikers had trouble finding water at the  spring in Dead Horse Canyon. We were lucky #1 we didn't need water and #2 the water was running right on the trail but did not appear very healthy to drink.
Displayed beside the trail was a full on Bighorn sheep skeleton. Pretty amazing find.
Marble Canyon is beautiful with very cool rock colors, patterns, petroglyphs, and formations.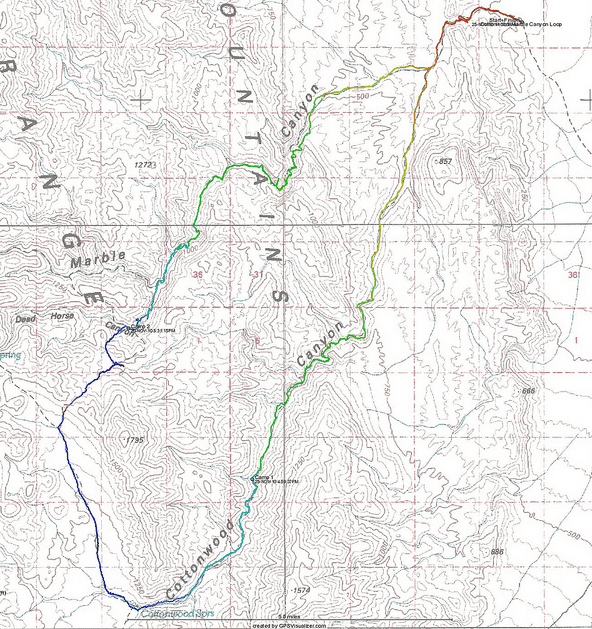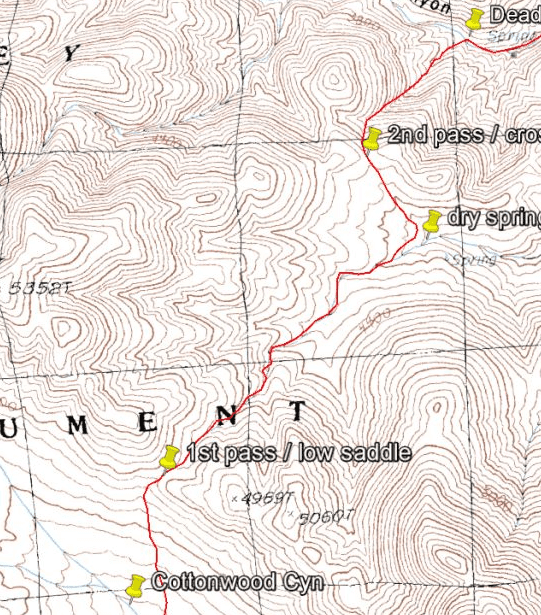 Death Valley's stark landscape, dramatic views and sunsets make for the perfect weekend get-away.