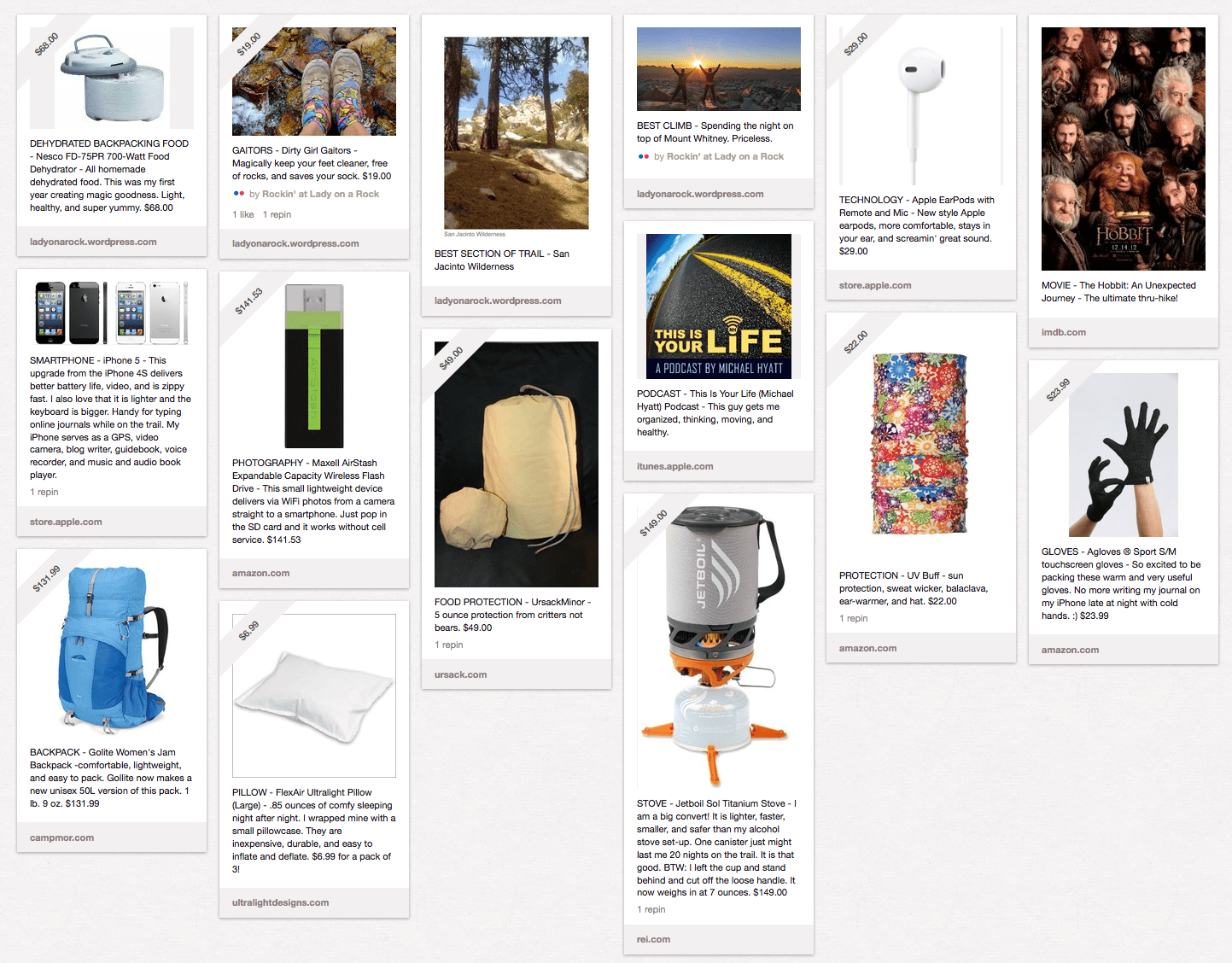 Taaaaaaa Daaaaaaaa! It is time for my annual Hiking Favorites list. 2012 was very good to me.  I logged well over 1000 miles hiking, climbing, and backpacking and added a few small gear items that made huge differences in my comfort and protection. Thanks to Pinterest, my 2012 Hiking Favorites are visually portrayed with purchasing and weight information. How cool is that?
Here they are…
Backpack: GoLite Jam – Loved this backpack so much I bought several colors for my whole family to use. Lightweight (1 lb 9 oz.), lots of padding, great hip pockets, and I hardly notice it is on when packing 25 pounds.
Stove: Jetboil SolTi – This zippy fast, ultra-light, fuel saver sadly convinced me to say good-by to my homemade alcohol stove. One fuel canister lasted me 20 days on the trail cooking only at night.
Pillow: Flexair pillow – This little featherweight cloud of comfort looks fragile, but lasted the whole summer and is still going strong.
Gator: Dirty Girl Gaitors – Probably my favorite new gear this year and my husbands too. If you have never hiked with a pair, go to their website now. Have fun picking out a very fun color.
Gloves: Agloves Sport Touchscreen Gloves
Protection: Buff – Sun protection, sweat wicker, balaclava, ear-warmer, and hat all-in-one.
Jewelry: Tarma PCT earrings and necklace – By far I get the most compliments when I wear these.
Food Storage: UrSack Minor – Great protection from critters and marmots. I always use an Odor Proof sack with the Ur Sack Minor
Photography: AirStash – This small lightweight device delivers via WiFi photos from a camera straight to a smartphone. Just pop in the SD card and it works without cell service.
Smartphone: iPhone 5 – This upgraded phone delivers better battery life, video, and is zippy fast. I also love that it is lighter and the keyboard is bigger. Handy for typing trail journals while on the trail. My iPhone serves as a GPS, video camera, blog writer, guidebook, voice Recorder and music, podcast, and audio book player.
Headphones: New style Apple headphones – More comfortable, stays in your ear, and screamin' great sound.
Backpacking Food: All homemade dehydrated food – Wish I would have started this healthy adventure in backpacking food years ago.
Podcast: This is Your Life by Michael Hyatt – This guy gets me organized, thinking, moving, and healthy.
Hiker Transportation: Back of a truck on the way to Saufleys, trail angels in Agua Duce!
Best Climb: Spending the night on top of Mount Whitney. Priceless!
Best section of trail: PCT through the San Jacinto Wilderness
iPhone App: iTunes Music App
Movie: The Hobbit – The ultimate thru-hike!
Facebook Page: Lady on a Rock facebook fan page, but seriously my favs are Women's Adventure and First Ascent. love the photos and great deals on gear, but really if you haven't already liked my Facebook page head on over there and be sure and click like.
Sharing: Pinterest
Also, be sure check out:

What are your gear favorites? Please share. I just LOVE talking gear. Happy outside adventures in 2013!