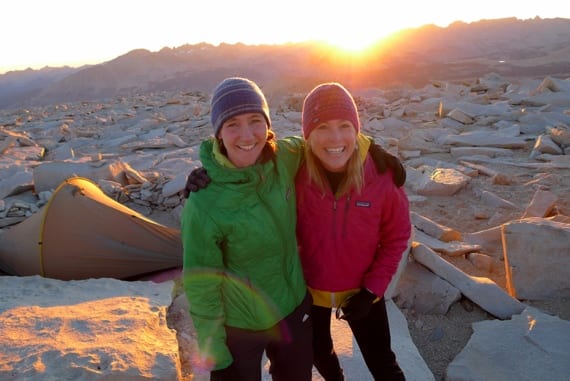 So excited to have spent 3 days hiking with Wired, a 2011 PCT thru-hiker and good friend. I was able give her a food resupply at Kearsage Pass junction on the John Muir Trail and join the last three days of her JMT adventure.
For the past couple of years Wired and I have exchanged a mountain of information on trail conditions, gear, schedules, hikers, rides, and technology, but this was the first experience actually hiking together. I was nervous and hyped, but mostly just excited to hike with someone who I think enjoys the trail, carrying a pack, the hikers, and technology as much as myself.
It always amazes me how three days on the trail can seem like a lifetime. That is the beauty, allure, and reward of being out there in the wilderness. In a short time I shared myself, my love for the Sierras, hopes for the future, and spent the coldest 3 nights ever in my 20+ years of backpacking. Memorable…yes.
Thanks Wired for the laughter, exchange of a boatload of information, listening to me rant and rave about the Sierras, challenging me to someday share more thoughts and feelings here on this blog, and for the grand experience of camping on top of the world.
Be sure to visit Wired's latest blog entry "One Year Later: Part 1 The Trail" that features photos comparing last year's snowbound JMT to this year. It is pretty incredible.
Video created in iMovie with music "93 Million Miles" by Jason Mraz.