"The more you celebrate your life, the more there is to celebrate."
~Oprah Winfrey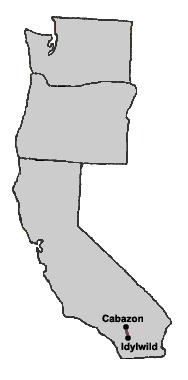 This weekend is the Annual Day Zero Pacific Crest Trail Kick Off (ADZPCTKO) at Lake Morena. It is where all the current PCT thru-hikers, along with PCT alumni, trail angels, etc. meet to kick off the start of the PCT hiking season. This is our 3rd year attending what I call my hiker Woodstock. So great to be literally surrounded by folks that love hiking, meet new hikers, connect with last year's hikers, talk gear, and literally be engulfed in a sea of ultra-light tents.
In the 3 hours we spent at the Kick-off we were able to meet and see many of our favorite hiker friends and was even able to shop with KarBear from Tehachapi for a new solo tent. I am filled with happiness.
We are now on our way to hike the 31 mile section from Idyllwild to I10. The trail passes through the San Jacinto Wilderness and then dumps the hiker at I 10 where I started last weekend. We are toting ice axes and microspikes as this section crosses the icy and steep Fuller Ridge. It is a great day. I am thankful.