It really doesn't matter how many times I pack for a big trip, it feel like the first time, every time…. ~Melissa Arnot
After a couple of months of planning, packing, training, buying new gear, dehydrating food, repairing old gear, and dreaming I will be back on the Pacific Crest Trail tomorrow hiking 180 miles from the southern terminus at the border of Mexico and California to Idylwild.  All this in 8 days during my spring break. What is so cool is I will be hiking with Dan and then later Silly Chili will join us in Warner Springs. So great…Team Tehachapi together again. Last summer Team Tehachapi tackled the historical snowy Sierras in June of 2011. I am super excited.
This section of the trail is varied and one of the most difficult. It is known for long, hot, dry waterless sections in the desert, cold temperatures at night, rattlesnakes, occasional snow storms in the Laguna Mountains, live oaks, expansive views, lizards, shadeless chaparral, and trail magic.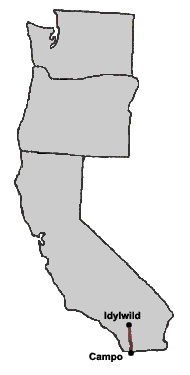 My plan is to post a daily journal from the trail in the areas that have cell service. Hiking this PCT section is the perfect opportunity to test new gear, clothing,  and the delicious and nutritious dehydrated food I have been diligently preparing. Way too much fun. If you want to follow along on a map, just click on the Track Me tab at the top. I will be posting trail locations when I have cell service. Thank you for reading and following along.
Rockin'