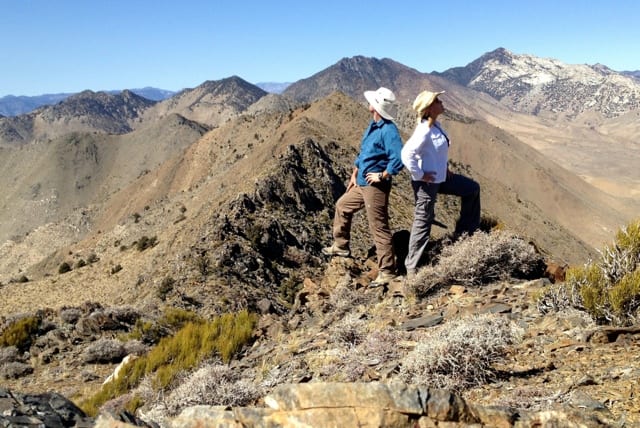 I admit, I LOVE to climb desert mountains like Backus Peak in the winter. The climbs are usually challenging, fun, off-trail, snow free, and remote. A great combo. Backus Peak is in the Southern Sierra Nevada Mountains just off SR 178. With a map and a little route finding this peak can be bagged in about 4 to 6 hours. A good resource for climbing Backus is Route 1 information from the Sierra Club 100 Peaks Section Peak List. Standing atop this peak I spotted other interesting mountains that must be climbed on another day. 🙂
Climbing Backus Peak
TRIP DATE: March 12, 2012
LENGTH About 7 miles round trip
ELEVATION 6651
ELEVATION GAIN 2700 feet
TRAIL HEAD Go west on SR 178 2.4 miles to a dirt road on the north side of the highway. There is a call box numbered 178-858 on the south side of the highway. Drive on the dirt road to the parking area at the Owens Peak Wilderness Boundary sign.
DIFFICULTY Easy route finding once you have located the peak, cross-country, moderate class 1-2 climbing
BEST TIME TO HIKE Fall, winter, and spring
ROUTE Hike the dirt road north about 1 mile, leave the road and hike northeast crossing 2 gullies, turn northwest to reach the ridge, then hike up to the northern most bump. On the return trip we took the main gully down all the way.
FUN FACT The summit register features ongoing discussions about the official naming of Backus Peak.
Download
Media