"You can drive to a lookout and see a great view, but watching the sunset from the top of a mountain you've climbed is something you will remember for the rest of your life. When it's cost you something, when you've really had to earn it, seeing something beautiful makes you feel like a part of nature and not someone looking in from the outside. This is both awe-inspiring and empowering."
~Dressed in Dirt – Famous woman outdoor enthusiast and blogger
Just go…on this life list trip! It is EVERYTHING and more. The High Sierras received a dump of new snow just before President's Day holiday.Yep, the conditions were stellar.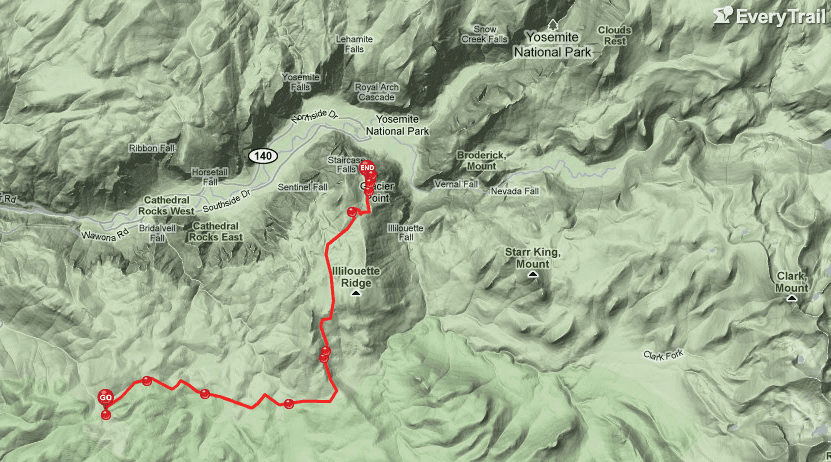 Day 1 – We stopped at Herb Bauer in Fresno, CA to rent skies. This gem of a sporting goods mecca is now my favorite. It has great hard to find brands, large product selection, friendly informative customer service, great prices and hours, and even satisfies the tastes of lightweight hikers. Next, we headed up to the Mariposa Grove located moments after entering Yosemite National Park to get a little skiing in before our 2 day trip into Glacier Point. That night we stayed at The Comfort Inn in Oakhurst outside the park. It was clean, inexpensive, quiet, nice and we plan on staying there again.
Day 2 – A free Wilderness Permit must be obtained from the ranger hut at Badger Pass Ski Resort before starting this trip. The office opens at 8:30 AM. The 10 1/2 mile ski to Glacier Point was pristine. About 3/4 the way into the trip, just passed Clark's View heavy fog rolled in and of course the temps dropped.  Upon arriving at Glacier Point, the views were blocked by fog and was VERY disappointing. Bernie, the Glacier Point Hut keeper extraordinaire greeted us with food and hot drinks. The stay at the hut was a fantastic experience with delicious healthy food, knowledgeable company, and warm, clean, scenic accommodations. Just go!!!!
Amazingly enough, the fog disappeared about 20 minutes before sunset. The unveiling of the sweeping views east to west, left the onlooker gawking at Half Dome, North Dome, Royal Arches, and Yosemite Falls rising abruptly above U-shaped Yosemite Valley. Words cannot describe this experience.
Bernie the totally amazing host, had nachos and wine ready after our surreal sunset event. Dinner was delicious and I was really happy to be in the company of excellent skiers, snow groomers, outdoor enthusiasts, climbers, gear experts, and just plain good guys!
Day 3 – After enjoying the sunrise, eating breakfast, and packing a lunch we reluctantly headed out on freshly groomed snow. Be sure to view all the pics on Flickr taken with my new little camera.
Mariposa Grove Day Ski




Glacier Point Cross-country Ski Overnight

Trip Stats:
LENGTH 21 miles round trip, 2 days
ELEVATION GAIN 2200 feet
HIGH POINT 7830 feet
TRAIL HEAD Starts at Badger Pass Ski area in Yosemite National Park on the snow-covered Glacier Point Road
DIFFICULTY Moderate to Strenuous
BEST TIME TO GO December through March
ROUTE Trip passes by Summit Meadow, Bridalveil Falls Campground, Mono Meadow, and Sentinel Dome with picturesque sites of the nearby Clark Mountain Range with a 1/2 mile descent into Glacier Point
PLACES TO STAY We LOVED the Glacier Point Ski Hut for luxurious accommodations. The cost is $120.00 per person a night that includes dinner, breakfast, and a packed lunch for the trip out. There are also lots of areas to winter camp. Be sure to fill out a  Wilderness Permit at the Ranger Hut at Badger Pass Ski area.
TIPS AND FUN FACTS:
* Winter is the time to visit this area without thousands of tourists.
* Glacier Point Road is skillfully groomed during the winter with ski tracks. Snowshoe or walk on the outside of the groomed ski tracks.
* Equipment is available for rent at the Badger Pass Ski Area.
* At the end of the road are magnificent vistas from Glacier Point of Yosemite Valley.
* Glacier Point Road is a gateway to plenty of backcountry routes and loops that take off from the road.
To view the complete trip photo album and topographical map, click the links below:
Sunrise view from Glacier Point
(Unfortunately I didn't get to the LX5 video guide instructions before the trip, so no sweet settings yet)
BTW: all trip photos were taken with my new Panasonic LX5. They were posted with NO post editing and no cropping. I used Standard in Aperture mode, +1 sharpening, -2 noise reduction and did not shoot any photos in RAW format. Hey, how does the point and shoot measure up? and LX5 users what are your favorite settings on this powerful little camera?