Find something you love and go after it!
~Jim Abbott
Technology is amazing I am a thinkin'. It is quite incredible that I can actually post to this Blog information right from the trail, complete with pics taken on my i Phone!
There are however some limitations.
#1 Photos taken with the iPhone are at best…okay quality. Close-ups can be good, but landscapes (my favorite to shoot) are often very disappointing compared to what nature displays.
#2 The formatting of the Blog entry entered from my phone is fixed and limited. That means no creative resizing of photos, borders, captions, spell check, and paragraph maneuvering.
#3 I can only post a trail journal entry when I have cell service, which in some areas it may be a week before a new entry is posted on the Internet and then when I do have service I will post several at a time.
Since my on-trail journals with be from the iPhone and iPhone camera, please be forgiving. I will be posting after I get back from my jaunt better pictures taken with my Canon 880IS on Flicker and videos on YouTube.
Also, by the way I love comments. They especially will be an encouragement to keep putting one foot in front of the other.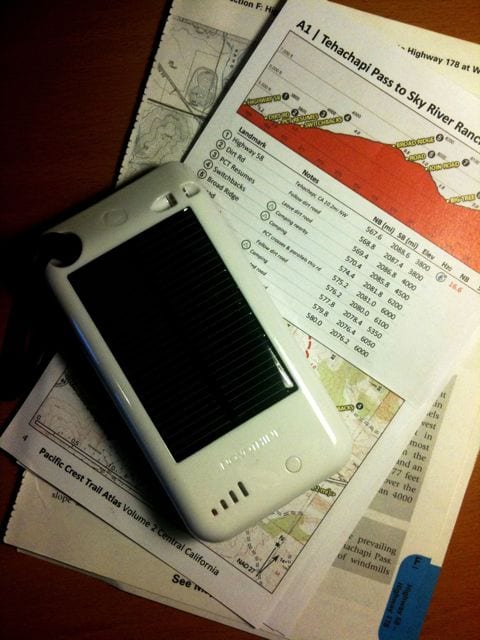 So how am I going to power all this technology? A Surge Solar Charger by Novathink of course!
With all the packing done and lists on post-it notes thrown away and good-byes to family, I think it might be a good idea to list some hopes  for this trek:
~I want to see and experience  first hand what it looks like in the mountains the whole length of Owens Valley
~know what it feels like to be a thru-hiker (hiker on long-distance trails)
~meet PCT hikers on the trail
~experience a little what it might have been like to travel the Oregon Trail on foot and the life of a mountain man
~and finally… earn a trail name
Tomorrow should be very interesting. 🙂