The latest in the weather news is "fast snow melt, rising rivers, camp away from streams, and beware". This is good news and bad for Pacific Crest Trail hikers. On the good side, the snow IS finally starting to melt and the bad news is…this sets a stage for very dangerous stream and snow crossings on foot. Right now the high Sierras are STILL under A LOT of snow.  This has led to a slight and I hope a better change of plan for hiking the Pacific Crest Trail starting this week. I am all about having back up plans, because I never want the dreaded words uttered "Well, I guess we are going to have to cancel the trip!"
The new improved Pacific Crest Trail hike plan:
Start hiking June 12 from Tehachapi to Whitney Portal (climbing Mount Whitney along the way) – 222 miles
Then drive up to Tuolumne Meadows in Yosemite to skip some of the heavy snow areas and hike north to Belden, CA and going out on July 16 – 350 miles
So all this abundance of snow has of course lent itself to more gear testing! To maneuver steep snow crossings it is vital that you have proper equipment. Tehachapi Mountain again came to the rescue as my playing ground. I bought the recommended Kahtoola Microspikes to aid in feet traction. I have used full crampons (2 inch spikes that attach to the bottom of boots), but these Microspikes are lighter to carry and easier to walk in. How did they work?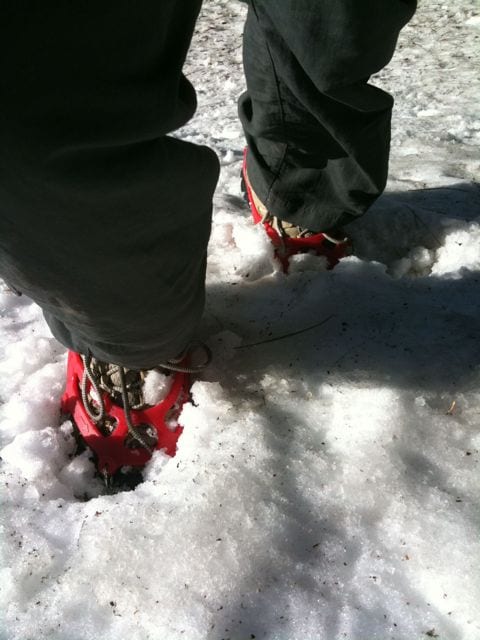 What Microspikes will do:
-a big help to kick in steps on ice
-they give stability when going from one treacherous step to another
-very easy to walk in and comfortable
-stay secure on your feet
What Microspikes are not:
-these are NOT crampons, they do not give full control when walking up and down an icy snowfield (especially downhill)
-security, you must use all the skills and strength you would as if you had no aid on your feet, then I think the safety factor is greater.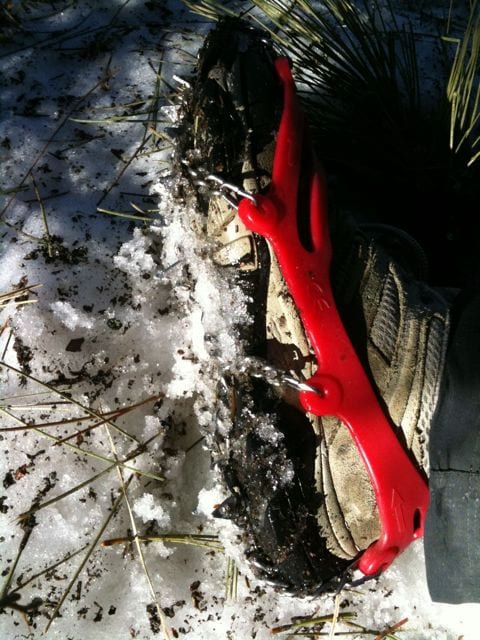 I loved these little babies, BUT they would never replace crampons for mountaineering.
An additional snow travel piece of gear that will be strapped on the back of my pack is the ice axe. This handy tool will chop steps in ice, stop an unintended slide to a dead stop (called self-arresting), will aide in walking and climbing up steep snow chutes, will also serve as a speed control (kind of like a rudder) when glissading downhill on one's rear end, and in an emergency can be used as a self defense weapon!